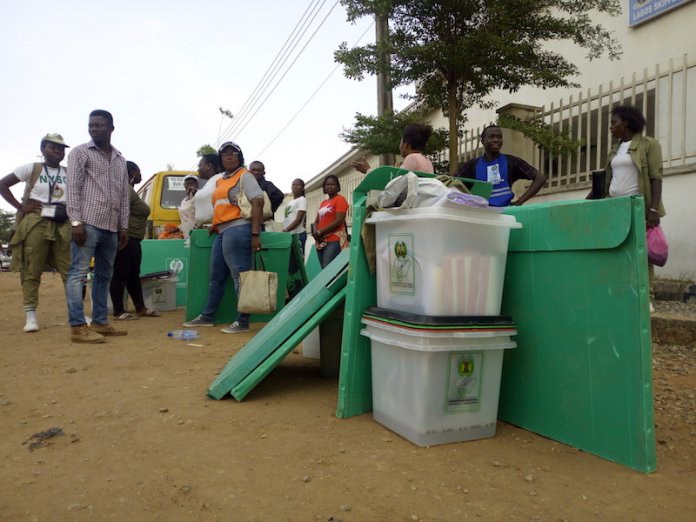 By Laleye Dipo in Minna
A coalition of Domestic Election Observer groups that participated in the just concluded governorship election in Niger State has rated the conduct of the poll very high.
The coalition also praised the Independent National Electoral Commission (INEC), security agencies and the media for performing their duties up to expectations.
The coalition, which addressed a press conference in Minna on Tuesday said: "Interestingly too the security personnel conducted themselves in the best ethical and professional manner in the discharge of their assignments."
The leader of the coalition Mohammed Abdullahi Jabi also said that there was no case of under-aged voters at the polling units visited by members of the coalition, adding that "the card reader machines were deployed in record time with fully charged batteries
"All other election materials were available in large quantity in each of the  polling  units and LGAs visited by our observer teams in the three senatorial districts in Niger State".
Jabi also applauded the conduct of voters, saying: "Generally, voters and the electorate conducted themselves in an orderly manner devoid of rancour or violence to ensure the peaceful process of voting at polling units."
The coalition however observed that the
ad hoc staff engaged by INEC for the election faced some challenges among which was that some of them did not know what their roles were, while some others perfected the process because of the training they went through.
Jabi said: "However the issue of ad hoc staff welfare need to be improved upon and allowance paid promptly to enable them give their best in the line of duty."
He said the coalition had also observed that the collation of results "is a big challenge" and has therefore recommended that for future elections, INEC should adopt the use of the "modified electronic device technology to fast-track the process of collation of results to save time and man hours wasted during collation exercise manually".
The coalition, Jabi said, noted that "the issue of vote buying is still prevalent among politicians  and political party candidates", adding that  "drastic action and advocacy should be intensified to curb this negative electoral tendency introduced by desperate politician into our body politics".
He advised those who lost the election to "take the civilised approach of seeking redress in court or tribunal and not to create unnecessary tension and breach of public peace".