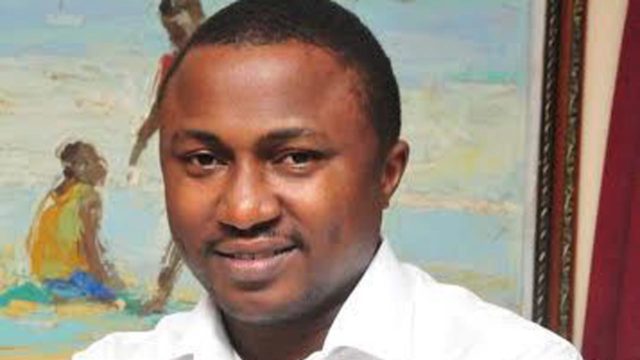 Remarkably,  it is its first cinematic production since inception, featuring an array of stars like never before seen in Nollywood, Wale Adenuga Productions seems poised with its new comedy movie 'Knockout'. Ferdinand Ekechukwu reports
Knockout! What could have possibly inspired that title for a movie of its kind? Maybe for its packed cast cutting across movie, music and comedy! Maybe for the anticipated bout of laughter it will unleash on cinema buffs across Nigeria when released on Friday April 19. News of the comedy movie had started making the rounds at the close of 2018 shortly after production ended.
The comic thriller seems by far overwhelming, looking at the eclectic cast of thespians and the mix of different generations of comedy superstars it parades. From the exclusive set pictures and behind-the-scenes videos that went viral post production, it sure stirred laughter. If going by that, the words of its executive producer, Wale Adenuga Jnr, that "Knockout is extremely funny.
"You will laugh and laugh until you forget your name," might be spot on. And that, in a way, would mean something exciting for millions of families to look forward to come this Easter season and beyond, as it promises extreme laughter explosion." Shot in Lagos and several other locations, the movie's exceptionally mixed cast of musicians and comedians has the pull factor for the cinema audience.  
Coming from the scion of the Adenuga humour and entertainment merchant, the big budget film, according to Adenuga Jnr, who doubles as the Managing Director of the production outfit, the organisation used the best of its resources for the film to ensure that cinema lovers are entertained. It was gathered that the talented cast and world-class crew had spent six months on several beautiful locations across the country.
Wale Adenuga Productions (WAP) is known for its exciting spells of TV drama series. The most likely blockbuster movie directed by Patience Oghre, 'Knockout' tells the sidesplitting occurrences that took over a community after the news about a boxing competition with a cash prize of N1 billion hits town and sends a group of people from different walks of life into a hilarious frenzy, after which they devise mischievous means to participate with firm eyes on the prize monies.
Thereafter, the clumsy boxer they choose and the crazy characters they meet along the way, sparked off the intrigues that characterised Knockout. Arguably, the most star-studded film in Nigeria's recent history, Knockout's impressive cast of veterans in Nollywood include Patience Ozokwor, Chiwetalu Agu, Toyin Abraham, Odunlade Adekola, Ngozi Nwosu, Jide Kosoko, Segun Arinze, Desmond Elliot, Hafiz Oyetoro, and Ali Nuhu.
Other stars featured are Sola Sobowale, Amaechi Muonagor, Tony Akposheri (Zaki), Ronke Oshodi Oke, Victor Osuagwu, Gentle Jack, Charles Okocha, Greg Ojefua,  Broda Shaggi, Eniola Badmus, Kelechi Udegbe, Remi Surutu, Wale Adebayo, Francis Odega, and the famous Papa Ajasco, Mama Ajasco, Pa James, Alinco, Miss Pepeiye, Ajasco, Nnena characters from the Papa Ajasco television comedy series.
Knockout also features popular comedians Funky Mallam, Yaw, Tayo Amokade (Ijebu), Klint Da Drunk, Josh2Funny, Bello Kreb, Princess, MC Lively, Omo Ibadan, Iya Niwe, Akpan & Oduma, Fyne Geh, Chief Olododo, and standup act Kenny Blaq in his first movie debut with some electrifying cameos by 9ice, Derenle Edun and Jaywon. The standup music-comedian Kenny Blaq represents the new face of comic acting with his unique style of performance.
To some Nollywood buffs, the Wale Adenuga Production has taken its ambition far and farther featuring an array of stars in its new movie, remarkably its first cinema production since the inception of the company. This could be said a statement kind of having conquered the territory of comedy in television programming.  
Founder of the production outfit, Wale Adenuga Snr. was a former cartoonist/publisher, and currently a series producer, best known for the publications Ikebe Super, Binta and Super Story, and their televised versions. Adenuga studied business administration at the University of Lagos in 1971, and worked for the cartoon section of the campus' magazine where he was soon made chief cartoonist.
In 1975, after graduation and youth service , his comic Ikebe Super was launched. The comic introduced characters such as womaniser Papa Ajasco, illiterate Pa Jimoh, and playboy Boy Alinco. A leading female character, promiscuous gold-digger Miss Pepeiye, was later introduced.
In the late 80s, Nigerian publications were affected by the economic depression, leaving Adenuga with the decision to move from print to electronic. Before the growth of the film industry, Adenuga had released the celluloid movie Papa Ajasco, which was based on the main character in Ikebe Super, in 1983. 
Papa Ajasco made history as the first English comedy in an industry which had been dominated by Yoruba productions.
A film version of Binta, re-entitled Binta My Daughter was released in 1995. A year later, the television series Papa Ajasco (formerly The Ajasco Family) was aired on Nigerian television to rave reviews. This small screen version saw the return of the old characters, and new character.