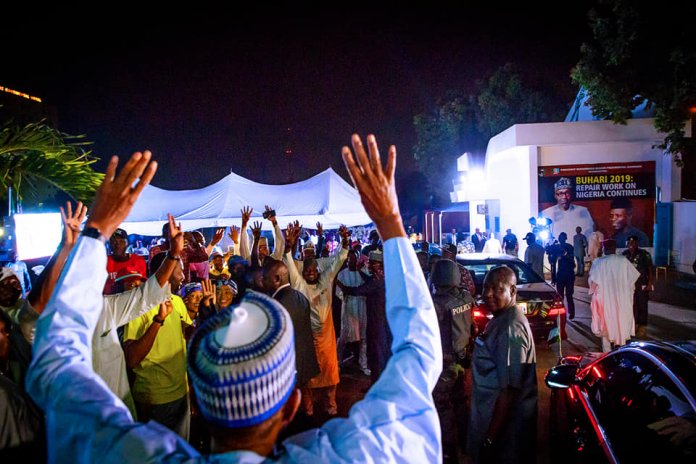 Monday letter
During the political leadership of Dr. Goodluck Jonathan, a climate of despair pervaded our body-politic owing to his abysmal and lackluster leadership of Nigeria. So, Nigerians from diverse ethnic origins cast protest votes against him in the 2015 Presidential election. His major challenger in that election was Muhammadu Buhari. Buhari, who was riding on the crest of his touted integrity, cashed in on the people's disenchantment with the then incumbent president to win the 2015 Presidential poll.
Then, Buhari was believed to possess integrity; and Nigerians felt that he was the political messiah and emancipator, who would transform Nigeria, positively. They thought that he would right the wrongs in our political polity. But with the passage of time, unfolding events had proved otherwise. The Buhari school certificate saga called into question his claim to being a man of probity. Can he now pontificate on the need to eradicate corruption from Nigeria? Again, his leadership of Nigeria has shown that he does not possess the Midas touch that can take Nigeria to great economic and technological heights.
So, in the run-up to the 2019 Presidential election, political pundits did forecast that President Buhari would kiss the dust regarding the 2019 Presidential election owing to many factors. He couldn't record landmark achievements during his first term in office. And, he is a divisive figure, who is activated and driven by ethnic and religious sentiments and impulses. A man with nepotistic and clannish disposition, he appointed mostly northern Muslims into our top security architecture. His nepotistic deeds alienated him from millions of Nigerians, who possess fealty.
But, against all expectations, and political permutations,  INEC, the body charged with conducting elections in Nigeria,  declared him the winner of the 2019 Presidential election amidst allegations of electoral malfeasance perpetrated by the ruling APC. In fact, a great number of Igbo folk residing in some parts of Lagos were prevented from casting their ballots on the day the Presidential election took place. And, there were reported cases of ballot box snatching in many places across Nigeria.  Worse still, some people paid the supreme price during the election. The 2019 Presidential election ranks among the most badly-conducted Presidential elections in our political annals.
So, not surprisingly, Atiku Abubakar, who was tipped to win that election, has vowed to challenge the victory of Muhammadu Buhari in court. But can he get redress and succour from the judiciary. The judiciary ought to be the bastion of justice and the last hope of the common man. But the reverse is the case here. Now, in Nigeria, it is customary for the executive arm of the government to brow-beat the judiciary to do its bidding. In fact, our justice system is troubled, what with the manner in which Justice Walter Onnoghen was removed from office.
President Buhari is known for his penchant for circumventing constitutional provisions in his bid to achieve his goals. His unilateral suspension and removal of Justice Onnoghen from office without recourse to the appropriate body epitomized his disdain and contempt for separation of power. The selfsame sanctimonious President Buhari has ignored and disobeyed court rulings on Sambo Dasuki and El-Zakzaky. His misdeeds and infractions of the constitution are portents of doom for our fragile democracy.
Is he not aware that Presidentialism is anchored or based on the practice of the theory of separation of power as espoused by Montesquieu? The three arms of government ought to be independent of one another and act as check on one another, too, in order to prevent the president from becoming autocratic. But, now, incipient autocracy is creeping in on our body-politic. And it will not augur well for our country considering the fact that there are millions of discontents in Nigeria, who are ready to revolt against the government when galvanized and roused to action.
Instead of transforming to a civilian dictatorship, the federal government should invigorate and re-jig our battered and struggling economy to better the living conditions of millions of hapless Nigerians. Today, millions of Nigerians are living in dire circumstances. These Nigerians, who are trampled underfoot, have been reduced to subhuman beings by poverty. So, this government ought to urgently implement economic policies and measures to lift them out of abject and biting poverty.
It is a known fact that deprived people are susceptible to being either coerced or coaxed into joining terrorist groups like Boko Haram and others. Boko Haram has been threatening the political stability of Nigeria for a long while now. The federal government should up the ante in its fight against the insurgents.
Again, President Buhari should change the people's perception that he is lenient on the murderous Fulani herdsmen because he himself is a full-blooded Fulani man through his actions. The Fulani herders and farmers' incessant clashes undermine and imperil our national unity.
Chiedu Uche Okoye,
Uruowulu-Obosi,
Anambra State