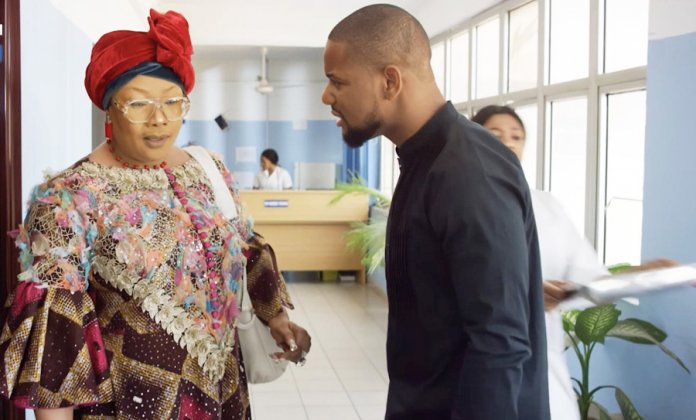 Described as romantic drama/thriller with the established imprints of Rogers Ofime and Robert Peters on it, there just might be more than what the movie 'Zero Hour' takes to the cinemas. Ferdinand Ekechukwu reports
As movie making goes in Nollywood, the combination of Rogers Ofime and Robert Peters on any cinematic project would possibly be considered a win. Hence, the context in which their new movie 'Zero Hour' is situated. As producer and director, both men have got their names established with critically acclaimed works in film and television production. 
Ofime is best known for producing several notable Nigerian television soap operas including the very popular `Tinsel' series on M-net/Africa Magic platform. Some other movie projects with the imprints of Ofime include The Johnsons, Madam Dearest, One of Several, Hotel Majestic, Hush, Spinsters, Maid of Honour, With Love,  Prince of Spice, and Oloibiri, the Best West Africa movie at the AMVCAs 2017.
Peters, who began his career first as an actor in Nigeria before relocating to the US, has worked on a number of African-American productions. He is best known for directing the 2014 Nollywood breakout movie 30 Days in Atlanta as well as the movies Shades of Attractions, Boxing Day and A trip to Jamaica. In 2014, 30 Days in Atlanta was the highest-grossing film of all time at the Nigerian box office. The movie was also featured in the 2017 Guinness Book of Records as one of the films with the highest domestic gross in the territories of Bollywood, Nollywood and Hollywood.
The co-produced "Zero Hour'' movie featuring Nollywood veteran Richard Mofe-Damijo (RMD) and Eucharia Anunobi, is set for premiere in cinemas across Nigeria on March 22. The ace actor, RMD who played the role of Alhaji Danlami while on the set of the movie, said this about his role: 'The character is from the North, but this is not my first time acting a character from the North in a movie.' The 'Hush' star is one of Nollywood evergreen actors, one who has made an indelible mark on Nigerian cinema with an array of successful movies to his name.
To his credit are appearances in movies that include Diamond Ring, Out of Bounds, Keeping Faith and Violated. The superstar actor also made a name for himself in the television industry appearing in Checkmate. After his political stint of late, he has graced a good number of the movies to the big screen like 30 Days in Atlanta, 10 Days in Sun City, The Wedding Party 1 & 2, God Calling, Chief Daddy, and Merry Men.
The 'Zero Hour' movie plot follows the story of Alhaji Danlami (Richard Mofe Damijo), a two-faced individual, and Zamani (Alex Ekubo), a heir to an empire who returned home after his father passed on to take over his business but get caught in a web of crime. 
Zero Hour has a lot of Family Love, Business, Money Laundry, Crime and Murder handing all around its fold.
Eucharia Anunobi, making appearance in the movie sort of puts a classic touch to it in the role that sets her distinctly apart from her new found calling in ministrations. As seen in the 'Zero Hour' trailer, her role in it rekindles her super status in her movies of the past like Abuja Connection, The Bank Manager, Titanic Tussle, Society Lady, and Black Night in South America. The Nollywood 'Glamour Girl' of yesteryears plays the role of a business woman suspected to be involved in a shady deal of crime and death.
'Zero Hour', is a blend of cast from the movie industry. The movie also features star actors Ali Nuhu, Alex Ekubo, Rahama Sadau, Halima Yusuf, and the very Ene Oloja among others.
Oloja would be starring in her first Nollywood movie. One of the pioneers of the Nigerian film industry, Ene Oloja, became a household name in the 1980's and 90's for her compelling acts on the screen and stage and was famous for her appearance in the now rested soap opera, 'Cock Crow at Dawn'. She played the role of Hauwa, the mother of the lead actor.
From the stables of Native Media, in partnership with FKD Productions and Galaxy Holdings & Construction Services as the executive producers first time, the star-studded romantic thriller is expected to open in Filmhouse IMAX cinemas.
The trailer further shows lifeless body of a man hanging from a roof and a woman screaming as she discovers the horror in a car park, Rahama Sadau driving and being tailed by someone who might kill her and a security operative thrown off a building to meet his death. 
As solitary scenes, they look interesting and might arrest one's attention. 
However interestingly, since the ban of Rahama from the Hausa film sector of Nollywood (Kannywood) in 2016, for merely 'hugging and cuddling' a male actor in a music video, the beautiful Nigerian actress, has in no time, had her career upped in English movies, becoming the first Hausa speaking female celebrity to appear in the top ten Hottest Female Nigerian Celebrities.  
Shot in locations in Abuja, and Accra, Ghana, It is highly anticipated as one of the movies with collaborations from movie stars across different regions in Nigeria. 'Zero Hour' has an Hausa flair – the language and culture and this is another indication of how movies with a Hausa-speaking cast are becoming mainstream.
The movie is a romantic drama/thriller, and it further emphasizes the current boom of action/thriller movies out from Nollywood these days (Merry Men, King of Boys, Knock Out Blessing, etcetera).