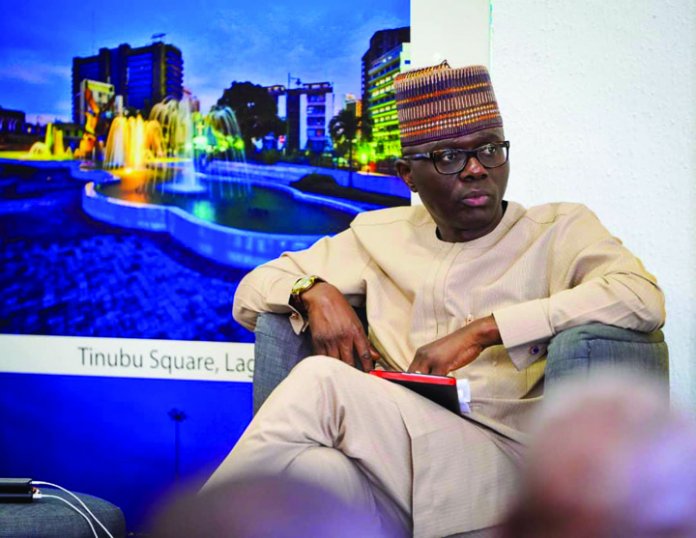 SATURDAY INTERVIEW
Ahead of the March 9 gubernatorial election in Lagos, Governorship candidate of the All Progressives Congress in Lagos State, Mr. Babajide Olusola Sanwo-Olu speaks to select journalists, including Olaoluwakitan Babatunde, on why he is the best candidate to lead Lagos and his 21st century economy plans for Lagos
The Governorship election is just a week away, why do you want to be governor of Lagos State?
I believe at this point in time, Lagos, which is the 5th largest economy in Africa needs to set new standard in how the state is managed and get new direction. It needs to do a lot of things quicker, faster and better. It needs to have a path through which we can begin to deal with all of the challenges that come with Mega City States. It needs to rebrand and to position itself for the opportunity that abound. We need to recalibrate the economy of the state and make it competitive for local and international competitiveness. Lagos needs to expand the economic base to create more private sector jobs. We have infrastructural deficits across sectors that we need private capital to fund. All of these I am prepared to deal with and can do better than anyone contesting against me.
My desire to be governor also has a whole lot to do with poorest of the poor in the society. A lot must also be done with all the challenges that we see every day- in traffic, transportation, health, education etc. But beyond all that, I have a whole lot of passion for people. I have been a people's person. I am someone who usually wants to give my time to ensure that the next person is better than whoever or whatever he is. Also, given my several years of experience, I believe this is the right time if I want to do it all. I need to do it right now and get it done. On a lighter note, we have the Not Too Young to Run guys who are ready to displace us. So I need to do it now before they say I am too old (laughing)
You think you fall into that bracket?
No I don't fall within that bracket. There are lots of young people in their 30's and early 40s who also want to do this. They seem to be saying anyone above 40 is too old to be Governor or President. There is a lot of technological revolution going on out there and the younger people are pushing the boundaries. They have talent and energy which we must convert for the good of the state and the country. As Governor, I will tap into this and work with young people especially those of them the technology, entertainment and sports.
And you think you're the right man to do this?
I believe that I am the right man, not thinking…
Do you think that the process that threw you up as the candidate of your party in Lagos was fair?
Absolutely; this is because I earned it. I won an open primary election. Party members freely chose the flag bearer of their choice. The party in Lagos and at the highest level provided an opportunity through direct primaries for states and aspirants in various elective posts to emerge. The party in Lagos followed the guidelines as provided for by the National Working Committee of APC. It was open, free, fair and transparent primary election that brought me out as the candidate. The party members are happy that they had a say in who is their candidate. The good thing now is we have united the party members across all the divides behind a common goal and objective which is to win the election next week Saturday and to also win all our House of Assembly seats in Lagos.
But traditionally, Governor Akinwunmi Ambode should have been given the first right of refusal. But he was not…
Yes as a sitting Governor he has the right to seek re-election just like any party member cannot be banned from aspiring to same office. The Governor exercised his right. What usually happens is that people say candidates are handpicked. But in this case, the party decided to throw the contest open. The party said that every card carrying member must have a say, so we went through a direct primary. It has not been done since 1992. So over a million people voted and I got the highest number of votes.
So can you say your emergence was fair?
Very well. Yes, it was fair.
In that sense are you saying that you will be a man of your own?
At 53? Certainly I am and I will be my own man as governor. I appreciate all the support and endorsements of the party structure. I also think that happened because they know me, they know what I have done, my contribution in government, out of government and all the various things that I've done, that's why they're supporting me. This same question of if I will be my own man is a reference to Asiwaju Bola Tinubu who is our leader. It is important to say that Asiwaju has never had any negative influence on his two successors. He is always about the development of Lagos. If anything else, he pushes us to be better than what we have done in Lagos. He is my leader and a father figure. I will be lying if I say I will not take advice from him. I will seek his wise counsel and guidiance, just like I will take advice from Alhaji Lateef Jakande and anyone who have had the privilege of leading the state from when Lagos was created 52 years ago. They all have rich experiences on the leadership and governance of the state. They say experience is the best teacher.
Your main rival, Mr. Jimi Agbaje has based his campaign on Freedom. Do you think that Lagos is being remotely controlled and it needs to be freed from stranglehold of a godfather?
Nobody is in bondage in Lagos. This man you're talking about comes out every four years to contest as governor, yet he talks about freedom. Let me ask where Mr. Jimi Agbaje was when his party, the People's Democratic Party held Lagos State revenue for over two years. So there was no cry of freedom in Lagos when the PDP led Federal Government failed to grant approvals for developmental projects. There was no cry of freedom when Lagos had issues with securing the right of way for Redline rail project from Agbado to CMS for six years and PDP refused to grant it. There was no cry of Freedom when Lagos was agitating for a special status for sixteen years. But Agbaje is suddenly talking about Freedom for a Lagos that has grown from borrowing money to pay salary in 1999 to a fifth largest economy in Africa. That's unfair on the State and its people.
Is Lagos working?
Yes; it is working but it can do better and faster given the dynamics of where it was before now. That is why my running mate Dr. Obafemi Hamzat and I are in this race to take the state to a greater level. We both have the credentials and the experience to make the state work better and smarter. We were part of the foundational work that started with Asiwaju Tinubu in 1999 through the Fashola administration that raised the bar in public administration.
If you win the election and become Governor, what will be your projection for the state in terms of working relationship with the Federal Government?
You need the Federal Government to do a lot of things. Many things we need to quickly get out of the way. We need to work with them in certain areas like right of ways for rail, Waterways, Power, abandoned properties etc.  For example, when our government wanted to start a rail project, the PDP led federal government refused to give us right of way on the Red Line, which would have enabled us lay rail track from Iddo to Alagbado axis of the state for mass transit. And because they refused, we had to do the Blue Line, which is a lot more expensive. If the PDP-led federal government had allowed us, we would have completed the rail project a long time ago and transportation challenges would have been better for commuters in the State. Also, we've had problems securing approvals to build Jetties. The PDP-led FG refused to give us permit to build jetties for our people. Thankfully, the APC-led government of President Buhari has given us approval for the Red Line and we hope to work better with them in some other areas like housing. The Federal Government is also intervening in major road projects in the state already like Sagamu-Ikorodu that has been abandoned for 40 years, the Apapa-Oshodi-Oworonsoki road which has been awarded to AG Dangote, the Agbara to Seme Border end of the Badagry-Seme Border Expressway has also been awarded by the federal government. For many years too, Lagos wanted to fix the International Airport road up to Oshodi for redevelopment and the PDP FG refused to give approval. Again it is being done now by the state government though a Federal road. The Federal Government has also given the State House in Marina to Lagos State. Already, the State is enjoying the benefits of being in same party with the government at the centre.  Imagine, the Federal Government issuing certificate of occupancy and granting planning approvals on our land from Abuja without any recourse to us? These are some of the areas of collaboration that we need to explore with the Federal government. I believe working together; we will do a lot better for the benefit of every Lagosian, because at the end of the day, it is the people that matter.
You've been talking about your projection for Lagos State. How do you feel that the Presidential candidate of your party, Muhammadu Buhari won his election?
I am very happy like every party man. Winning the presidential election is the ultimate prize for any political party. Like the President won his election I am certain we will win our elections in Lagos too.  President Buhari and our party deserved to win. In the last three and half years of his administration, he has lived up to his electoral promises. Recall that he promised to fix insecurity, tackle corruption and revamp the country's ailing economy. You know that our economy actually went into accession for over a year and we're coming out of it. We've seen the numbers, we are growing, although you may want to argue that we're not growing as fast as we should. We are beginning to do a whole lot in Agriculture. For example, Nigerian farmers are doing a lot in rice production, which has given rise to partnerships between States such as Lagos and Kebbi States. The figures have shown a major decline in rice importation into Nigeria.  This is how the economy grows and certainly how it becomes sustainable.
The government did a lot on security and other areas of life and this is why I believe that Nigerians did the right thing by given the Buhari-led administration a chance to continue for a second term so that they can wrap up all of the good initiatives they started in Power, Transportation, Rail, Roads, Job Creation, Housing, Youth Empowerment, Ease of Doing Business and National Competitiveness.
You think this is the language that the average voter who is going to vote on Saturday in the governorship election in Lagos understands?
I believe so. I believe that as politicians and even you the journalists should educate the people. We should tell them rightly that all of these are what will revamp the economy and bring back the jobs. We have seen real development in critical infrastructure. We have seen Ajaokuta-Itakpe-Warri rail which had been abandoned since 1987, the Lagos to Kano rail project where the Lagos-Ibadan leg is almost completed. We have seen the airports being completed in Port Harcourt and Abuja, the Abuja Light Rail project among others are massive projects that help the economy to grow. We cannot have a productive economy without critical infrastructure. So the country is moving in the right direction.
Do you think that Nigerians trust your party?
I believe they do, because the President has honestly told us that if anything at all, he will never steal our money. What Nigerians should ask for are quicker and faster interventions where necessary. That President Buhari is a man of integrity is enough for me because that is what all other things are built upon. That's what I also stand for. So what we need to see from now is for the jobs to go up, the economy revitalized and wrap up a whole lot more.
What will be the most important thing for you if you win this election?
It's to get a lot of Lagosians out of poverty. I'm going to do that with my project team, by ensuring that we push more fund into education, health and social services. Currently we do about 8% budgetary allocation to education. We will see how we can push it up to about 15% in the next four years. Same with health. We need to cover a lot of the vulnerable and poorest of the poor Lagosians under our Health Insurance Scheme. I believe that if we do well in Education and Health we will be guaranteeing the future of the children and Lagos State.
Did you sign any deal to spend four years of one term only?
I didn't sign any deal with anyone. It is also important to say that it is only four years on that is in INEC form.
Will you be willing to renew it if you win?
It's Lagosians that will determine that for me. There's certainly no deal anywhere. The only deal that I will be having will be with Lagosians.
Are you sure that you're going to have two terms?
Again, that will be left for Lagosians to determine. I'm sure that they will do the needful if I earn it.
Finally, do you think you can win this election?
I know I will win.