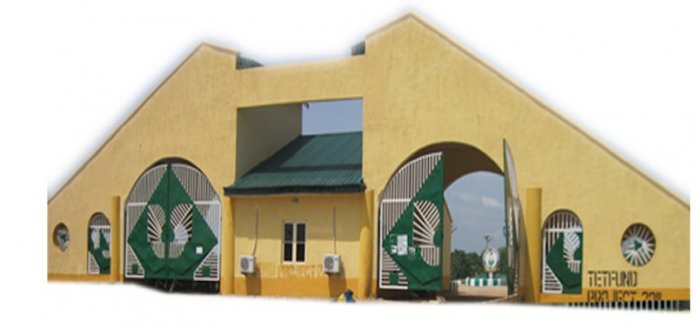 Despite challenges facing the seven-year-old Federal University, Oye Ekiti, especially in the areas of infrastructure and dual campus structure, the management of the institution has continued to weather the storm through strides in infrastructure, staff development and academic empowerment. Raheem Akingbolu reports
In 2010, when the federal government gave its nod for the establishment of nine more federal universities across the country, and sited one in Ekiti State, the news was well received from various quarters. But unlike other ones that took-off from a single campus, the Federal University, Oye Ekiti maintained a dual campus structure from the beginning with a budget meant for one. To succeed, the leadership of the institution has consistently demonstrated a high level of creativity and innovation to compete with others.
In a recent encounter with the current Vice-Chancellor, Professor Kayode Soremekun, he opened up on how far the university has gone since inception and the challenges he and his team are contending with in their determination to plant a real university idea in Oye and Ikole Ekiti.
"I was not the pioneer VC but because my two predecessors had fleeting stay in FUOYE, the bulk of the job fell on me. Both of them; Professor Chinedu Nebo, who later served as Minister of Power and Professor Isaac Azuzu, spent five years, which is a term and when I came in, I met many uncompleted projects that needed immediate attention. By then, our students, who were not receiving lectures under conducive environment, had started agitating, hence the need for me to mobilise the contractors back to site and hit the ground running almost immediately," Soremekun had stated during the interview that preceded the tour of the Oye and Ikole Campuses by this reporter.
Sharing his experience in the university in the past two years, the VC admitted that it has been very challenging and sometimes almost frustrating because of the need to attend to many things at the same time on both campuses. The Professor of International Relations also pointed out that the fact that he is like a semi pioneering VC has also made the job very tasking.
"Like I said earlier, when we came in, a lot of the buildings were abandoned. After several efforts, we had to renew our vigour to build them up, especially after the discovery that some of the buildings were awarded but abandoned midway. We summoned the courage and mobilised the contractors back to site.
According to him, "I came here like a semi pioneering vice-chancellor. This is a seven-year-old university that has produced three VCs because the first two jointly spent a term of five years. Again, here we are in a virgin land running a university that is not connected to national grid but runs on generator 24/7. Besides, we have two campuses and we must strive to replicate whatever we do in Oye in Ikole Ekiti. We are building roads here and we are building in Ikole, we generate power here and we must do the same thing in Ikole Ekiti. Same goes for water and other facilities. By saying this, I am not trying to condemn the former vice-chancellors, knowing well they must have worked assiduously too to take the institution this far,"
With seven faculties, 49 fully accredited programmes and a postgraduate school within seven years of its existence, despite contending with two campuses, but getting the same funding as those with one campus, Soremekun sees FUOYE as an institution destined for greatness.
"With the level we are and what we have been able to accomplish, I am not in doubt that we have surpassed the achievement of other university established the same time with FUOYE. Besides, our students are making us proud as they win local and international laurels from time to time. Just recently, a graduate of Mechatronics Engineering from FUOYE, Ibiyemi Pedro Sanni, won the Federal Institute of Industrial Research Oshodi (FIIRO) technopreneurs programme. There was also a case of three out of four of our students that won bronze medals in individual ranking in the national Mathematics competition for university students, while FUOYE emerged 14th position out of 100 participating universities. At this point, it will be laxity on my part if I fail to commend my colleagues, both academic and non-academic staff, whose efforts have helped the university to excel all rounds. I have here a committed team and I am proud of them all."
His achievement in the area of infrastructural development and staff empowerment notwithstanding, Soremekun has recently received bashes from the zonal and local leadership of the Academic Staff Union of Universities (ASUU), who accused him of sundry malpractices and insisted that the VC be probed.
When asked to clear the air around his frosty relationship with ASUU and the allegation that he is fond of giving irregular appointments to his cronies, Soremekun went down memory lane and spoke glowingly on many years of chummy relationship with ASUU in various institutions, including FUOYE.
"I have no problem with national ASUU and I am committed to seeing the local chapter here in FOUYE succeed. But I think the national body must have been fed with wrong information about my position and activities. Of course, they have the right to react if they notice any step unfavourable to their members, but I feel as intellectuals, they should have done a thorough reality check, considering my open door policy and the fact that I am close to the rank and file of the association and even its national president, Professor Biodun Ogunyemi. Here in FUOYE, I am also committed to seeing ASUU and other similar bodies grow in a way that it would help the university community grow. In fact, our local chairman, Dr. Akinyemi Omonijo calls me comrade VC.
"As an individual, I have tremendous respect for ASUU and I am a witness to its success story. I remember some years back, an American professor who was in Obafemi Awolowo University, Ife briefly used to commend ASUU and wished that a body like it existed in the US to help address some issues. Having said that, I won't like a situation whereby ASUU will break up under my leadership that is why I will continue to press for symbiotic relationship that will be beneficial to the development of the university," Soremekun stressed.
Reacting to the issue of irregular appointments, he dismissed it as nothing but feelings in some quarters which do not hold water.
"There is nothing like irregular appointment in FUOYE because we follow the laid-down rules in all that we do. Agreed, some people wrote a petition that there were irregular appointments but perhaps they were not aware that the said appointments were approved by the governing council in compliance with Federal Character Commission. But in my style, I have always emphasised that any issue raised legitimately will be addressed on the floor of the senate."
Beyond administration and internal politics that are common in any organisation and human society, FUOYE's Public Relations Officer (PRO), Mr. Godfrey Bakji, who later led this reporter on a tour of the Oye and Ikole Campuses of the university, is confident that the success story of the institution will be told one day at the national level. He stated this while pointing out that Soremekun has positively changed the face of the university in two years.
To this end, Bakji succinctly captured the current situation in the institution by describing it as a construction site. Some of the facilities inspected include a completed three-in-one science laboratory, central administration, library (under construction), Faculty of Pharmacy phase one (under construction) and Faculty of Management (under construction). Others are; the Theatre Arts Department (completed) Faculty of Law (completed) male and female hostels, as well as Faculty of Science Lecture Theatre.
According to the PRO, who also corroborated the position of the vice-chancellor, some contractors who were working on some of the projects, including the central library, had absconded before Soremekun came on board.
"In 2014, the contractor working on the library left site but immediately Soremekun resumed office in 2016, he re-mobilised him and brought him back to complete his job. The current law faculty was initially the VC's office but it was considered small, hence the need to finish the central administration building that now houses the VC and other principal officers and convert the former VC Office to Law Faculty."
While commending Soremekun's creative ingenuity, the university's spokesman singled out the three-in-one science laboratory and Faculty of Science Lecture Theatre as beauty to behold.
"As a man imbued with ideas, on arrival in 2016, Professor Soremekun had announced his decision to build the Faculty of Science lecture theatre through internally generate revenue," he said adding that he initiated and completed it the same year.
"Again, the just concluded three-in-one science laboratory can only come with a man that is deep in innovation. He has been commended for this by many relevant bodies and individuals, including the Chairman of the school Governing Council, Professor Tunde Samuel, who described it a master piece," the spokesman stated.
When asked what he wishes for the university by the time he completes his five year term, Soremekun was quick to say: "By the time I finish my term, I pray that the university idea must have been planted in FUOYE."