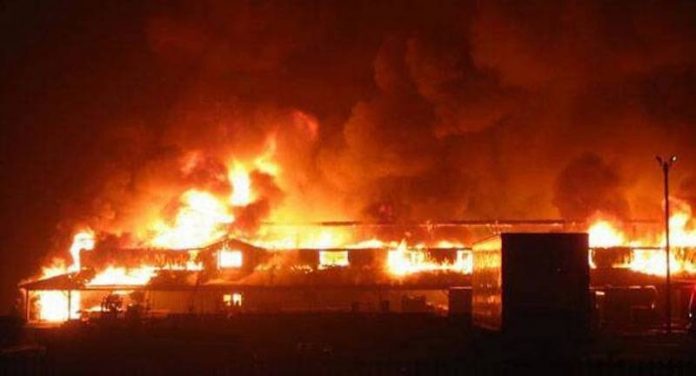 By Laleye Dipo in Minna
Barely a month after fire ravaged part of the Abdulkhadir Kure ultra modern market in Minna, the Niger State capital, another major market, the New Bussa main market has been gutted by fire.
In the latest incident, 54 lock-up shops and 15 attachments were completely burnt in the fire outbreak which occurred late Sunday.
Eyewitnesses could not say what caused the fire, but it was learnt that the inferno was aggravated because of lack of a fire service station in the ancient city and the fact that the affected shops were closed as a result of the election which took place the Saturday before the incident.
When contacted, an official of the state fire service, who did not want his name in print, said: "We are not aware of the incident because we do not have a station there.
"It is now that we are trying to make the government to set up a fire station in New Bussa."
Governor Abubakar Sani Bello on Tuesday paid an on-the-spot visit to New Bussa during which he promised that a fire service station would be established in each of the 25 local government headquarters in the state.
The governor said the step had become necessary because "fire outbreak in markets across the state has become a reoccurring incident", making the need to build fire stations in markets and local government headquarters paramount.
"This is not the first time we are experiencing fire outbreak in markets across the state. Now it has happened in New Bussa but the most important thing is that no life was lost.
"What we can do is to ensure that we have fire service stations in all the local government headquarters and we have built seven stations already. So we also have to ensure we set up one here as soon as possible so that when there is fire outbreak, we can contain it before it causes more damages," he said.
The governor promised to provide immediate assistance to the victims to "cushion the effect of the disaster on the victims".
The Director General of the state Emergency Management Agency (SEMA), Alhaji Ibrahim Inga, said the agency was already compiling the statistics of property destroyed by the inferno.