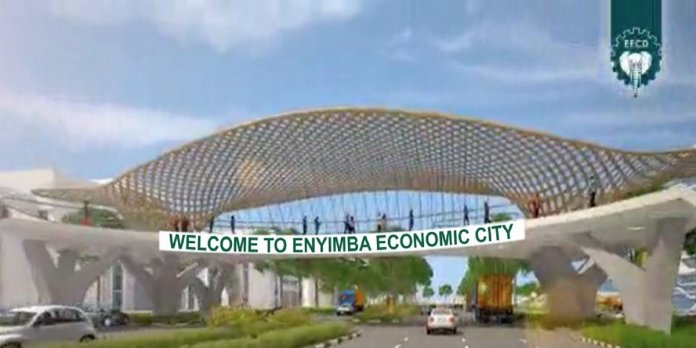 • President Buhari to inaugurate project before general elections
By Charles Ajunwa in Lagos and  Shola Oyeyipo in Abuja

The federal government and Abia State yesterday penned the N500 billion Enyimba Economic City project at Aba, Abia State, where the federal government has taken 20 per cent equity of N100 billion. The project is a private sector driven.
 Regarded as project capable of sparking industrial revolution in Nigeria, the Enyimba Economic City is a 9, 803 hectares of new economic city, spanning three local government areas of Ukwa East, Ukwa West and Ugwunagbo.
It is located at the centre of the five South-east and four South-south states and is to be designed to drive massive economic expansion of the region and by extension Nigeria. 
The Enyimba City Economic Zone Limited signed on behalf of the Abia State Government while Nigeria Special Economic Zone Company signed on behalf the federal government at a colourful signing ceremony that took place at the Presidential Villa, Abuja.
President Muhammadu Buhari who witnessed the signing, commended the Governor of Abia State, Okezie Ikpeazu for initiating the project and thanked the host communities for their commitment to the project, saying that everyone should be more confident of the success of the project since the Minister of Industry, Trade and Investments, Okechukwu Enelamah, under whose portfolio it falls, hails from Abia State.
The President assured the people of Abia State and other Nigerians of the federal government's support and cooperation towards similar project anywhere in the country 
President Buhari specifically commended Ikpeazu, and some private sector investors who initiated and midwifed the Enyimba City Economic Zone project.
He said such initiatives were exactly what his administration was desperately looking for to create employment for the populace and boost the national economy as at full capacity, it was expected to create 625,000 direct jobs.
In his remarks, Ikpeazu who led the delegation of leaders and stakeholders from the state, thanked the President for his support for the project, noting that Aba, the commercial city of Abia State where the project is sited, was strategically located for easy access from all South-east and South-south states.
He disclosed that Aba alone has over 250,000 artisans engaged in various arts and trades and that the Enyimba City zone covers three local governments of the state.
The governor noted that the project would not only be of immense benefit to Abia State but to the entire region and country.
Commenting on the Enyimba Economic City project, the governor in an exclusive interview with THISDAY said, "Most of our people don't bequeath legacies that are futuristic, today, I am from the South-east and I am pushing for the Enyimba Economic Zone, in the entire South-east we don't have such, it is not a coincidence that it is coming to Abia but it is a product of deep thinking and planning. This project will blossom and create 200,000 jobs because of the sheer enormity of the positive effects on my people. I see the concomitant impact on the life of my people and area. I know my people are people who want to create things, all you need to do is to make them neighbours to people who are actively manufacturing, don't make them neighbours of those counting money, if an Abia man is to succeed, make him a neighbour of someone who is actively manufacturing and you will see him fabricate that machine somewhere and start producing, so in doing this I needed to be futuristic, I didn't need to be an election politician but I want to be politician for development."
Apart from setting up a team of experts that worked on the plan, Ikpeazu noted that they studied other models of development.
 "We studied Singapore, Dubai and other models of development and we said what is it that we are not doing right here. The first thing is that a leader that wants to create something unique and remarkable and profound must divest himself of any interest that is pecuniary and we said this thing must be private sector driven and I must not be seen on the driving seat; it must have profit motive and be competitive in nature and it must bear the signature of being excellent. So, we said let us go and see those who had a hand in the concept design of the development models of Dubai and Singapore and we got Subarajuran to come and look at the Enyimba Economic City, this is the land area, what do we make out of it. For over two years they were going back and forth, that is why today if you put Enyimba Economic City side by side with economic cities around Africa, people will go for Enyimba City because the foundation is strong and they will see the consultants that did the work. I am saying if you are serious about creating something of world-class standards, you do not care the cost.
"I think those private sector persons that are involved in the scheme must have spent over $200 million trying to set it up. I have been very actively involved in the marketing of Enyimba Economic City, some of the anchor investors that are coming are already in Abia.
"I am sure Mr. President will do the groundbreaking before the elections, so they find it irresistible because they see that we have established a city that if you do 140 kilometres you are already in Cameroon, it is at the centre of everywhere. If you do 60 kilometres in any direction, you are in all parts of the South East and most part of the South-south, so it is going to be a major hub and it is 30 minutes away from the seaports and it has a River Port that we are dredging seriously, so geography for us part of what you need to consider in shifting development economic paradigm is to ask yourself, Hogan Bassey where is your right hand, if Hogan Bassey doesn't know the difference between his right and his hand, then it is  bad, so you must know your strengths and your weaknesses."
Professor Maxwell Ogbulu, who spoke on behalf of the host communities, thanked Ikpeazu for the project and informed the President that all the affected communities donated the land for it voluntarily because of the awareness of the enormous benefits to them and the nation.
He thanked Buhari specially for finding it worthwhile to have the signing ceremony held at the Presidential Villa and for his magnanimity in ensuring the project came thus far and for personally attending the ceremony.
At the event were the former Senate President Adolphus Wabara; Vice-Chancellor of Abia State University; and some Abia State House of Assembly members, among others.
On the government side were Enelamah; Governor of Central Bank, Godwin Emefiele; Minister of Information and Culture, Lai Mohammed and Secretary to Government of the Federation, Boss Mustapha.
Abia State Commissioner for Lands, Survey and Urban Planning, Uche Ihediwa, signed the agreement on behalf of the state government; Mr. Femi Edun, Director of Nigeria Special Economic Zone Company, signed for the federal government while Mr. Darl Uzu signed for Crown Realities Limited, the private sector developer.