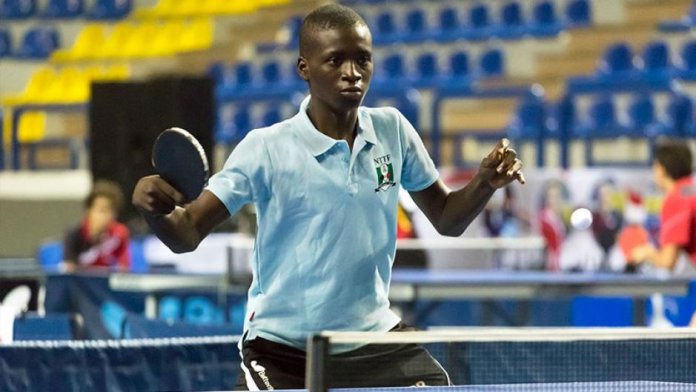 By Femi Solaja
Hundreds of David Fayele supporters were the major winner of the just concluded 50th Asoju Oba Molade Okoya-Thomas Table Tennis Cup last weekend in Lagos.
The event which brought back the memories of Atanda Musa/Yomi Bankole Peugeot car was and rivalry back was truly celebration of excellence as other deserving winners also had a great pay day courtesy of the family of the late Mongol that kept the flame of the annual event burning.
The winner, who was a finalist at the last edition defeated Olajide Omotayo 4-2 (4-11, 11-9, 11-5, 11-6, 7-11, 12-10) to win his first major tournament in his career while in the female section, three-time champion, Bose Odusanya won her fourth consecutive title after beating Nimota Aregbesola 4-2 (11-5, 6-11, 11-6, 10-12, 11-9, 12-10).
For claiming the titles, Fayele and Odusanya drove home brand new Peugeot 306 saloon cars alongside their trophies.
A delightful Fayele told journalists after the victory that he was excited winning his first title in the competition.
"Finally, I feel so delighted wining this title and especially the car because I was so afraid when I heard Olajide Omotayo was going to participate in this competition which made me added two more hours to my training time. So I already had it in mind that I will surely win this year, because a civilian cannot come from somewhere else to come and beat a military man. I want to say a very big thank you to the organizers and family of Late Sir Molade Okoya-Thomas for keeping this competition running and for developing young ones and table tennis in Nigeria. I have never dreamt of having a car by this stage of my life, so I am grateful for this very gift I have received," said Fayele
For Odusanya, the tournament would help her shape up for the next National Sports Festival.
"I am very happy for winning the tournament again this year. I'm really grateful to God for helping to win and I am so excited. The tournament is part of my preparation for the National Sports Festival in Abuja and with this feat; I know that I will do well at the festival. The final was tough because my opponent is a very good player. She plays with anti-speed and when you play against her, it is always difficult. During the match, I was just praying that God should help me because I was really tired at the end of the third game and that was why I lost the fourth," Odusanya said.