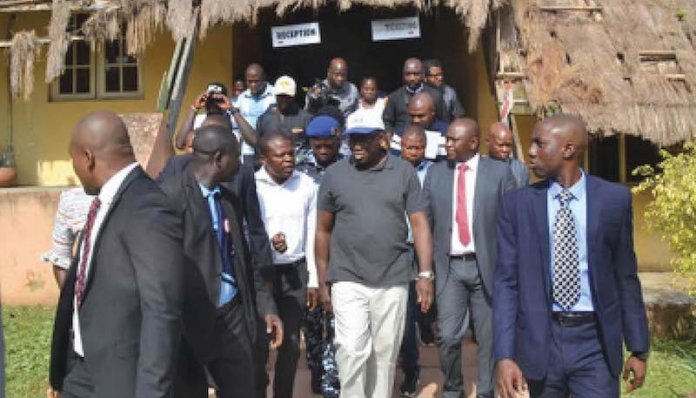 The decrepit state of infrastructure in Ekiti State presents a difficult start for Governor Kayode Fayemi, writes Victor Ogunje
On Monday, November 5, 2018, reality dawned on the Governor of Ekiti State, Kayode Fayemi, that the task of ruling the state in his second term would not only be herculean but burdensome. It was the day he realised that he inherited a totally decayed government owing to the abandonment of some of the flagship projects that could catapult Ekiti State's economic fortunes to enviable height by the administration of Ayodele Fayose.
That day, Governor Fayemi started by touring project sites across the state particularly, those he initiated during his first term and where he had invested humongous state funds for better economic activation and to also buoy the internally generated revenue.
In this voyage of good governance, the first port of call was the Ikogosi Warm Spring in Ikogosi Ekiti, where his administration sank over N2 billion to modernise to 21st-century tourist attraction site and had become a cash cow for the state before his exit in 2014.
In actual fact, what the governor saw was devastating and this reflected in his countenance. During the inspection, Fayemi nearly burst into tears seeing the relics and highly dilapidated chalets, modern halls and amphitheatre as well as the wooden walkway built to the warm and cold spring site already collapsed.
To make matter worse, a portion of the sprawling building had already been overgrown by weeds while a section of the palatial site had been taken over by reptiles.
In his first term in 2010, Fayemi inherited many uncompleted projects from the administration of Segun Oni from where he began to lay the foundation for good governance by injecting continuity into his dealings. In spite of the preponderance of uncompleted projects, he never met a hugely deteriorated system as it is now. The fact that former Governor Oni started where governance ended when he took over actually eased governance for the succeeding governments.
Other abandoned project sites visited were the 12,000-capacity Ekiti Parapo Pavilion, Ire Burnt Brick in Ire Ekiti, Truck Park in Omuo Ekiti, Arinta Waterfall in Ipole Iloro, the ultra-modern Oja Oba market in Ado Ekiti, Ureje Dam Resort Centre, ROMACO Company in Igbemo Ekiti, Fountain Hotel, Adunni Olayinka Civic Centre and the prestigious Fountain Hotels, an otherwise beautiful boutique hotel, among others.
With these sordid and worrisome sights, it was clear that Fayemi has a lot of things to contend with before his second term can be deemed to be rewarding. It was instructive for him to buckle up and settle down to governance early, rather than delving into political issues or taking vindictive actions that could constitute a mere distraction to his administration.
The governor too was not oblivious of the foregoing and that was why he said "The purpose of this assessment is not even to pass blame or cast aspersion on anybody, it is to just see what the officials have told me during the briefing by MDAs. I did not want to go by what the MDAs had told me, that is why I am out to examine all these things myself and to form my own judgment about how our state has been governed and what we need to do to ensure that never again should we subject our state to people, who neither know anything about governance nor development."
When Fayose assumed office, he spoke more like a leader who was ready to forgive everybody. He even appointed those who worked for his impeachment in 2006 into sensitive positions. He sermonised about peace and forgiveness and this really stabilised his administration.
But he derailed the moment he saw persecution through the frivolous probe of Fayemi as an option to win the July 14 succession battle. He was derailed at the twilight of his administration. This accounted for why many of his projects like Oja Oba could not be completed before exiting government.
Without mincing words, the task to returning Ekiti to the path of glory is a daunting one and rescuing the state from this decay would require a lot of concentration and dedication and Fayemi himself was aware of this.
Fayemi used 'Reclaiming Our Land, Restoring our Values' as his political slogan for his reelection in 2018. This connotes that he already had a premonition about the nature of the bumpy path he was preparing to navigate and he has to hit the ground running to portray him as walking the talk.
There had been a serious exchange of tirades between the governor and Fayose over some issues and time to cut off from such unwarranted engagement is now to avert unnecessary distraction that could cause disappointment and inability to meet people's expectations.
Though the act of governance is a serious business and Fayemi expressing open feelings about the dilapidated states of the projects he initiated eight years ago was not out of place. But observers believe this must be done with caution and tact.
Probably as someone, who believes in continuity in government, Fayemi expressed anger and disappointment in his predecessor over the abandonment of these legacy projects, describing it as a flagrant and brazen destruction of the Ekiti heritage. The governor said the Ekiti revenue would have gone up astronomically if these sources had been harnessed to an optimal level.
"I want to express my anger with what I have seen here today. I am really upset. You all witnessed the spate of development there in 2014. You knew the patronage this facility was enjoying. What I met here today, to me, is a destruction of the Ekiti heritage; destruction of our commonwealth. It was unfortunate that our government had become so careless to allow this major tourist attraction and revenue earner for Ekiti to destroy and decay.
"This could have been avoided if the last government had maintained the facilities therein because it involved Ekiti's money. It is not only the leadership that was culpable; the management of this place too should be held accountable, though I agree that leadership defines everything. Now, everything is in shambles.
"But my belief has been that a major tourist attraction like this shouldn't be left in the hands of government alone to manage. Apart from the fact that the facilities in this resort had damaged, the roads to this place are impassable, particularly the Aramoko-Erinjiyan-Ikogosi road. Half of the 110 rooms in this resort are not habitable, this is unacceptable to us.
"I can't because of politics cancel the Gifted Academy in Afao Ekiti, I can't demolish the flyover and the new governor's office built by the past administration. I can only improve on them and that is what governance is all about. The projects of this state belong to the generality of Ekiti people and not to the governors and every government must neither abandon them nor allow them to destroy just because they are not the initiators," he said.
Knowing full well that the ball was in his court and that he must strategise to bail the state out of the quagmire and set Ekiti on the path of economic recovery, Fayemi expressed the resolve of his administration to hand off all commercial ventures of the state to professionals.
"All these things, we are going to fix, but it is important for Ekiti people to know the type of leadership that just left office in our state because these facilities were in full operation when I was governor up to the last day I spent in the office.
"These facilities were one of the most sought after for use because it is attached to the hall that provides a very good use for public and then the 110 rooms that are here are always almost fully booked. So, for me to see it in this state, I just ask myself: it's not rocket science to manage public property.
"You really need to think of yourself. How do you manage your own property at home? At the last time I checked, governor Fayose manages his private properties very well, so, it means that public properties mean nothing to him, that is why he would allow this to be destroyed like this.
"We would revive them. We would rejuvenate the Fountain Hotel and then let it out to professionals to manage. What this also proves is that we really need to get government out of managing commercial ventures in our state, because the government would come and go, but the properties would still be here, and they are legacy properties. All of us should see them as a source of pride to Ekiti people. Most people who came to Ekiti about one decade ago – this is probably the only hotel they would know. But look at this place now; this is a shadow of itself. This is a ghost town."
However, Fayose didn't take the vitriolic comment with equanimity. The former governor's Media Aide, Lere Olayinka advised Fayemi to face governance and stop wailing. He said Fayemi must be abreast of the fact that he has a very limited time to spend and should devote his time and resources to things that the people of Ekiti can point to as his achievements after the mandate that was stolen for him might have been retrieved.
"Ikogosi Resort was never abandoned. Rather, what the Fayose government did was to first hand it over to a private company to manage and when the company left because it was unable to meet up with the expected revenue, the government put machinery in motion to seek private investors to take over the resort. "As at the time we left government, no private investor had shown interest and rather than making noise, Fayemi should continue from where we stopped by intensifying efforts to seek investors to manage the Ikogosi Resort because there is nowhere in the world where