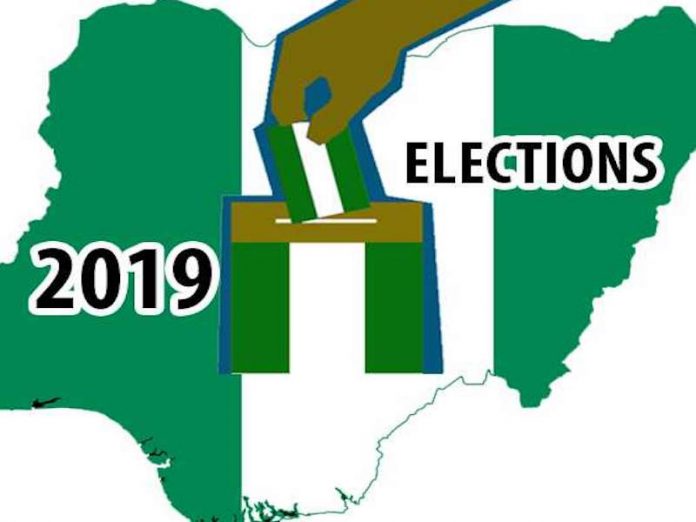 The die is cast between the ruling party, All Progressives Congress (APC) and the oppositions for the control of power particularly the central government as this tenure wraps up. However, the titanic battle will likely be between APC and the major opposition, Peoples Democratic Party (PDP) on account of its widespread, viable and visible structures across the nation as a former ruling party. As usual, masses are inundated with campaign promises. Whilst the APC candidate, President Muhammadu Buhari presented a 'Next Level' package to the people, his PDP counterpart, former Vice-President, Atiku Abubakar offered 'Making Nigeria work again' bundle.
The third major contender in terms of structures is the Social Democratic Party (SDP) with Donald Duke as its candidate. Incidentally, there are no visible actions from the quarters at the moment. Duke stands between the older and younger generation and obviously, would have been the ideal candidate by his experience, age and alluring look, had the economy been systematically, productively set in motion and running effectively before now.
Unfortunately, the job and situation of the country exceptionally requires political will for solid foundation; indispensable for significant attainments. The will power to undertake critical tasks irrespective of whose ox is gored is a sine qua non to luxuriant growth of the economy. Hence, at this critical stage, the nation requires more of value than glamour.
As for the two giant forces, their scorecards are straightforward. A holistic examination showed that from 2010 to 2014, average price of crude oil was $99.29/barrel as against $53.24/barrel it sold from 2015 when the present administration came to power. In fact, at a point during Chief Olusegun Obasanjo's administration, it climaxed to a whopping $145/barrel. During Buhari's first year in office, it plummeted to as low as $28/barrel.
Meanwhile, the OPEC benchmark was $45/barrel. It implies that any transaction above the benchmark is a marginal profit while below; a deficit. And where a nation solely depended on the commodity as Nigeria did, invariably, an economic recession. In other words, crude oil boomed during PDP administrations unlike in the present APC regime, and would have substantially, realistically advanced the nation if judiciously managed.
Factually, during the period under examination, despite the fact that crude-oil brought huge wealth to the treasury, corruption impeded its impact. Whilst Goodluck Jonathan's government secured $29.6bn in the nation's Foreign Reserve, Buhari's government despite global crash in crude-oil price safeguarded $42.3bn. On Sovereign Wealth Fund, PDP government deposited only $1bn while APC government amidst economic recession recorded $1.5bn. Logically, Buhari achieved more even with less oil revenues.
Inevitably, the nation witnessed colossal figures of abandoned projects despite oil boom under PDP. Then, party chieftains with unrelated skills would arbitrarily bid and hijack contracts but ended up reselling to third-party contractors after initial payment. The moment the new contractors received their rations from upcoming budgets, they follow suit, abandon it and abscond under the 'national-cake' syndrome. Still, the projects will keep reflecting in 'padded-and-unpadded' budgets for many years.
Beyond the crude-oil revenue's sustainability, the present administration has in the three-and-half years in power proved a remarkable point: that Nigeria can become a great nation even without oil revenue but prudent management of the internally-generated revenues. Through the Treasury Single Account determinedly implemented by Buhari's administration, government agencies now resourcefully account for revenues. JAMB for example, progressively made astounding returns since this administration came on board. It remitted N7.8bn recently. In 2017, NIMASA remitted N21.805bn. Nigerian Customs posted N1trillion. Find out their remittances before 2015. The results may be awful.
On anti-corruption war, the EFCC recently recovered roughly N500bn excluding others in foreign currencies against maximum of N2bn ever recovered during preceding governments. Strategically, immediately after inauguration of Buhari's cabinet, federal government moved into action, forwarded audit reports of 33 government agencies to EFCC over non-remittance of revenues generated between 2010 and 2015.
In fact, Buhari's first action point was the audit of all MDAs (ministries, departments and agencies) before formally appointing his ministers. Kemi Adeosun as the arrowhead excruciatingly paid her price for spearheading the move as Finance Minister. To pursue it to logical conclusions, federal government hired KPMG to carry out forensic audits of revenue remittances to the Federation Account. By these blueprints, civil servants wages and pensioners were consistently paid as at when due without resorting to loans.
––Carl Umegboro, Lagos.