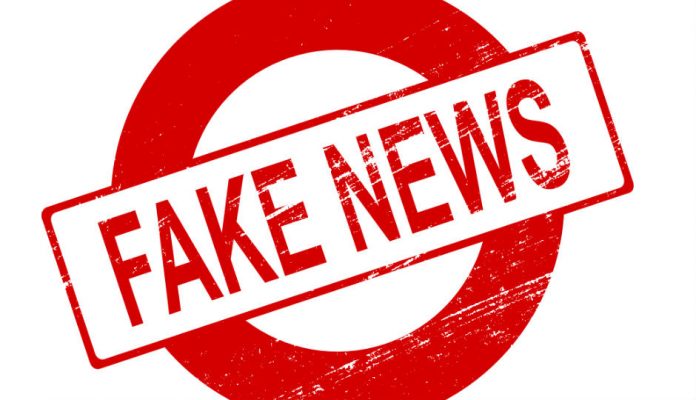 Often times, most people are thoroughly embarrassed, disgraced and even loss their means of livelihood as a result of the havoc wrecked by fake news. In the last couple of years, there has been a gradual but steady explosion of fake news items that have taken the social media by storm, dominating discussions and forcing their unsavoury views on the unsuspecting and sometimes gullible public.
It is not as if it is so easy to identify fake news when you see one; for it bears the same characteristics and semblance of real news except that its intention is surely not to serve the public good. Fake news, as the name implies, disseminates lies, misinformation, sensationalises stories to spread outright falsehood, with the sole intention to deceive the public or destroy someone's reputation.
Nigeria's baptism of fake news' fire came sometime in 2011, Channels Television sent out a newsflash informing its viewers that then president Umaru Yar'Adua (now late) may resign after a cabinet reshuffle. The news item immediately went viral and the effects of its content sent shock waves which reverberated locally and globally.
As it turned out, the source of the newsflash which the television station thought was the News Agency of Nigeria (NAN) was a complete hoax. Not only that no such thing happened, the news item never emanated from NAN and Channels TV was left with a red face and had to grapple afterwards with the federal government sanctions.
Now what exactly is fake news? To some, fake news is an inaccurate, sometimes sensationalistic report that is created to gain attention, mislead, deceive or damage a reputation. However, the Cambridge dictionary defines fake news simply as false storiesthat appear to be news, spread on the internet or using other media, usually createdto influence political views or as a joke.
Admittedly, not all Fake news is Fake even though because of its notoriety, it has become the very reason to discredit all manner of stories on the basis that they are fake. While that may be true, social media consumers have to develop a more robust approach and discernible mind not to throw the baby with the bath water and must adopt some creative ways to fight this menace.
To underline the global threat of Fake news which social media consumers have to become smarter and proactive, we only need to follow the discourse in the aftermath of President Donald Trump of the United States election victory where it is alleged that fake news 'assisted in swinging votes' in his favour.
Another poignant reminder is a shooting incident which is now referred to as 'Pizzagate'. The story goes that  on 4 December, a North Carolina man opened fire at the Washington pizzeria Comet Ping Pong, which an online conspiracy theory purports to be the headquarters of a child sex ring run by Hillary Clinton. Subscribers to "Pizzagate" point to apparent "code" within the hacked emails of John Podesta, the Clinton campaign chair, and the fact the restaurant has the same initials as "child pornography".
As the story unfolded, it was discovered according to the Guardian online that "from 4chan and Reddit, the online message board where the story took root, the story gained sufficient momentum for a poll of 1,224 registered voters in late September to find that 14% of Trump supporters believed it to be true. A significant 32% of respondents were "not sure" – just like the 25-year-old gunman who, though not convinced of the theory, felt there were sufficient grounds to pay a visit to the restaurant to "self-investigate".
Now hold on to this: The poll lends weight to the suggestion that the US election result was influenced by a widespread belief in fake news among Trump supporters. That same poll found that 73% of Trump voters thought the billionaire financier George Soros paid protesters to disrupt the Republican candidate's rallies – a fake news report later repeated by the president-elect himself.
It has equally been discovered that because of the juicy nature of these fake news stories and people's desire to know what is going on, these fake news stories become compelling to click on, and with a "truthiness" quality to them – they grow on the social media, where links are given the same weighting regardless of source.
Which brings us to what is happening in Nigeria today: The story currently trending is not about the policy documents released by the two presidential candidates, President Muhammadu Buhari of the All Progressives Congress (APC) and Alhaji Atiku Abubakar of the Peoples Democratic Party (PDP); rather it is a Fake news story of Buhari's purported death and replacement with body double.
According to Nnamdi Kanu of the proscribed Indigenous People of Biafra (IPOB), Buhari purportedly died when he went to the United Kingdom for treatment for an undisclosed ailment. The so called cabal in the Presidency according to Kanu, imported a certain Jibrin, a Sudanese fraudster as Buhari's body double and has been ruling the country ever since his purported return to the country.
It is an uphill task to convince a layman that Kanu is talking rubbish largely because of the information at his disposal (regardless of whether it is fake or not) and the manner and timing he is releasing the 'information' especially in an election period of this nature in Nigeria possibly to make political capital.
But is Buhari Dead and Jibrin of Sudan real? No one is sure of what the truth is or falsehood for the simple reason that the presidency has been mute and apparently considers Kanu's rants a non-ssue.
From history, conspiracy theories alluding to body doubles abound and are not new. The most celebrated of such conspiracy theories was that of Russia's late Boris Yeltsin. According to livejournal, "Boris Yeltsin allegedly survived a heart attack in the fall of 1996. May be he did not survive but he came back to work only in 1997 looking different. He seemingly became younger and lost weight. They said he had all fingers on his left hand, unlike the previous Yeltsin. But such pictures could not be found. But there was a picture where the fourth and middle fingers on the left hand of  "new" Yeltsin were of one length. Middle finger of "original" Yeltsin was shorter."
It went on to narrate that the "new Yeltsin appeared in Kremlin in 1997. Same year, arising from obscurity, Mr. Putin had a meteoric career rise. On March 26, 1997, Yeltsin appointed Putin deputy chief of Presidential Staff. In one year, Putin became Kremlin's most influential person. In summer 1998, he became a chief of Federal Security Service (FSB), and in May 1999 Yeltsin decided to transfer his powers to Vladimir Putin.Possibly, Yeltsin body double's role was to prepare a successor, because real Yeltsin had died.
"Puppeteers understood it would be much harder to put into power their protege by mean of democratic elections. Meanwhile, title of successor increases a prestige of any person many times. Moreover, they found a man (Putin) who could meet the requirements of Russian people at that moment. All country fall in love with young, well built, smart and smiling Vladimir Putin, especially after inappropriate antics of aged Yeltsin.  This greatest scam turned out to be successful."
Therefore, the onus is on the presidency to speak up and address these issues that would never go away for now. Fake news can effectively be checkmated essentially by the timely release of information. For instance, it has been documented that the late President Umaru Yar'Adua was quite open with his medical records.
He informed Nigerians of what ailed him and where he was going for treatment. His openness elicited public empathy and prayers from majority of Nigerians including his political opponents. In Buhari's case, his medical records are shrouded in utmost secrecy. Why won't people speculate or spread fake news? Such huge vacuum created by his handlers would certainly create suspicion and set off a trend of rumours now pervading the polity.