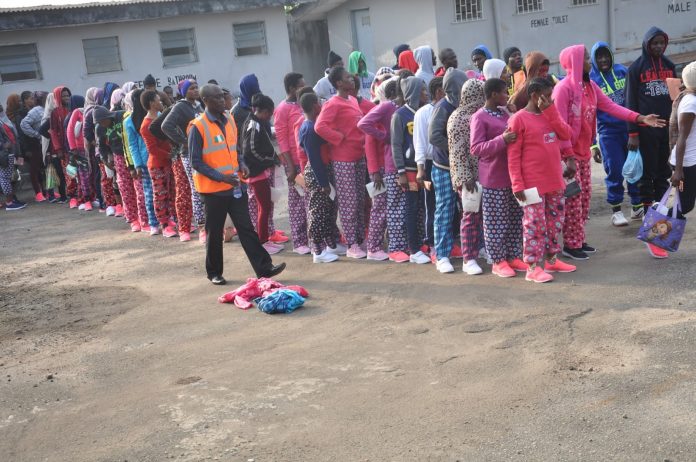 Chinedu Eze

The National Emergency Management Agency (NEMA) has announced that it received another batch of 174 stranded Nigeria's Voluntary Returnees from Libya on Friday.
NEMA said the returnees were received at the Murtala Muhammed International Airport (MMIA), Lagos, by the Acting Zonal Coordinator of NEMA South West Zonal Officer, Segun Afolayan and other federal government agencies.
 They arrived aboard Al Buraq Air which landed at the cargo wing of the airport about 1:10a.m.
 The returnees which comprised of 61 female adults, four female children and eight female infants with 91 male adults, six male children and four  male infants along with unaccompanied male child were brought back to Nigeria through the International Organisation for Migration (IOM) with support from the European Union in the ongoing Assisted Voluntary Repatriation programme.
Others include 10 families, three minor medical cases and three pregnant women
Afolayan while receiving them urged the returnees to take precautions with any information that seems to be very easy at  getting rich, especially when it involves travelling outside Nigeria, noting that most of the conveyors of these messages would not be sincere with the truth.
A returnee, Chukwudi Onyemechie, 30 years old from Anambra State told newsmen that he was a successful auto tyres dealer at Ladipo Market  Lagos before he left the country to make quick money and expressed regret at his gullibility to allow himself to be fooled by the promised of better life in the Europe.
 Onyemechie disclosed that a man convinced him that he could help him travel to France and linked him to his friend at Libya.
 In order to raise money, he sold off his wares and took off to Benin Republic from where his journey to Libya began.
 "I was told that that the journey would be by road but I never knew that it was a deadly and dangerous route. I entered Libyan town where I was taken to a camp controlled by Nigerians where I spent three months in detention. My trafficker organised my detention in other that I would be forced to pay him money. I left Nigeria in June, 2017, I experienced unstable and dangerous life over there. After struggling to cross but unsuccessful, I was helped to get to IOM office in Libya who helped me back to Nigeria today. I am proud to be a Nigerian. Libya is a country that has existed without government; so it is incomparable to Nigeria that is peaceful and naturally endowed," he said.
 Meanwhile, the Federal Airports Authority of Nigeria (FAAN) has notified travelers and other airport users that due to the ongoing co
construction works at the Murtala Muhammed International Airport, Lagos, the vehicular movements on the arrival floor will be redirected effective Monday morning, November 26, 2018.
 To this effect, a temporary Arrival Pick Up Zone in the old car park (opposite the terminal building) would be opened.
 "Consequently, arriving passengers will, as usual, exit the halls through Arrival Gate D but will no longer be able to turn left as the left axis will be closed due to construction. All passengers after exiting from Arrival Gate D, will now turn right and proceed to the old car park (opposite the terminal building) where the temporary pick up zone has been created," a statement from FAAN, signed by its spokesperson, Mrs. Henrietta Yakubu said.
 The agency also said it had already mobilised relevant security agencies to assist in ensuring improved landside facilitation.