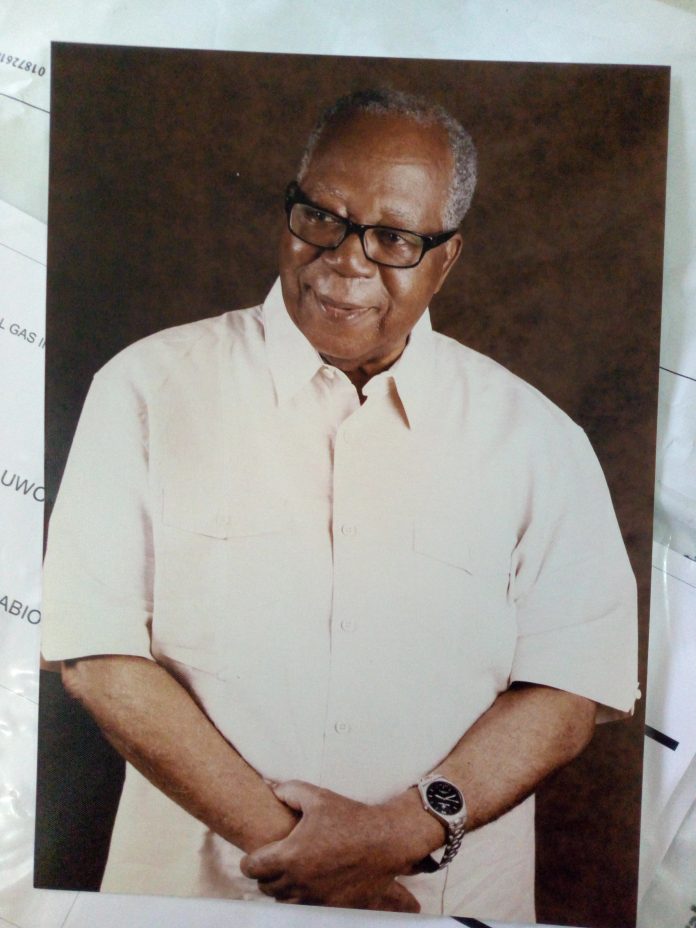 Call Abiodun Francis Oluwole, a retired professor of Physics an Innovator/genius, you would be right. He is a man of many firsts, whose researches and successes have attracted international attention and accolades. Through sheer ingenuity, the Professor is known to have built an Optical Pumping Laboratory, which was the first modern Physics Research Laboratory in Nigeria. He speaks with Adedayo Adejobi on life at 80, his achievements in nuclear energy, marriage and patriotic gestures
 The Man Called Prof. Oluwole
Prof. Abiodun Aladura Francis Oluwole was born in 1938 into the Oluwole Ologbosere family of Ijare, Ifedore Local Government, Ondo State. It was a polygamous family with 13 surviving siblings. As expected in such settings, a roaster was kept for cooking with wives taking turn to demonstrate their culinary skills. In spite of its size, every member of the family ate together as one household from the same pot. No member of the family demonstrated this kinship better than Oluwole and his close half-sister, who interchanged breastfeeding with either of their mothers, who incidentally were cousins.
At age two, Oluwole started living with his paternal grandfather and this stimulated some level of intimacy between the duo, despite the difference in their ages. His friendship with his grandfather accorded him privileges like serving as an escort to town meetings, and acquiring deep knowledge on classified family information and history. Literarily, he washed his hands clean and was pronounced fit to feast with the elders. 
Similarly, the interaction with his grandfather came with its baggage; inhaling a lot of hydrocarbon at the early stage of life because his grandfather's room had the fireside lit all day and night with no ventilation. The only exit was the door.  This may have contributed significantly to his presentation of Chronic Obstructive Pulmonary Disease (COPD), such as Asthma, that plagued him in later life. 
Likewise, he suffered a year delay in school enrollment following his grandfather's insistence to have him build a career as an Ifa priest. His grandfather insisted he must be an "Ifa Priest". Thankfully, his father addressed the impasse using a diplomatic option. By agreeing that Oluwole would be an Ifa priest, he convinced his grandfather that learning to read and write, would make him a better Ifa priest and put him in a position to keep records.
On School, Learning and Discipline….
So, when Oluwole arrived in class IC in 1945, he was like one on a mission. He was determined to erase the gap in his enrollment, and he did all he could to erase the one-year delay. Twice in a single year, he was given double promotion.
A joyous sigh of relief and fresh start…..
Oluwole's joy knew no bounds on January 26, 1952 when he climbed his dad's bicycle and they set out for a new beginning at Aquinas College Akure (ACA).
Around 4pm when he finally brought in his belongings to ACA, he met a very friendly student. He asked him; "Awe, o ti ra bucket re?"(meaning; "my friend, have you bought your bucket?") Two hours later, the same student rang the bell for an assembly. The principal called him to make some announcements. Oluwole was frozen. This was the school prefect! He ran to his town mate (Mr. Adewumi) to help apologise to the prefect. The prefect just smiled and mimicked him by repeating his question. An hour later, his bed was located between Mr. Otiko's and the prefect's. The Prefect continued to joke with Oluwole about buying his bucket. The Prefect was to become late Prof Mathew Ojo, an Emeritus Prof of Vertinary Medicine at UI.
The following day, Sunday 27th, after the mass, fresh students were given text books, which included a small catechism booklet with 374 questions. Oluwole succeeded in memorising them in less than three days and this endeared him to the principal who rapidly moved him from front row to the back row.
At some point, Oluwole acquired a new baptismal name, Francis. He was prudent and in 1953 had cumulative savings from previous school terms. His savings was sufficient enough to have him provide interest free loan to other students and this earned him the name; "Cosmopolitan Bank". He did not spend on things other than books.
When the tides turned…
Experiencing his fair share of life's rough patch, he explained how things took a worse turn, ''However, by 1954, my dad's business was virtually ruined and as a result, I stayed back home in 1955, till the end of May when I received 25 pounds bursary per year. Interestingly, this was the semester I performed best academically. I remain grateful to friends like Prof Ogunsua, who helped me copy notes. My routine as an out-of-school boy was to visit Akure on Saturdays to collect notes on the topic covered in each subject.''
"Meanwhile, the WASCE results in 1958 were excellent. Out of 24 candidates, nine were in grade 1, one failed because he failed English, three in grade 3 and others in grade 2. Before some of his classmates passed away, there were five Professors, one Doctor of International Relations who worked in the UN for many years, Others included; Engineers, Agriculturists, Pharmacist, Accountants, and MD of Banks. It was a privilege to be in the set of such a brilliant group. Again, even as the youngest in the class, Oluwole's record of an all distinctions stood unbroken for over 20 years in the school.''In retrospect, my six years at Aquinas College, was part of the most interesting part of my life.'
Our Stints at the Nigerian College of Arts, Science and Technology (NCST) …
After WAEC Examination, Oluwole completed the advanced level GCE with three distinctions in Pure Mathematics, Physics and Chemistry. For his outstanding performance, he bagged the Nigerian College Rector Award (the first in the college), the Imperial Chemical Industries (ICI) Price in Physics and Chemistry, the Brandler Prize for the Overall Best Student in all the branches of the NCST in the 1958/1960 set.
Prof Oluwole was among the first set of brilliant Nigerian students who benefitted from the American Scholarship Programme. Subsequently, he gained admission to the University of California, Berkeley and graduated in Nuclear Engineering amongst the top 10% of all U.S.A Engineering graduates. As a result, he bagged the Tau Beta Pi Honours Award of the American National Engineering Society in 1964.  He completed the PhD degree at Berkeley in Atomic/Nuclear Physics in 1969 with an AFGRAD Fellowship.  In his further pursuit of excellence, the young Dr. Francis Oluwole spent the next few months as Research Fellow at some Nuclear Research Institutions, notably: The Goddard Space Institute of Columbia University, 1964, and the Lawrence Radiation Laboratory, Jan – Dec 1969. This was prior to taking up appointment as a Lecturer at the University of Ife in 1969 and attained the position of full Professor of Physics in 1978.
A  Legendary Career at the University of Ife
Prof Oluwole's academic career at Ife was legendary.  He was one of the innovative academicians at the forefront of curriculum reform who initiated new programme that characterised the university in the late 1960's and early 1970's. As Head of the Department of Physics (1975 – 76), he initiated the B.Sc Honours degree in Engineering Physics, thus commencing the programme, which eventually led to the recognition of Ife as a "Centre of Excellence" in Nuclear Physics and Engineering.
He later became the Coordinator of the Nuclear Technology Programme from 1976 – 1980 and the Director of the Centre for Energy Research and Development 1980 – 1983. His researches attracted several multimillion-dollar research grants from the Federal government of Nigeria and multinational donors.
Oluwole is well recognised and respected locally and internationally.  He is either a Member or Fellow of several distinguished International Scientific Societies, Institutes
On Family Front….
Speaking on marriage and the home front,he said: ''I got  married to Olufunmilayo Adejoke Oluwole. We met at Obafemi Awolowo University while she was a second year Microbiology student. She gave birth to our first daughter shortly before the graduation. We are blessed with three other children – Olakanmi, Oladeji and Busola. She followed the children to USA to complete their education. I am grateful to her that she accepted to go. She was only given less than a month notice and she retired from Obafemi Awolowo University voluntarily. It was a painful decision necessitated by the incessant strikes in the universities in the 1990s. To enable her get employed, she switched to Nursing. I also had to take voluntary retirement and took up some consultancy work in Energy and Environment. I was able to earn some money to augment what she made in the USA.''
Speaking on his proudest moment, he said: 'Being honoured with the Nigerian National Order of Merit (NNOM) for Science in 2004 alongside my younger brother on the same day, is what I count the most important success in life.''