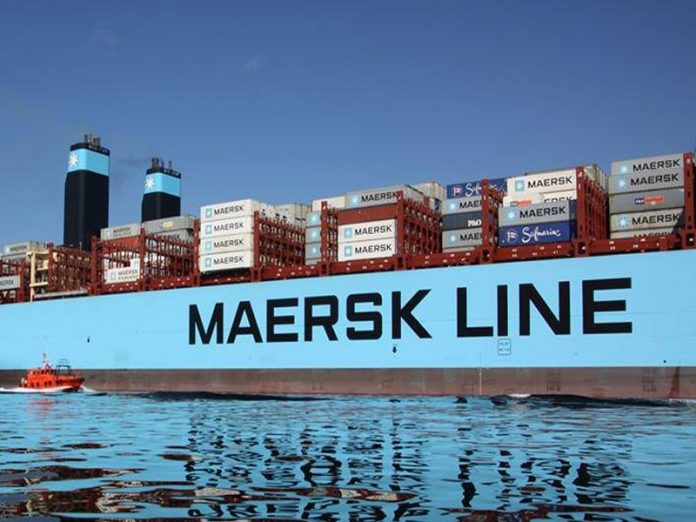 A.P. Moller – Maersk has announced that it recorded progresses in its strategic business transformation, reporting growth in both Ocean and non-Ocean with a total revenue increase of 31 per cent to $10.1 billion in the third quarter of 2018.
The company, in a statement signed by its Africa Communication Manager, Augustine Fischer, said growth in non-Ocean was at 15 per cent, which now contributes 31 per cent of total revenue.
In addition, the company stressed that synergy effects where materialised during the period under review.
Commenting on the result, Chief Executive Officer of A.P. Moller – Maersk, Søren Skou said: "Well into our transformation, we are progressing with the integration of our business to better serve customers and unlock the full growth potential within Logistics& Services. As a result, I am pleased to see revenue growth in Q3 across the business, including supply chain services. Our profitability and cash flow is improving, positively impacted by the emergency bunker surcharge announced due to the significant increase in bunker price, synergies from Hamburg Süd and strong collaboration between Ocean and our terminal activities."
He added: "Compared to Q3 2017, revenue in Logistics & Services increased 7.5 per cent with supply chain management growing 16 per cent. New products are being developed to improve the customer experience, with results already seen where A.P. Moller – Maersk was first in the world to launch Instant Booking Confirmation to customers in the container industry.
"Furthermore, gateway terminals continued to grow volumes from external customers as well as from Maersk Line and Hamburg Süd reflecting synergy impact from the closer collaboration. Total synergies with Hamburg Süd of minimum $500 million excluding integration cost are expected by 2019 as the integration is progressing faster than planned."
Cash conversion, he explained, improved from 76 per cent to 95 per cent, adding that the free cash flow of $2.1billion compared to negative $478 million in the same period last year lead to a lower net debt.
"Volumes in Ocean grew 27 per cent, 5 per cent excluding Hamburg Süd which is above the estimated market growth of 2.7 per cent, but lower than anticipated, "he said.
According to him, "Our business performance in Ocean is still challenged by increased bunker prices not being fully compensated through higher freight rates. However, we continue to see improved results in the third quarter after a very weak start to 2018.
"The underlying profit in Q3 amounted to $251million compared to $254million in the same period last year. Earnings before interests, tax, depreciation and amortization (EBITDA) increased by 16 per cent despite bunker price increasing 47 per cent. Unit costs at fixed bunker in Ocean decreased 0.6 per cent compared to Q3 2017, when adjusted for foreign exchange rate and inclusion of Hamburg Süd.
"A.P. Moller – Maersk expects an EBITDA in the range of USD 3.6-4.0 billion from previously $3.5-4.2 billion and reiterates the expectations of a positive underlying profit. The organic volume growth in Ocean is now expected in line with the estimated average market growth of 3-4 per cent for 2018 (previously slightly below the estimated average market growth of 2-4 per cent).
"Guidance is maintained on gross capital expenditures (capex) around $3billion and a high cash conversion (cash flow from operations compared with EBITDA). For 2019 we now expect gross capital expenditure of $2-2.5billion. The guidance continues to be subject to uncertainties due to the current risk of further restrictions on global trade and other factors impacting container freight rates, bunker prices and rate of exchange."