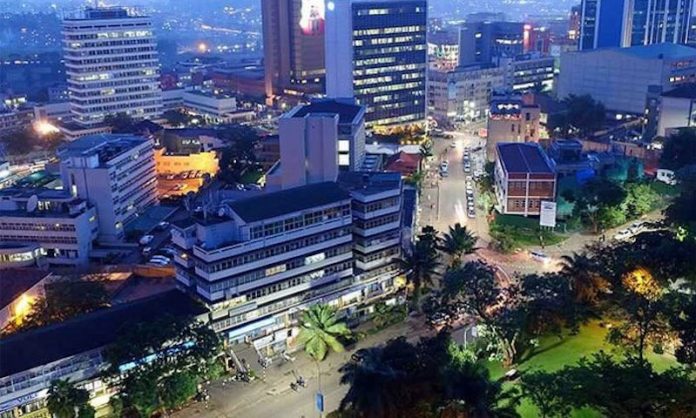 Emmanuel Ukpong
Every journey comes with two layers of worries – planning the trip and the dread of expectations. Thankfully, I didn't need to worry my head about the logistics of setting off to East Africa. Which allowed me to build up a mental picture of the journey ahead. The pictures raced through my mind like movie frames. A blend of the classic East Africa of statesmen and brutal dictators. Stories of plunder and civil strives.Modern nations propped up by incomes from safari tourism and World Bank grants. But I also needed some focus: I wasn't really going to East Africa – it is a region, not a country. But then you already knew that. I was going to Uganda via Rwanda. Whether you are thinking historical or contemporary, the names Uganda and Rwanda must ring a certain tone of bell. They should give you the butterflies.
I was in such contemplative mode when word came that we would be flying Rwandair. That brought loads of relief. Yes, relief just thinking about flying the Rwandan national carrier. Remi Awolaiye, my travel partner, and I had no liberties to pick our carrier. If we did, Rwandair would have probably been our choice. Ethiopian and Kenya Airways regional powerhouses and are already pretty well known. They offer extensive and decent coverage of the entire East Africa with stops in their respective capitals, but Rwandair holds a certain fascination. We had heard so much about the airline. We had seen pictures of those gleaming jets. We had seen them flying the flag of a country that has now fully recovered from a genocide that took 800, 000 lives in 1994. We had seen and heard all that. Now we wanted to have a feel of it. Be a part of the experience.
And Rwandair did not disappoint. For our trip to Entebbe, the airline rolled out a modern high technology Airbus A330-300, unmistakably the star of their fleet. Boarding was promptly announced on Murtala Muhammed International Airport's PA system, which is badly in need of a fix. Or is it the announcers who are doing a terrible job? But we managed to decipher the boarding call. Still in mint condition, the A330 promptly released its waiting charms as we boarded: the sweet smell of fresh leather, ample leg room, clean audio-visual systems, squeaky clean paneling, nearly everything I had envisaged. There was something relaxing and reassuring as passengers piled in in their dozens.
As we took our seats on the double-aisle jet, I did a quick mental sum for the load factor. I concluded that it was a minimum of 70 per cent. Impressive. Passengers love glittering new machines. Nigerian passengers in particular. Rwandair management understood this critical aspect of passenger psychology when they launched their Kigali-Lagos service in 2011. It was a bold bid for a large slice of the African market and its 13th destination. The airline has not looked back since. In fact, a month earlier (April 2018), it had announced a new Kigali-Abuja service.
Thus we settled down for the four hour flight to Kigali, our layover before Entebbe. As we entered Rwandan airspace – you could tell on your inflight entertainment screen – I struggled to turn my mind off its horrible past and on to its present triumphs and the promise of its future. It was quite a struggle. You know what I mean if you have seen the movie Hotel Rwanda. Thankfully, the triumphs have been tremendous, as my pre departure checks had revealed. President Paul Kagame pulled the country from the brink and has since held it together. Virtually all studies I have seen say Rwanda is one of the safest places to visit. With a population of 12 million, its GDP was in excess of $10 billion in 2017. Rating agencies cite Rwanda as an economic model in Africa.
The Kigali International Airport (RIA) was a true reflection of the resilient spirit of Rwanda. Not great architecturally, but basic, spotless and functional. The marbled floors sparkled like mirrors. At intervals, the calm female voice on the PA system came on in both Swahili and English. There were long lines of passengers with green passports. Immigrations workedthem patiently.
It was going to be four long hours of wait to connectEntebbe. Ample time to see something of the transitpoint and observe how Rwandans manage human interactions in an airport environment. They were four well stocked shops selling the usual – spirits, wines, chocolates and cigarettes. But one stood out with its merchandise of local souvenirs, drinks and fabrics. At 10 pm local time, it was downtime at the airport. So sales were a bit slow.
Not so for Rwandair; business was rather brisk. Along with Rwandan aviation authorities, the carrier isbuilding something of a hub around RIA. Since our arrival, there was a succession of other arrivals, each with substantial number of transit passengers. The frequent announcements for transit passengers to hop onto the Rwandair flights were a snapshot of itswidening route network of 23 destinations (including codeshare). There were connecting flights to Johannesburg, Cape Town, Harare, London, Dar esSalaam and Nairobi. The beauty is that at some of the Eastern and Southern Africa stops, Rwandair has connecting services to major destinations like Mumbai and Dubai. Very clever scheduling as the airline scoops up the large Indian populations in neighboring Uganda and Tanzania. The airline has concluded plans to launch services to Beijing.
"The Village Headmaster" in Entebbe
The nearly four-hour agony of wait ended as the Entebbe leg of our flight was announced. Bombardier was the aircraft of choice for the 32-minute flight to Entebbe. In terms of air travel, a 32-minute flight is a hop. Still, the hostesses managed to hand out refreshments and retrieve the trash. But Rwandair's Lagos-Entebbe scheduling is simply atrocious. We departed well after midnight to arrive Entebbe International Airport at the ungodly hour of 2 am, losing an hour to the time difference.
As we were driven in the Cobus bus across the wet apron to the terminal building, I replayed the stories of Entebbe in my mind. One very well known, the other personal. It was here in July 1976 that Israeli forces staged Operation Thunderbolt, a successful counter-terrorist offensive to rescue Israelis held hostage by Palestinian terrorists. I have a vivid recollection of my first visit to Entebbe as a young correspondent for The Guardian in 1992. There were no Cobus buses in those days so it used to be long walks across airport aprons. I remember scampering across the Entebbe apron to catch up with Chief Olusegun Odusola, then our ambassador to Ethiopia. Funny thing is it wasn't to do an interview or anything like that but just to chat him up and savour his superb diction. The stately creator of The Village Headmaster, who passed in 2012, was truly in a class of his own with the written and spoken word. Spoken word in particular. Always a delight to listen to.
Then, I was on a stopover at Entebbe, a very seedy environment at the time. But now, Entebbe was our destination and quite a different place. The arrival hall had since been touched up but it still needed some upgrade. It was around 2.30 am local time and the Immigrations officer seemed tired and at one point appeared to be nodding off. I sincerely hoped he got my biometrics right. Quite on the contrary, the female officer attending to Remi was wide awake and livelier. Perhaps not lively enough. Or why was she hassling Remi for $50 visa fee? She should have seen that his visa was paid for and obtained in Abuja. Matters resolved but not before she wasted 20 precious minutes, adding to our anxieties of arriving late.
It was therefore a matter of relief that as we emerged from the arrival hall, Vincent, our driver was waiting for us with our names on a placard. Vincent had that typical Ugandan mien: tall, slim and dark-skinned and polite.
Road to Kampala
Pleasantries lasted for just a minute. Giving us a hand with our luggage, Vincent, a driver and guide for the Ugandan Tourism Board (UTB), took us through the covered walkway to the car park. He tossed them into the waiting 12-seater Toyota Safari 4×4 Land Cruiser. In the drizzle, I made for the right front door. Alas, it was the driver's side! Uganda has not bothered to switch from driving on the wrong side of the road since Colonial Great Britain left in 1962. As if it was waiting for us to touch down, the mild showers gathered steam and the heavens opened up. What a wet welcome to Uganda! Nonetheless, Vincent hit the road for the 1 hour 15 minutes ride to Kampala. We braced up for what we envisaged might be a longer journey given the road conditions. Thankfully, he had taken sufficient siesta in preparation for the early morning operation.
The rains came down harder. Vincent maintained a high speed. At some points, it seemed on coming vehicles, mostly heavy trucks, were speeding directly towards us. I froze each time that happened. But I had to keep reminding myself that we in Uganda, and driving on the left hand side.
My thoughts soon wondered to safety. There is no great comfort driving into any African city in the very small hours of the day. Much of the continent is replete with security problems. Uganda has its own share. It is true that the Lord's Resistance Army (LRA) hardly attack cities these days, and may have been degraded but it psychopathic 'leader' Joseph Kony is still on the loose. Concerted US-led efforts to catch him have drawn blank.
The road from the airport looked in good shape, thanks in no small measure to the ubiquitous Chinese construction companies. They were adding two more lanes to the road. The construction work has ignited some controversy in the Ugandan press; there are questions about cost overruns and possible misappropriation of funds. Not surprisingly, it is a talking point for the opposition. After 32 years in power, suppression of the opposition and no sign of slowing down, President Yoweri Museveni is weathering the storms of political opposition. But our visit had absolutely nothing to do with Ugandan politics. It had a lot to do with the 45 young Christians who were killed in 1886 in a most gruesome manner for refusing to renounce their faith. It also had to do with why Winston Churchill, then a young Member of Parliament in the UK, described Uganda as the 'Pearl of Africa.'
Speke Resort Munyonyo would be a good starting point. If the layers of security – powered gates, metal detectors, walkthroughs, smartly dressed security guards – would let us in. But a prized jewel deserves some protection.
Sudhir Ruparelia is the name behind the Speke Resort. A Ugandan citizen, but in reality Indian, Ruparelia was one of the Asians expelled from Uganda by President Idi Amin in 1972. He fled to the United Kingdom, returning with a vengeance in 1985 to set up a flourishing empire with interests in banking, insurance, real estate, education, hotels and resorts, notably Speke Resort Munyonyo.
Set on the banks of Lake Victoria, the 400-room Speke Resort is the very definition of luxury in Uganda. When the Ugandan Government needed a place to hostthe closing ceremonies the Commonwealth Heads of Government Meeting in 2007, Speke Resort was its venue of choice. It also hosted some of the 3, 000 dignitaries and guests that attended the august event.
And this morning, it was also set to host us. Our home for the next few days.
▪ Emmanuel Ukpong, a Travel and Aviation Journalist, wrote in via emmanuelukpong@gmail.com
—