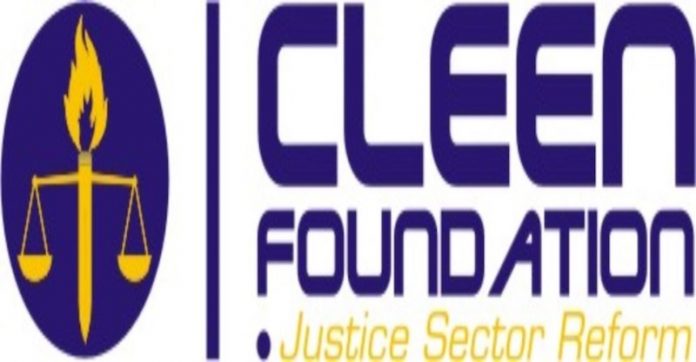 Udora Orizu in Abuja
CLEEN foundation, a non-governmental organisation which promotes public safety, security and justice in Nigeria has said that there is a disconnection between the Independent National Electoral Commission (INEC) and security agencies, which must be bridged before 2019 to achieve credible polls.
The Executive Director of the foundation, Benson Olugbuo, who spoke during the 20th anniversary of the NGO in Abuja, noted that Nigerians expect the federal government to create an enabling environment where citizens will freely exercise their rights to participate and vote candidates of their choice without fear of retribution or violence, hence the need for INEC and security agencies to understand their roles to achieve free and fair election.
According to him, though the Electoral Act makes it paramount for INEC to be in charge of all election related activities on election day, in addition to the command and control of logistics, voting and statistics, the unfortunate reality is that is actually not what happens.
"We are aware that sometimes even elections are postponed due to security threats by security agencies, who now inform INEC that this is what they are planning to do because of security threats that they have noticed.
"What we have noticed is that there is a disconnect between the activities of INEC and that of security agencies. But that not ought to be because both INEC and the security agencies are working towards one objective and that is to organise a free and fair election. And if both the constitution and Electoral Act have given INEC that responsibility, so I think every other government agencies should key into that.
"The reality also is that the constitution gives the police the primary responsibility to maintain law and order, so the question is who has the paramount responsibility to maintain peace and order? I don't think there's a problem with the law, what I think the problem is when it comes to working together" Olugbuo said.
He added "The problem is what we call inter-agencies rivalry, everybody wants to be in charge but we know they are all working for one purpose ; to organise a free and fair election, so we have always encouraged these security agencies and INEC and other individuals involved in election security management to play by the rules as set by the constitution and electoral act."
The Executive Director observed that some security personnel who are deployed for security management duties are not even aware of the procedures, suggesting the need for training of such persons on election security management.
Speaking further, he said the issue of women participation in politics is a difficult thing, adding, "We did a comparison and we realised that countries like Uganda, Ethiopia and Rwanda have even moved beyond Nigeria.
"The reality now is that some women actually paid huge sums of money to get the nomination, won the primaries but their names were substituted, it's an internal democracy issue."
He reckoned that there will be a fuss with the entire system as long as political parties are unable to conduct free and fair election.
"We need to encourage women to run, give them that enabling environment and not just the 30 per cent affirmative action. For example, in Uganda they have what they call affirmative action and that means from every elective position, they have some seats that are reserved for women, why can't we do that, it's possible to do that. In South Africa, they call it positive discrimination."
"The many years of military dictatorship in Nigeria affected the psyche of average Nigerians, and that resulted in a fact that there is a disconnect between us and our military and that unfortunately sometimes even the military, police officers have found themselves being involved in politics which ordinarily should not be the case." Olugbuo said.
He urged INEC and security agencies to play by the rules, be impartial, non-partisan and professional throughout the conduct of the elections.
Olugbuo added that CLEEN is currently collaborating with Oluaka Institute of Technology in Owerri and having discussions with an international organisation that is based both in Washington DC and Kenya, to develop a software that will help to monitor election security management in the country, which will be developed in a way that individuals can download, know what is going on and report incidents during elections.