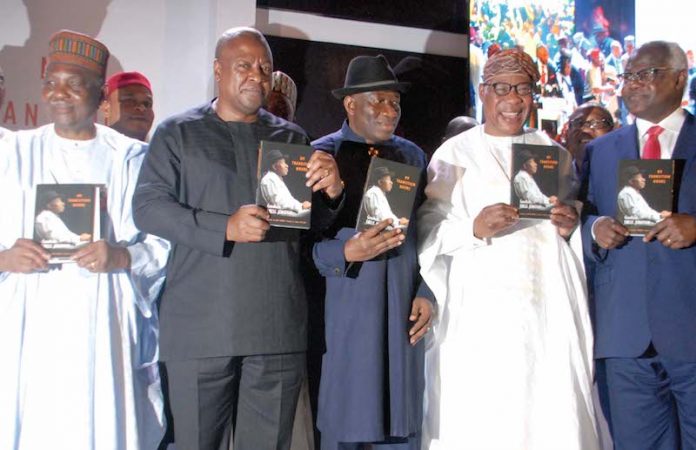 Explains why he lost, accepted defeat in 2015
Buhari, African leaders say history will be kind to him
Iyobosa Uwugiaren, Shola Oyeyipo and Adedayo Akinwale in Abuja
Reflecting on the manipulation of card reader during the 2015 general election, President Goodluck Jonathan has warned that any attempt to repeat the misuse of the electoral tool in the forthcoming 2019 presidential poll would be risky.
The former president stated this in his book, 'My Transition Hours,' which he presented to the public at an impressive ceremony in Abuja yesterday.
Jonathan, who also explained why he lost and accepted defeat in the 2015 presidential poll, said the selective use of the innovative machine as it occurred in the previous election might not be acceptable, urging uniformity and wholesome review of electoral process to guarantee the independence of election management body as well as the integrity of the procedures.
The former president criticised ''how the Independent National Electoral Commission (INEC) officials in the Southern Nigeria insisted on the use of card readers, while in the Northern part of the country, the decision to use card readers had been de-emphasised,'' and warned that it would be ''too risky'' if what happened in 2015 is repeated in 2019.
Yesterday's event was graced by worthy national and African leaders, who extolled the virtues of the former Nigerian leader, telling him that because of his singular act of conceding defeat in the 2015 contest, history would kindly record him as a patriotic African leader.
Among those who came and showered praises on him, were former president, Chief Olusegun Obasanjo; former Heads of State, Gen. Yakubu Gowon (rtd) and Gen. Abdulsalam Abubakar (rtd); former vice presidents, Mr. Namadi Sambo and Alhaji Atiku Abubakar, who is also the PDP presidential candidate for next year's election.
President Muhammadu Buhari sent the Secretary to Government of the Federation (SGF), Mr. Boss Mustapha, to represent him.
West African sub-region leaders that came to honour Jonathan were former presidents, Mr. John Mahama (Ghana), Mr. Ernest Koroma (Sierra Leone) and Mr. Boni Yayi (Benin).
Also in attendance were President of the Senate, Dr. Bukola Saraki; Speaker Yakubu Dogara; and Deputy Senate President, Senator Ike Ekweremadu.
In the book, a copy of which was obtained by THISDAY, Jonathan argued that the time had come for African nations to begin working towards having truly independent electoral commissions committed to delivering clean election that would increase the confidence of the people in the integrity of the ballot box.
Talking about the importance of an independent electoral body on page 142 of the book, the former president said that though Nigeria had made significant progress as a result of his administration's electoral reform, Nigeria must continue to build on what it has and ensure that it plugs observed gaps in the system.
''For instance, the implementation of card readers must be properly re-examined to ensure that they are used in all places to obtain a level playing ground for all contestants,'' Jonathan recommended in his book.
He said, "The kind of confusion created in 2015 should not be repeated in 2019 and subsequent elections. It will be too risky if what happened in 2015 is repeated in 2019. Not everyone will have my restraint. Not everyone would play it the Goodluck Jonathan way.
''Really, no one had ever played it that way before now; the way of peace. It is my sincere hope that the trees we planted will be watered to bear the fruits of electoral freedom for our people.''
Jonathan added that he was glad that a large number of people appreciated the depth of his action, promising to continue to contribute his quota to securing a stable government for the people by encouraging a healthy polity and a healthy economy, which he said promotes stable political system.
His "Longest" of Life
Reflecting on the 2015 presidential election, Jonathan revealed that six weeks to the election – March 28, 2015, was his ''longest'' of his life.
''Sceptics and mischief makers had flown the non-existent kite of tenure elongation, interim government and all the other shenanigans they could come up with to blackmail my administration and make us look bad in the eyes of Nigerians and the international community'', he said.
The former president said apart from ''some disturbing signals'' he received on the day of 2015 presidential election, the general interest of Nigeria and the citizens was paramount in his mind, which informed his decision to congratulate President Muhammadu Buhari before the final results were released by INEC.
He explained, "The intelligence report I had received also carried the spectre of the fabled American intelligence community prediction about the collapse of the Nigerian nation state.
''The disintegration of Nigeria was a possibility if I contested the results of the election, no matter how justified. There were justifiable grounds but I was determined that Nigeria will not disintegrate during my tenure.
''The fate of thousands of Christians and Southerners in the North and my other Northern supporters, who were at the risk of being slaughtered if I took a selfish decision, lay heavily on my mind. Reprisals were certain to follow in the South.
''What rang persistently in my mind was the futility of vanity. What would it profit me if I clung on to power and let my country slide into an avoidable crisis? Who would stop the impending crisis? Too many things were bound to go wrong.''
Grounds to Reject 2015 Presidential Results
Jonathan said that he had every reason to contest the outcome of the 2015 presidential election results, starting from educational qualification of Buhari for election and the electoral malpractices, saying these were facts in his hands, but said there was also the question of worth.
The former president further explained, "Was it worth it? I reflected on some details. My country had been under colonial rule and our fathers mounted a struggle for freedom from the colonial masters. Without shedding blood, we gained our independence. How could I now be party to a decision that would result in rivers of blood, which would flow across the land?
''I thought deeply about the hand it had pleased God to deal with me. My rise to the pinnacle of power in a country of 180 million people (in 2010), most of whom would give anything to be where I had been, was already cause for eternal gratitude.''
The Intrigue that Cost My Election
Ahead of 2015 general election and all through the campaigns, Jonathan said he was confident that he was going to win based on his performance and looking at the big picture, saying his areas of strength were evident, while intensifying efforts to address issues to increase his numbers.
But with the benefit of hindsight, Jonathan said that he had come to be aware of the intrigue that played a ''significant role'' in costing his party, PDP, and him the election.
He recorded, ''For instance, there were governors elected under the banner of my party, the Peoples Democratic Party, who did not wholeheartedly campaign for me and adamantly refused to allow campaign posters with my picture and theirs to be printed and circulated.
''In fact, a particular first term governor in the North had openly said his ideal scenario was to have him re-elected and my opponent elected president. This same governor told his aides that I would be removed in a coup. Unfortunately for him, his wishes did not come to pass and he ended up not being re-elected.''
Still talking about why he lost the election, he added that there was also a tremendous measure of religious pressure on members of the PDP from the North, saying ''this is not a fresh factor, but it is militating against entrenching the ethos of democracy.''
In the 194-page book, Jonathan also addressed the issues of ''Politics & Patriotism – The Fuel Subsidy Dilemma'', ''The Chibok School Girls Affair'', ''Private Sector Reform & Africa Renaissance'', ''The Youth Bulge'', ''A Strong Democracy'', ''Post Presidential Experience'' and others.
Buhari, African Leaders Say History Will be Kind to Him
Speaking at the presentation of the book, Buhari, who was represented by Mustapha, commended Jonathan for his service to the nation.
The president said that in 2015, without any pressure, Jonathan willingly conceded defeat in the presidential elections, even when the collation of results was still in progress.
The president said that singular act of placing the country above personal ambition portrayed Jonathan as a true democrat.
Buhari said in the run up to the 2015 elections, he and Jonathan were made to sign a peace pact to ensure that the general election was violence free and credible.
The president said, "I want to openly, like I have said on several occasions, salute the statesmanship, sportsmanship and courage emboldened on the person of Dr. Goodluck Jonathan, who could deliberately without any pressure willingly conceded victory to me in the presidential election, even when the collation of results was still in progress.
"That kind of decision can only be taken with a depth of integrity of a man's heart and the conviction of his soul. And I want to congratulate you for that decision you took in 2015."
The president stressed that the accomplishment of that objective has portrayed Nigeria as a leader of development of democracy in Africa.
Buhari said to show Jonathan's strong desire for peace and not violence, he repeatedly said that no Nigerian blood should be shed for his ambition, saying "with this book being launched today, Nigerians, historians and scholars now have a first-hand account and an insight into what transpired in the 2015 transition hours.
"We imagine what went through the mind of Dr. Jonathan during these long hours, when varieties of counsel for and against were being called. History has recorded the time as the Nigerian fifth democratically elected leader since independence. History will judge you well as a patriotic leader."
Obasanjo Speaks
Addressing the gathering, Obasanjo charged African leaders to always have it at the back of their minds that there are four seasons for a democratic politician and that in every democratic disposition, "those four seasons are very important; they are good accounts that we must bear in mind."
He explained, "The first is when you start campaigning and are going round, and everything is going well. Then the election comes and you win. The second season is when you take up office and all is going well, and then you have ups and downs and of course, you came in with high popularity, that is why you are able to win election, but as you go on the popularity starts to dwindle, until either you come to the expiration of your tenure or you lose election.
"Now, the beginning of the third season; it does not matter who you are, immediately you leave office you would have lost friends, particularly the fair-weather friends, who were with you when you were in office and that is a very trying period for anybody who have been elected to executive office.
''And then the fourth season is when you have weather and the storm of that loss of office and things start to look up again and you start wondering, is it you, who they will not greet only yesterday and they see you now.
"For instance, Mr. President Jonathan, if you had launched this book three years ago you wouldn't have mustered the crowd you mustered today.
"So, the post-office life which you have been enjoying is a life that we should all crave for. My brothers from West Africa and yourself and myself, are enjoying that life. It is a life, not only of enjoyment but a life of continuous service to the community.
"Because by virtue of what God has made us to be in our respective countries, we have what you call residual responsibility to continue to serve our people and serve God. And that is the position you are today, President Jonathan you must not be found wanting. You and I have said it before. You have residual responsibility to continue to be of service, in your community, in your state, Nigeria, in West Africa, in Africa and indeed in the world.
"When all is said and done, there is still no substitute for democracy. It fosters peace and not conflict and violence. It builds and does not destroy. It unifies rather than divide. But all these can only happen if democracy is found as an instrument in the hands of the democrats.'' Former Head of State Abdulsalami Abubakar also described Jonathan as a great leader, stating that Jonathan gave Nigerians the peace they are enjoying today, saying his famous call and himself became an example to Africa by showing that you love the country more than you love power.
Former Ghanaian president, Mahama, who also eulogised the former Nigerian leader, said that Jonathan is not a typical politician.
"For Jonathan, politics was not a matter of life and death. His decision to hand over power peacefully in 2015 was not surprising to me," he said, noting that similar scenario played out in Ghana when he too lost election to the opposition in the country.
Also underscoring the gentleness for which he knew Jonathan, the presidential candidate of PDP, Atiku, in his submission stated that "former president and I came a long way from the beginning of this democratic dispensation. He was a deputy governor and I was vice president. Anytime he attends meeting at the villa his first point of call used to be my office. We sit together, eat together and attend meetings together."
According to Atiku, "Today is a very historic day in this country. We have been fortunate enough to have had a president, who followed the footsteps of president produced by PDP," stressing that Jonathan's action in 2015 helped safeguard democracy and preserved the country.
On his part, Senate President Saraki described the former president's famous phone call to Buhari as a great step that safeguards Nigeria and Africa democracy.
He said, "The title of the book is ''My Transition Hours;'' it is not only your transition hours, but Nigerians finest hours and Africa's finest moment. For those of us who have read the book, we all learn lesson, the lesson is that you have taken democracy to the next level."
Mr. Mohamed Ibn Chambas, Special Representative of the Secretary-General and Head of the United Nations, said that he had the privilege of being the representative of the then Secretary-General, Ban Ki Moon, to Nigeria during those faithful elections, adding that there were anxieties about those elections at the United Nations, while commending Jonathan's patriotism.
Speaker of the House of Representatives, Hon. Dogara said that the decision of Jonathan to concede defeat after the 2015 presidential election was responsible for bringing Nigeria's democracy to maturity.