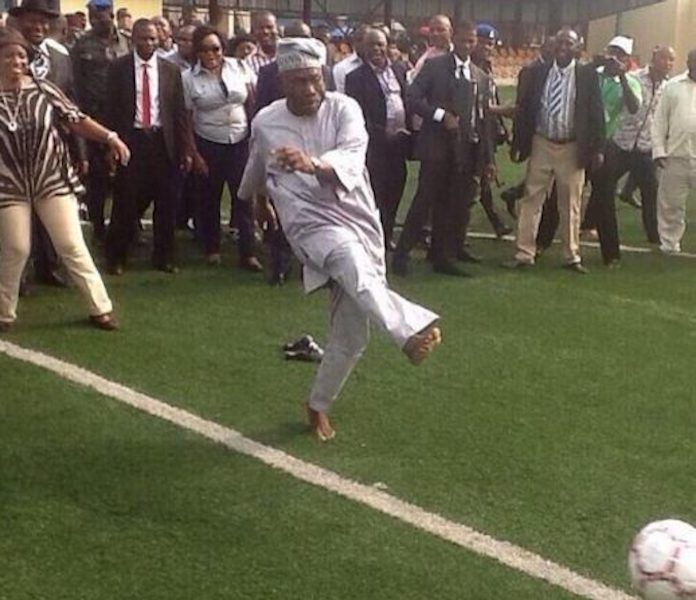 * Zenith /Delta Principal's Cup stars thrill fans
AMIDST pomp and pageantry, former President Olusegun Obsasanjo on Monday inaugurated the 23, 000 capacity Stephen Keshi Stadium, Asaba.
It was also at the occasion that the final of the Zenith Bank/Delta Principals Cup for the Oshimili South Local Government took place between Niger Mixed Secondary School and West End Mixed Secondary school.
Niger Mixed won the encounter 4-3 after penalty shootout to book a ticket for the zonal stage of the competition scheduled for January.
Obasanjo, who took the official kick off of the match, observed that with the stadium, Delta State wouldl continue with its winning streak in sporting activities.
While commending Governor Ifeanyi Okowa for constructing such an edifice, the former President stated that the stadium would also, provide avenue for people to exercise, stating, "whoever you are, whatever age you are, you must exercise, you must be fit."
Obasanjo said: "We must catch them young, we have the facilities, we have to recruit those who will win, train them from young age," he said, adding, "build a hostel where you will put people that you will train day and night and they will be going to school from the stadium and in whatever sports, Delta State will be the best."
"I was here to perform the ground breaking ceremony of the stadium, I am here to inaugurate it and I will be here again to see the hostel," he stated, asserting, "Governor Okowa is not just a Road Master, he is also a Stadium Master, and because of the work he has done, he is also the Bulldozer."
The LG stage of the Zenith Bank/Delta Principals Cup which is in final stages at LGs continues in the state till the end of this week.