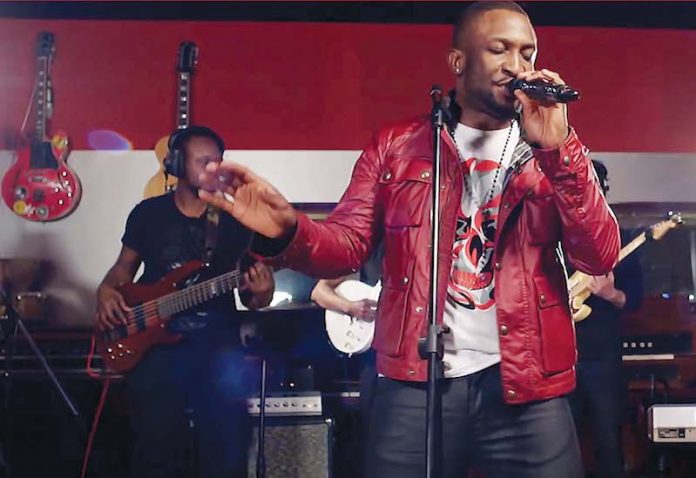 From Project Fame to Global Acclaim
Born for the big stage and breaking new grounds, he held more than 200 million viewers across the globe spellbound as he performed a medley of 50 songs before a captivated guests of world leaders – both present and past. Diminutive, debonair and dramatic, Darey Art-Alade is a showstopper on stage and on screen. Suave, sexy and sensational, Darey has been there and done that. Sometimes, he personifies a larger-than-life character with his mellifluous, titillating voice, avant-garde persona and enchanting gait. Dressed to the nines, with dark glasses that leave a silhouette on his rotund face with a shred of hairs as sideburns, Darey is a poster boy for soul, R&B and more, writes Funke Olaode
His foray into music was not a misstep. For those who have followed his career closely, his trajectory was cut out long before he was born: entertainment runs in the family. His father, the legendary Nigerian jazz pioneer, Art Alade, left an indelible mark as one of the best jazz musicians Nigeria ever had. Growing up under the tutelage of the famous Art Alade no doubt was a fillip to him. Nevertheless, Darey's self-discovery of where his passion lies helped him to become of the best entertainers in the country – as he experienced his first taste of showbiz.
Darey honed his skills at several church choirs, performing in night clubs in Lagos and other various south-west cities. Like a man destined for greatness, it did not take long for him to find his feet in the entertainment industry -attributing that to an element of luck and commitment to his dreams. His rise to stardom started while performing in one of his night gigs. His smooth voice captivated an executive at Cool FM, a major radio station. Apart from Darey's ability to connect with his audience on stage, he equally possessed a voice that can win over a diverse audience. The radio executive concluded that beyond performing for a restricted audience in a night club, he could also succeed behind the microphone in a confined room. Hence, his career began in broadcasting. He successfully combined his broadcasting job with degree in Music which he as studying at the University of Lagos that time
From being an ordinary singer in night clubs and a radio broadcaster, Darey was gradually carving a niche for himself as the years rolled by. He became a disk jockey entertainment consultant, voice-over artiste and performing, recording artist and a successful businessman.
Darey is one of a legion of artistes who have continued to make waves in the entertainment industry. Year 2004 was particular big year for him when he participated in a reality show. He first hit continental fame in the South Africa edition of a music reality show 'Project Fame West Africa.' Four years after, his irresistible and dashing look, smooth voice earned him a place for several months as the host of that musical talents.
Still courting fortunes and fame, subsequent years saw Darey move up the ladder. In 2009, two years after the release of his successful debut album, Darey released a hit album 'unDAREYted' which sold over 150,000 copies across Nigeria in just two months. And before the international stage became a playing ground of the young Nigerian artistes, Darey had already caught the bug. It was of significant note that his album caught the attention of the African-American Music business legend, Dick Griffey, who is credited with discovering and influencing the music careers of artists such as Shalamar, The Whispers, Babyface, L.A. Reid and Dr. Dre. Dick Griffey offered to executive-produce Darey's third album, which was to break Darey further into the U.S and international markets but unfortunately he died before the project could be completed.
The unfortunate incident didn't deter the darling of R&B as 2010 was a bright years that saw him at high-profile shows in many cities across the World including Nairobi, Johannesburg, Abuja, Lagos and other major African cities, including a special concert with R&B legend R. Kelly in South Africa and the THISDAY Peace Concert Tour in the Niger Delta region of Nigeria, which had 50 Cent and Ciara as headliners.
His music sensation also caught the attention of the then President of Nigeria, Goodluck Jonathan when he was invited to perform at the Presidential Villa in an exclusive dinner to commemorate the country's 50th independence anniversary. The event was broadcast live to over 200 million viewers across the world as Darey performed a medley of 50 songs with his 15-piece band, "soul band" to a room filled with several African presidents and past world leaders.
Mixing music with compere, Darey continued to soar as the main host of both the Gulder Ultimate Search and Glo Naija Sings reality shows in 2011 and in February 2013. He also put together alongside his Soul Muzik team one of the biggest shows Nigeria has ever seen, 'Love Like A Movie', which had the red carpet hosted by Kim Kardashian – a feat in Africa's entertainment industry.
Darey is based in Abuja. But in recent times, he has been a constant face in Lagos and its environs. And a few weeks ago, in what seems like a comeback, he staged an electrifying performance at Terra Kulture in Lagos. For someone who began his music career in Lagos, his music fans saw it as a misstep when he decided to relocate to Abuja. Did he regret that move? He explained: "Moving to Abuja was never a misstep as I was still able to churn out quality music, tour the country and other parts of the world and also made out time to spend with family and on other business interests. I have been recording a lot lately and should release new music soon. Our 360-degree creative and experiential marketing agency, Livespot, has also been growing exponentially so there is a lot for fans and clients alike to look out for."
Fourteen years have passed since he featured in Project Fame, the artiste stated with surprise: "Really, has it been that long already? Well, this can only be attributed to the special Grace of God. In addition, my family and members of my team at home and abroad have played a pivotal role in creating and sustaining my brand."
Darey has millions of followers across Nigeria, the continent of Africa and globally. Did he know he would be famous even when he released his first album? "Nobody knows tomorrow. So there was no way of predicting that at the time. I thank God for all mercies." For him, getting inspired to be creative is not something prohibitive or restrictive. Yet, what really gets him inspired? "I am also inspired by musicians, producers and other talents that I work with on a day to day basis," he said.
For some, Darey's genre of music seems to be restricted to a select audience.
How difficult is it for him to break even at the initial stage? "My music and brand is for a niche market even though a lot of my songs have crossed over genre borders and won several awards at home and abroad," Darey explained. "I have also been very fortunate to be able to make a decent living from music. The difficulty is in the consistency and being able to maintain the quality as it is quite costly and time-consuming to create good music. I have always propagated the importance of diversity in our music and as such I enjoy all forms of expression, loud noise and all."
What would he have done differently if he could turn back the hands of time? "Well, I have no regrets whatsoever. I feel really blessed to be alive and lucky to share my talent with the world," he said after a momentary pause.
No doubt some of his hit songs would be great for remix by the new generation of artistes. Is he contemplating collaborating with some of the young artistes? He said: "I have enjoyed working with great talents such as Simi and Adekunle Gold recently, so it could be interesting to remix some of my classics with any of them. Most likely, we will create new records."
Inasmuch as he has been successful, Darey feels the government has to do more to make the entertainment industry a global player, saying: "Nigeria requires a deliberate tactical roadmap that uses the power and creativity that entertainment and the arts possess to shape the Nigerian narrative at home and across the world – just as Hollywood and American music did for the U.S in the early days of their democracy."
Darey's life is not solely revolved around music. He is also a philanthropist and humanitarian. He supports several causes close to his heart including Cancer charities, Millennium Development Goals (MDGs) and several foundations in Africa. He also set up the Art Foundation, whose main goal is to keep music education alive for kids in primary and secondary schools in Africa."
If not music, what would Darey have become? Well, he pointed in the direction of aviation.
A jolly good fellow, it is hard to imagine that there are things that keep him away at night but he jokingly said: "Definitely, not coffee!"
"When there are pertinent issues that need resolving, sleep stays far away," Darey added.