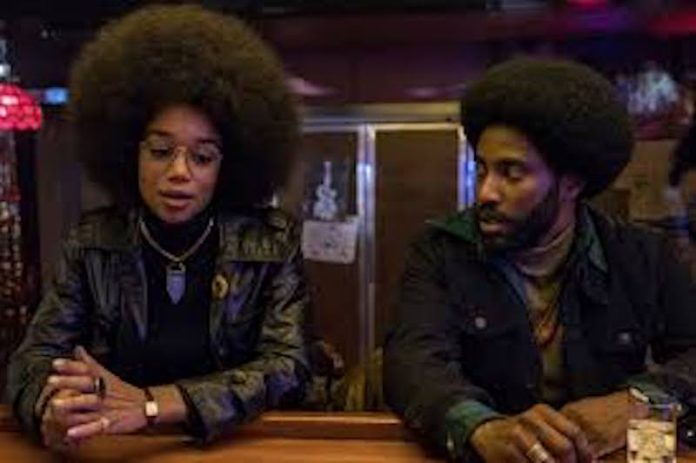 Well received by a Nigerian audience at its recent première in Lagos, Spike Lee's BlacKkKlansman dredges up painful reminders of the racial tensions in the US, writes Okechukwu Uwaezuoke
Apparently, aficionados at the last Wednesday's Nigerian première of BlacKkKlansman weren't really discomfited by the outpouring racial slurs. Otherwise, those N-words shouldn't have elicited unbridled guffaws. And that was one good reason to affirm that the screening at the Twin Waters Entertainment Centre along the Lekki Phase One coastline in Lagos was well received by the mainly Nigerian members of the audience.
Indeed the event – a collaboration of the US Consulate General's Public Affairs Section and the just-concluded Africa International Film Festival (AFRIFF) – turned the classy water-front venue to a honey pot for an assortment of movie buffs, including business moguls, media executives, Nollywood celebrities and civil society activists, among others.
As for the comedy-drama film itself, it was based on an uncommon true-life story. It was that of an African-American police detective Ron Stallworth, who launched an investigation into the local chapter of the Ku Klux Klan (KKK) in Colorado Springs. But, Spike Lee's directorial discretion saw to it that the plot was tweaked here and here for dramatic effects. First, while the actual events that inspired the film took place in 1979, the plot was set in 1972. Also, it was the director's idea to make Stallworth's partner Jewish, even when his true identity of remains unknown since he never went public with his story. Further, the KKK bomb plot towards the end of the film was another fabrication to ratchet up the tension. In the actual account, the KKK chapter Stallworth and his partner infiltrated was mainly concerned with insinuating its members into high-ranking military positions.
There are good reasons why a Nigerian audience should drool for BlacKkKlansman. Its première on May 14, at the Cannes Film Festival, saw it contending for the Palme d'Or and eventually winning the Grand Prix. And then, who would wish to ignore a film with a production budget of $15 million that has already hit a total worldwide gross of $87.1 million?
Besides, isn't there something rather provocative, if not mischievous, about an idealistic African-American detective infiltrating a white supremacist group? Why would he, after becoming the "the Jackie Robinson of the Colorado Springs police force" embark on such a venture? For, surely, a politically-correct KKK wouldn't be KKK. So, any informed member of the mainly black audience at the last Wednesday's screening ought to have been primed for the free-flow of outrageous jibes.
Of course, there is also the fact that the film stars John David Washington (son of the legendary Denzel Washington) as Stallworth. Then, there are Adam Driver as Detective Flip Zimmerman, Laura Harrier Patrice Dumas, Corey Hawkins as Kwame Ture and Topher Grace as David Duke.
Again, since Lee's Oscar-nominated 1997 documentary 4 Little Girls, aficionados should be enthusiastically looking forward to his next tour de force. As one of the producers of this latest flick, he is in the good company of Raymond Mansfield, Shaun Redick, Sean McKittrick, Jason Blum and Jordan Peele.
So, Stallworth gets employed in a previously all-white police department. Then, he is consigned to drudgery of the records room. Here, he endures the racist jibes from one of his colleagues even as he fetches files for other officers. The self-restraint he showed even during his job interview comes in handy.
But, things begin to happen fast with his sudden transition to intelligence. He finds an advertisement for the Klan in a local paper, which has a phone number. He calls it, leaving a message with his real name. He speedily gets called back by a Klan organiser Walter Breachway (Ryan Eggold), who proposes a meeting. Stallworth agrees, signing off with: "God bless white America."
Now, being black, there is just no way he'd show up in person at a Klan's meeting. So, a wired up colleague Flip Zimmerman goes in his stead while he stays on the phone out of sight. Surely, someone is bound to notice the difference in their voices! Indeed, Police Chief Bridges (Robert John Burke) is doubtful but Stallworth reassures him: "Some people speak the King's English, others speak jive. I, Ron Stallworth here, happen to be fluent in both."
Equally intriguing is also Stallworth's attendance of a black student gathering addressed by the Trinidadian-born former "Honorary Prime Minister" of the Black Panther Party Stokely Carmichael, later known as Kwame Ture (Corey Hawkins). Understandably, Chief Bridges sees Ture as trouble personified, even when his audience, including the student union president Patrice Dumas (Laura Harrier), gush over his words. Stallworth, sporting an Afro like anyone else, blends with the crowd and even shares their passion for the black cause, even as he remains conscious of his duty as an officer of the law. A clenched-fisted black power salute may chime with his actual sentiments. Yet, he will have none of Patrice's allusion to policemen as pigs.
Back to Stallworth's Jewish colleague's infiltration of the local Klan's meeting. One thing leads to another and he soon meets the grand wizard David Duke in person. Already, the film has begun to dredge up painful memories of American racial hatred and tension, making a sensitive viewer wonder why it is even classified as a comedy-drama in the first place.
The film somehow strips the Klansmen of their veneer of terror, presenting them as a bunch of visionless bumpkins rather than a menace to the society. One of them, who becomes suspicious of Zimmerman's Jewish identity asks, "Is your d**k circumcised?"
Even so, the menace of the floating, dense clusters of thoughts of hatred cannot be that easily wished away by the whims of a film-maker. These continually thrust themselves, wherever they find homogeneity, upon individuals, groups and whole nations. The fact that even these apparently non-menacing bunch of white fools can be dangerous is buttressed by many utterances in the film. Duke, a re-packaged image of the US home-grown white terror group, hopes to lead it into mainstream political relevance away from its cross-burning past. Those who, like Stallworth, ever doubted that this would ever come to pass have since learnt the hard way. For even beyond the obvious triumphs of far-right extremism in both the US and Europe, there is a strict consistency of the repeated cycle of afflictions, inter-ethnic clashes and genocides worldwide for as far back as humanity can trace its presence on earth.
The film is fittingly laced with footages of the 2017 Charlottesville riots and US President Donald Trump's clumsy "blame on both sides" in response to neo-Nazi attacks, as he talks on TV about "very fine people on both sides." Obviously, the film is Lee's grim reminder to his compatriots that their past continually haunts the present. Deftly blending fact with fiction, he presents the viewers with contrasting perspectives of similar scenarios. Take Stallworth's romance with Dumas, for instance. It finds its shadowy echo in the white supremacist couple plotting mayhem even while cuddling. "We've talked about killing niggers for so many years, and now it's really happening!" the Klansman's wife gleefully tells him while they are in bed. Also, the ominous chants of "white power" are seemingly countered by those of "black power".
Flipping the US flag, the Stars and Stripes, upside down and fading the colours into black and white metaphorically tells the story of a nation that has turned its values upside down. But that, in a nutshell, is the story of humanity.
Lee, with his altruistic mission of using cinema to change people for the good, fails to identify the real enemy. Like many before him, he blunts his swords striking at the side-effects while skirting around the real cause. And that is man's error of ascribing too much importance to his intellect and consequently ignoring his spirit.