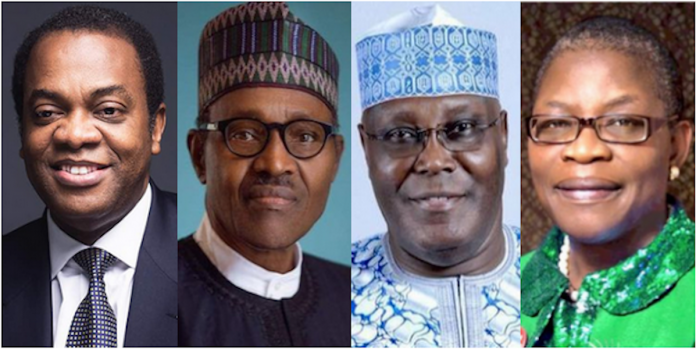 • 

Atiku to launch policy document Monday

 
•
PDP: Amaechi using public fund for Buhari campaign
• 
President: Ohanaeze's endorsement of Atiku inconsequential 
By Adedayo Akinwale and Shola Oyeyipo in Abuja 

Political parties will kick off campaign nationwide tomorrow for all elective positions in line with the time table of the Independent National Electoral Commission (INEC) for the 2019 elections.
This is coming on the heels of allegations by the Peoples Democratic Party (PDP) that the Director-General of the Buhari Campaign Organisation and the Minister of Transportation, Mr. Rotimi Amaechi had been using government fund to campaign for the President.
The electoral body, relying on the Constitution and the Electoral Act, had since January 9, 2018 released the time table and schedule of activities for the 2019 elections, and had stuck to the schedule despite immense pressure on it. 
The Electoral Act, as amended, states in 99(I) that "For the purpose of this Act, the period of campaigning in public by every political party shall commence 90 days before polling day and end 24 hours prior to that day." 
Thus, according to INEC's time table, political parties would begin campaign for presidential, national and states assembly elections on November 18.
However, political parties, especially the PDP and the ruling All Progressive Congress (APC) had been contravening the Electoral Act through their respective support groups, who had been sponsoring publications in newspapers, as well as promoting their candidates on campaign billboards. 
On the other hand, the electoral umpire which ought to ensure that political parties abide by the Electoral Act had not been bold enough to wield the big stick.
With the campaign officially starting on Sunday, the presidential candidate of the PDP, Atiku Abubakar is billed to begin his campaign on Monday in Abuja with the launch of his policy document, which would contain how he intends to direct the affairs of the country if he gets into the saddle of leadership next year.
The presidential candidate is rounding off the composition of his campaign machinery, which would be a mix of the organisations that delivered him at the primary, the party and former aspirants' structures.
The former vice president, earlier in the week, addressed members of his Campaign Organisation and briefed them on the shape of the emerging structure, telling them that they would be collapsed into a more inclusive electioneering machine that would be used to power him into the presidency.
Also on Wednesday, Atiku held his first meeting with his campaign council, whose members were named a few days after he won the party's presidential nomination.
Those at the meeting included the National Chairman of the party, Prince Uche Secondus; Director-General of the PDP Presidential Campaign Council and the Senate President, Dr.  Bukola Saraki; the Governor of Sokoto State, Aminu Tambuwal,  zonal coordinator, North-West; Governor of Gombe State, Ibrahim  Dankwambo, zonal coordinator, North-East; Governor of Benue State,  Samuel Ortom, zonal coordinator, North-Central; Governor of Rivers State, Mr. Nyesom Wike,  zonal coordinator, South-South; and a former Governor of Ekiti State, Mr. Ayodele Fayose,  zonal coordinator for the South-West.
Others included, Governor of Ebonyi State, Dave Umahi, zonal coordinator, South-east; a former Minister of Special Duties, Kabiru  Turaki, Chairman, Legal Matters; and Governor of Akwa Ibom State, Emmanuel Udom, who is the Chairman, Fund Raising Committee.
The main opposition party is also expected to name its comprehensive campaign council today, according to the spokesperson of Atiku Presidential Campaign Organisation (APCO), Mr. Segun Sowunmi.
He said, "As you are aware, his excellency returned a couple of days ago and in a few days, I believe any moment from now, the comprehensive campaign council will be unveiled, which to the best of my knowledge, will be under the leadership of Senate President, Bukola Saraki. All the other members of those committees will be unveiled in due course.
"As for our campaign, I can assure you that we will start immediately the whistle is blown. Our programmes and activities are well documented in a brochure and we will unveil them one after another.
"From the way I perceive it, which is not final or authorised or approved, I believe that the first thing that we deserve to do is to bring to the table an unveiling of a comprehensive policy. And before this unveiling, we would have easily commenced our activities. Where we will go, when we will go and the areas we will go will be unveiled.
"Considering the approach to the presidential campaign, the PDP has decided to sell the party and its candidate to Nigerians by engaging in an issue-based campaign rather than exchange uncivilised words with the ruling party."
Meanwhile, the PDP yesterday accused Amaechi of using government fund to campaign for President Muhammadu Buhari.
The PDP, in a statement signed by its National Publicity Secretary, Mr. Kola Ologbondiyan, alleged that with this action, Amaechi had demonstrated the height of corruption both in Buhari's administration and in the person of his campaign DG.
The main opposition party therefore challenged Buhari to demand the immediate resignation of Amaechi to demonstrate his "touted integrity."
The PDP also advised Amaechi to prepare to "return to Rivers State to face his multiple corruption indictments instead of trying to promote a failed candidate being paraded by his party."
The PDP statement said, "If Amaechi has not lost touch with reality, how would he be comparing Atiku Abubakar, who is widely celebrated by Nigerians across board, due to his integrity and proven competence in managing resources, to a failed Buhari, who Nigerians know is responsible for the grinding hardship, hunger, starvation and escalating insecurity in the nation in the last three and half years?
"How can Amaechi compare Atiku, a known and tested nationalist, who has become the rallying point for national rejuvenation and reawakening to Buhari, who has sunk the nation deeper into the sea of nepotism, divisiveness, dissentions and agonising despondency?
"How can anyone compare Atiku, an epitome of wealth creation and youth empowerment to Buhari whose tenure will only be remembered by Nigerians for hardship, unemployment, job losses, wealth destruction, economic frustrations and destruction of institutions that engender good governance and freedom?
"Is it not an aberration to attempt to compare Atiku, who played key role in a government that paid our nation's foreign debt, to Buhari, whose administration specialises in accumulating debts, borrowing money to service debts and plunging our generations yet unborn into bondage?
"How can Amaechi compare Atiku, a promoter of democracy and fundamental human rights to President Buhari whose administration has stood down all known democratic virtues, and relishes in violation of human rights, disobedience to court orders, disdain for constitutional order and condoning of extra-judicial killing, harassment and illegal detention of citizens as detailed in reports by international bodies? 
The PDP said while it was a settled fact that Buhari could not be a match to Atiku, it understood Amaechi's frustration as a beleaguered salesman of a derelict product, saying, "he should have known that for Nigerians, Atiku Abubakar represents light and a brighter future, whereas President Buhari and his All Progressives Congress (APC) represent a national misfortune."
President: Ohanaeze's Endorsement of Atiku Inconsequential
Also yeaterday, President Buhari said the celebrated endorsement of Atiku by Igbo socio-cultural group, Ohanaeze Indigbo was inconsequential.
The President, who made the pronouncement when he met select group of South-east leaders at the State House, Abuja, said "well-meaning" leaders from the region had told him to disregard the endorsement as one lacking substance.
According to President Buhari, the split within the Igbo socio-cultural group over its reported endorsement of Atiku did not surprise him, noting that "from that moment, I knew that the resolution would not stand, and alas, there it was."
Addressing the South-east delegation, Buhari said the APC got it right from the very beginning that the major problems facing the country were mainly security, corruption and the economy.
He assured Nigerians: "We have done so much and given the chance, we will do more. Given every chance, we will tell Nigerians where we were in 2015 and what we have achieved up to now.
"We will not get tired of speaking about the golden opportunity Nigeria lost during 16 years of the PDP.  We earned money, which we didn't use.
 "The state of infrastructure we inherited was terrible – no roads, the railway was killed and power.  They lacked conscience because anybody with conscience will not do what they did. We will report them to Nigerians. Let anybody lead this country but not the PDP. They were so reckless with the resources of the country.
"If you ruin the economy, send your children abroad to get education, won't they come back? I said it 30 years ago that this is the only country we have. We must stay here and salvage it together."
The leaders of the delegation, Engineer Emeka Ekwuosa and the National Chairman, United Progressive Party (UPP), Chief Chekwas Okorie, promised to mobilise support for Buhari in the South-east, saying that his re-election will be a national consensus.
 He reassured him that the Igbos and people of the South-east generally understand the good things he is doing for Nigeria "which has unfortunately been misunderstood".
Also, President Buhari, who received a delegation of Imams and senior Islamic scholars from the 36 states of the federation at the State House, said he was determined to lay a foundation for free, fair and credible elections in the country, noting that there was a gradual improvement in the quality of elections After a speech by the Islamic scholars, Buhari said measures being put in place by his government had resulted in gradual improvement of elections, as seen in Edo, Anambra, Ekiti and Osun States from what he described as "dismal and unacceptable levels witnessed in Rivers and Kogi states."