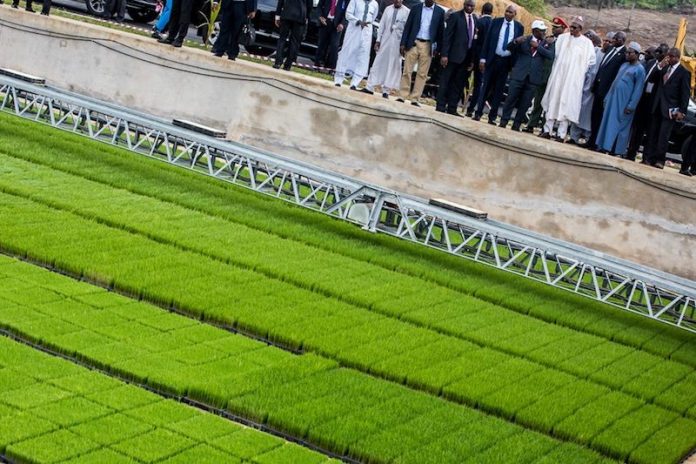 Kayode Fasua assesses the performance of the federal government in its quest to boost local rice production
Like other spheres of national life, the agricultural sector was not spared from the ongoing political contentions between the two major gladiators of ruling All Progressives Congress (APC) and opposition Peoples Democratic Party (PDP).
In a recent statement, PDP's presidential candidate, former Vice President Atiku Abubakar, took up President Muhammadu Buhari, as he faulted a claim by the President that Nigeria had succeeded in reducing the importation of rice by as much as 90 per cent.
Atiku alleged that the country was actually importing more metric tonnes of rice this year than it did last year: a possible innuendo that rice importation suddenly spiked this year for the purpose of inducing voters with the staple food item.
Carpeting the Agriculture Minister, Chief Audu Ogbeh, for "making phony claims about the nation's steady march to food security," Atiku, who spoke through his campaign organisation, had averred said the British Prime Minister, Theresa May, during her recent visit to Nigeria, was conned into the belief that Nigeria is now self-sufficient in rice production.
Justifying his claim, Atiku said, "Recently released data from the United States Department of Agriculture (USDA) World Markets and Trade Report, proved these claims by President Buhari and his government to be false.
"According to the World Markets and Trade Report of the USDA, which is a public document, Nigeria imported three million metric tonnes of rice in 2018, which is 400,000 metric tonnes; more than the quantity of the product imported in 2017."
But the CBN clarified that the volume of rice importation into Nigeria (in metric tonnes) has declined drastically in 2018, judging by figures obtained from various official sources.
Indeed, figures obtained from India and Thailand, which are dominant rice exporters to Nigeria indicated that as at September, the latter had so far exported about 5,161 metric tonnes of rice to Nigeria, while the former sold only a paltry sum of 426 as at July 2018.
Attributing the reduction to concerted effort by the Federal Ministry of Agriculture and Rural Development and interventions of the Central Bank of Nigeria (CBN), the Director, Corporate Communications at the CBN, Mr. Isaac Okorafor, stressed that the Bank had not allocated any foreign exchange for the importation of rice this year.
Okorafor, argued that the figures being bandied in certain quarters were based on unrealistic assumptions such as satellite mapping of farms, expected demand by politicians for election campaigns as well as expected losses from flooding, all of which led to unauthentic conclusions that the country had imported or could import 400,000 more metric tonnes.
The spokesperson for the CBN further noted that the combined figure of 5, 587 tonnes of rice imports from India and Thailand may have been rice imported on not-valid-for-forex basis.
Meanwhile, trade figures for the second quarter of 2018 received from the National Bureau of Statistics (NBS) showed that total imports value was N2,106.7 billion; -16.3% lower than the first quarter (Q1), 2018 (N2518.26 billion) and – 19.9 per cent lower than Q1, 2017 (N2,631.65 billion).
In addition, a report by the Bank of Agriculture (BoA), showed that the federal government had saved about $800 million by encouraging local production of rice in the country.
The Executive Director, Finance and Risk Management of the BoA, Mr. Niyi Akenzua, who spoke at a recent forum, commended efforts by the government to diversify the economy with special focus on agriculture, urging Nigerians to key into the programmes, "because of their all-round benefits".
Akenzua, particularly noted that rice production had increased to a level that people could ever imagine and that the government was targeting early 2019 to fully stop the importation of rice.
He said emphasis was being placed on standardising and packaging of agricultural products from Nigeria to make them acceptable to the export market.
Meanwhile, Mrs. Bola Oyedele, a representative of Crenov8 Consulting, an agricultural concern, who spoke at the forum, observed that the United Arab Emirate (UAE) imported over $100 billion worth of food in 2017 from Africa, and that it is expected to rise to about 400 billion dollars in the next eight years.
She enjoined Nigeria and other African countries to tap into the huge opportunities that exist, to export various agricultural products such as cocoa, rice, gum Arabic, palm oil, wheat, maize and others, to Dubai, the UAE buzzing capital, and the Gulf Cooperation Council (GCC).
From the days of yore, however, rice has been one of the most consumed staples in Nigeria, with consumption per capita said to be at 32kg.
'Nigeria Producing 15m Metric Tonnes'
Aside from the mechanised farming circles, rice production in Nigeria is variously found at even mass production level among presumably subsistent local small-scale farmers.
A report indicated that, predominantly among the northern states, rice is a major cash crop.
"In Nigeria, rice production sits at 15 million metric tonnes, counting from the last three years," according to a top official of the Federal Ministry of Agriculture who would not want to be mentioned.
Also, the federal government, in a recent release, stated, "In the past decade, consumption (of rice) has increased by 4.7 per cent, almost four times the global consumption growth, and reached 6.4 million tonnes in 2017-accounting for c.20 per cent of Africa's consumption.
"As at 2011, rice accounted for 10 per cent of household food spending, and 6.6 per cent of total household spending."
It added that given the importance of rice as a staple food in Nigeria, boosting its production had been accorded high priority by the government in the past seven years, adding, "Significant progress has been recorded in rice production which peaked at 3.7 million tonnes in 2017 alone."
The government's stance appeared to have been complemented by the President, Rice Farmers Association of Nigeria, Aminu Goronyo, who said recently, that the annual rice production in Nigeria increased from 5.5 million tonnes in 2015 to 5.8 million tonnes in 2017.
Goronyo said that in 2015, Nigerians spent not less than N1 billion on rice consumption, adding that while spending had drastically reduced, consumption had increased, "because of increased local production of the commodity."
"The consumption rate now is seven million tonnes and the production rate has increased to 5.8 tonnes per annum," he stressed.
The RIFAN president, however, traced the haul to the Central Bank of Nigeria (CBN) Anchor Borrower's Programme, under which 12 million rice producers were attracted and four million hectares of FADAMA rice land ceded. (Fadama is an Hausa word that means a valley-bottom, flood plain, or a lowland around a river that floods or becomes wet when the river is high.)
How the Journey Began
When the Buhari administration came on board in 2015, one of its cardinal programmes was to diversify the economy, away from reliance on oil income, which at the period, shocked the new administration as it dropped sharply at the international market.
The administration particularly harped on boosting agriculture as a way of earning appreciable foreign income, to shore up its dipping purse. To that extent, it made moves to boost local production of rice. Apart from introducing the Borrower's Anchor Programme in which a window of credit facilities was open to poor farmers, the government banned the importation of rice and also gave a marching order to the Nigeria Customs Service to descend on defaulters.
Following this, some private rice producers and millers sprang up in some states across the country.
The 18 Rice-producing States
As at this year, 18 states are reputed as reliable rice producers in the country. They include Kebbi, Benue, Ebonyi, Ekiti, the Federal Capital Territory, Jigawa, Kaduna, Kano and Katsina.
Others are: Nasarawa, Taraba, Kogi, Zamfara, Ogun, Niger, Kwara and Sokoto.
About three years ago, Lagos State, which is Nigeria's commercial nerve centre, went into a trade partnership with Kebbi State on rice production, at a time the unit price of bags of rice soared, partly as a result of the blanket ban on imported rice.
Speaking during the signing of a Memorandum of Understanding (MoU) to commence the rice partnership at a forum in Lagos then, Kebbi governor, Alhaji Atiku Bagudu, had said the goal of the two states was to produce 60 per cent of Nigeria's rice needs, and replicate same in other food items.
Complementing him, his Lagos counterpart, Mr. Akinwumi Ambode had noted, "The future of Lagos State is partly tied to deliberate resolution on food security. Likewise, food production and self-sufficiency require our immediate attention at policy and strategic levels, to sustain ourselves."
Ambode added, "Lagos is the largest consumer of food commodities in the country, by the virtue of its large population. The state has the market, with the required purchasing power. The state has an estimated consumption of over 798,000 metric tonnes of milled rice per year, which is equivalent to 15.96 million of 50 kilogramme bags with a value of N135 billion per annum.
"We have the economic prowess to produce rice locally. The era of imported rice is gone. The reality is for all of us to embrace the consumption of local food and commodities. In addition to rice, the state is presently consuming 6,000 herds of cattle daily, which may increase to 8,000 in the next five years."
Advice
Advising the Buhari administration on ways to boost rice production nationwide and similarly enhance other farm produce, an agricultural investor, Dr. Dipo Okeyomi, said, "Government should make agriculture a compulsory subject in all public schools and also set aside inviolable lands, devoted to farming."
"Beyond this, foreign investors should be attracted to devote their money and technology to our local agriculture and especially spiral the increase in rice production, to boost our export value," he counselled.
Okeyomi, who has large hectares of rice plantation in communities in Ekiti and Osun states, also urged that beneficiaries of the Borrower's Anchor Programme should be closely monitored, to ensure that the money given to them is judiciously spent.