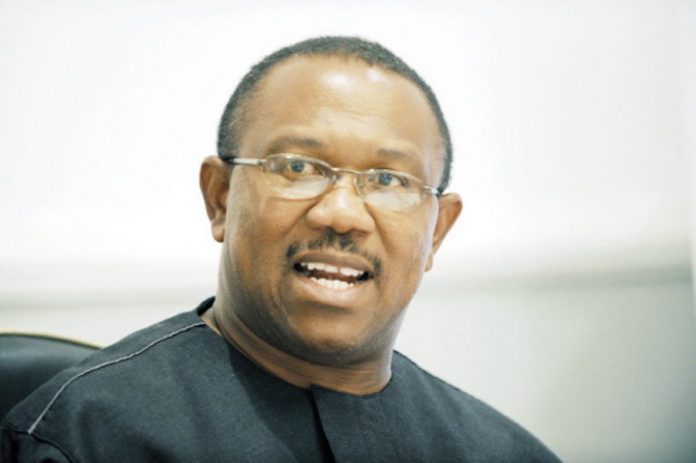 Nseobong Okon-Ekong writes that the vice presidential candidate of the People's Democratic Party, Mr. Peter Obi is not the typical Nigerian big man. He loves to pinch his pennies and spend as little money as possible
Former governor of Anambra State and vice presidential candidate of the People's Democratic Party (PDP), Mr. Peter Obi is eager to burst some prevailing myths about his persona. It was widely believed that Obi claimed he had one wrist watch. But while fielding questions on ARISE News last Monday, he said the story actually emanated from his wife, who told a team of investigators searching his house that her husband does not have much; that he owned one wrist watch and the timepiece was always where it should be: on his wrist.
This time, he did not dwell on the 'one wrist watch' mantra with which he attempted to show Nigerians that a man of immense wealth like himself can, as well, live like a Spartan. What he did on ARISE News was to upturn his widely quoted speech at the Covenant Christian Centre organised discourse, The Platform on May 1, 2017. Apparently, Obi now wishes to downplay or close the One Wrist Watch chapter, since myth busters went back in time to dig up photos of Obi wearing wrist watches other than the one he claimed was plastered to his skin in the past 17 years. Actually, Obi did not think anyone would take the trouble to investigate his claim, talk less of proving that he told a lie.
To be sure he was seen in the right light, he told the team of interviewers that he was not one of those who gained affluence from governing their state. For emphasis, he reminded them that he came to Government House in Awka, from overseeing two banks and being on the board of different successful companies. Despite these accomplishments, he likes to call himself a trader. Is anyone wondering why he is one of the few governors credited with leaving billions of cash and assets when he left office.
Anyone who was in doubt of Obi's wealth had all such insinuations put to rest, as the former governor said on television that he was not a poor man, even by global standard. He was already a bank director when he married his wife. And to demonstrate his fidelity, they have slept on the same bed, as man and wife, for 30 years. If his soon-to-be-principal, Atiku Abubakar prefers to keep a harem, what does it matter? After all, Abubakar and his nation of women and children have never been in want.
Obi is not just the typical Nigerian big man, given to laulau spending. He is what the Igbos call, 'aka gum', meaning he loves to pinch his pennies. It is just the way he is. A man who owned five houses in London; flies business class when he is going abroad, but travels economy around Nigeria and prefers to get 'lift' from friends who own private jets (though he is richer than many of them). Let's just say Obi loves to spend as little money as possible. So, for instance, he would rather travel through Dubai to London, in order to save money. How such a man will fit into the manifest extravagance of an Atiku Abubakar-led administration will be interesting. Not a few have noted his stance and will remind him later that he said, "I don't want to be part of a government where you are wasting time."
If he was not much sought after by the PDP presidential candidate, Atiku Abubakar to lend his famed business acumen and financial pragmatism to his government (if he wins the 2019 presidential race), perhaps, nobody will be talking about Obi. Definitely, he will not be the subject of supposed hate speech from Kaduna State Governor, Mallam Nasir el-Rufai, who called Obi out, saying he sent Northerners fleeing from Onitsha when he governed the state and looked the other way when his movement was restricted under his watch. Many darts are being fired in the direction of Obi, even from his supposed kith and kin, claiming they were not consulted before Abubakar made him the most important Igbo man on his team.
But Obi has always swam against the tide successfully. As Governor of Anambra, he was impeached after six months by a state assembly populated by an opposition party. He bounced back to reckoning through a court judgment that restored him to office. Through an eloquent presentation of his intentions for the state, he got the buy-in from his erstwhile opponents. It was not long before, in his own words, they became best of friends. He was able to make the opposing legislators see that the bigger picture of ensuring development for the state was more urgent than bickering over selfish issues.
One thing that the current presidential campaign has done is to bring out the politician in Obi. In Anambra, the scope of his influence was entirely different. Even when he called the shot in banks, his range of experience was restricted. Aspiring to become the Number Two man in Nigeria comes with peculiar responsibilities.
The Peter Obi promise as vice president pre-supposes that he will be allowed to influence policies and the direction of governance, like former president Olusegun Obasanjo did for Atiku Abubakar in his first tenure. If he is consigned to a small office to read newspapers only like the late President Umaru Yar'Adua did to Goodluck Jonathan or if he is allowed momentary heroism like President Muhammadu Buhari is doing to Professor Yemi Osinbajo, then Nigerians will not benefit from Obi's touted impressive academic profile, youthfulness and intelligence. As Obi has frequently said that no nation can survive without saving, will he be allowed to save for Nigeria and therefore, save Nigeria?
OFF THE CUFF:
*All the good brains are in APC, but the country is not working. The good brains are in APC, yet the country is collapsing. That's all I can say. When APC came, this country was growing at six per cent, since they came, look at where we are! Everything has headed south, not one item is positive
Obi mocking the claim that there are no good brains in his party, the PDP
*What His Excellency, Gov. Nasir Ahmad El Rufai said about me has been brought to my attention. I believe that as we grow older and are saddled with more responsibilities, we are expected to become circumspect in our thinking and avoid recklessness in our speeches and utterances. How does the circumstance he referred to relate to bigotry to warrant such a label? All I do for people like El-Rufai is to pray for them and encourage them to concentrate on doing those things that will better the lots of Nigerians rather than engage in hate speeches that will divide and destroy the country
Obi addressing the assertion that he is a religious bigot
*I've been privileged to have travelled with a number of high-profile people in the past in a private jet where they gave me a lift. I've not experienced what Atiku experienced
Obi reacting to the search on Atiku Abubakar's private plane by security agents
*Let me tell you what is worrisome; well we don't know, they are still dealing with who owns the money or who doesn't own the money, but that will one day be clarified. Let me tell you where I am even worried. Why would anybody put it in such a circumstance, what if it caught fire? If that money was put in our banking system, whoever kept it would have earned eight percent per annum, so he would have earned about $7 million by now. $7 million is about N2.8 billion today. That is the amount I spent for all secondary schools in Anambra in a year. If he decided to be generous and give it to graduates, they would have shared it to 2,800 graduates, out of which 2,000 would have been successful
Obi sharing his thoughts on the money found in an Ikoyi-Lagos residence
*I live there, but having been governor of Anambra for eight years, I cannot live outside Anambra. The only place I have a house officially built is Onitsha, if you see any house in Lagos, Abuja or anywhere else belonging to Peter Obi, confiscate it. I lease that place for my wife and children. Obi claiming he has only one house in Nigeria