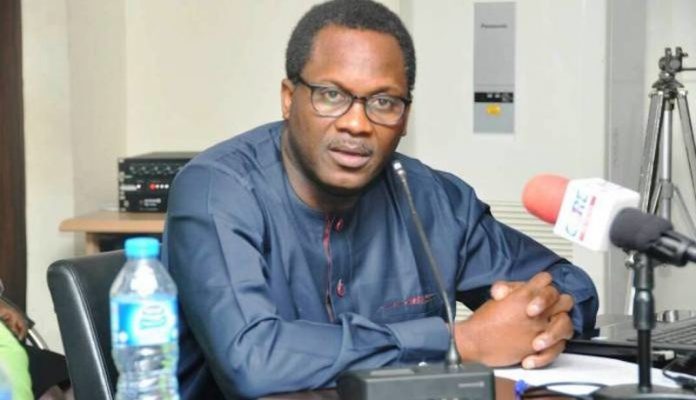 Jonathan Eze writes that the warning against killer beans in circulation is not another hoax targeted at causing panic among members of the public and should be adhered to
The Consumer Protection Council has advised consumers to beware of contaminated beans currently being sold in some markets.
It called on consumers to properly wash their beans before consumption as well as make sufficient enquiries before engaging in new purchases.
The Council gave the advice in a statement by its Director-General, Mr. Babatunde Irukera.
The warning was against the backdrop of a video that had gone viral where some people were seen using sniper, a highly effective insecticide/miticide that controls over 30 foliar and soil borne pests, to preserve beans.
The case was also confirmed by some arrest and parade of the culprits by the Lagos State Police Command.
The CPC had noted that in addition to the cooking method and making enough enquiries before purchase, consumers should sufficiently wash their food items before cooking.
The council added: "Thoroughly washing food items before consumption or preparation for consumption is a generally accepted method of protecting and promoting safety.
"The CPC has recently confirmed by credible information that retailers, mostly in the open market, are using a pesticide, 2,2-dichlorovinyl dimethyl phosphate compound, otherwise marketed and known as 'Sniper', to preserve beans and more particularly to eliminate or protect from weevils."
In view of the revelation and the need for circumspect, the Director General, Standards Organisation of Nigeria, Osita Aboloma, has commended the consumer who reported the beans vendor for using a pesticide for the preservation of the crop on sale to the Police.
A statement from his office in Abuja posited that such individual and collective awareness by consumers in general are essential for effective standards implementation and enforcement in Nigeria.
Aboloma urged Nigerians in general to take greater interest in their welfare by reporting to relevant regulatory and security agencies any suspected unwholesome, substandard or life endangering products or practices.
According to him, there are relevant Nigeria Industrial Standard and Codes of Practice for beans along the value chain, to take care of issues concerning the proper preservation of the crop from planting to the table and assure the safety of Consumers in Nigeria.
He enumerated the Standard and Codes of Practice as follows: Standard for Dry Beans (NIS 1030: 2018), Code of Good Agricultural Practice: Planting of Dry Beans (NCP 065: 2018), Code of Good Practice: Harvesting of Dry Beans (NCP 067: 2018), Code of Practice for Packaging of Dry Beans (NCP 064: 2018), Code of Practice: Storage and Transportation of Dry Beans (NCP 066: 2018).
The Standard and Codes of Practices, which have been approved for use by the Standards Council according to the statement, were results of consensus decisions by stakeholders, including, farmers, processors, Federal Ministry of Agriculture (FMoA) officials, regulatory agencies, academicians, research institutes and consumer advocates among others, while SON officials provided the Secretariat.
The SON boss stated that arrangements were ongoing among the FMoA, other regulatory agencies and SON for a nationwide advocacy programme for farmers, processors and extension workers in States and Local Governments on the standard and codes of practice for beans and other grains.One of the biggest challenges that confront beans and grains farmers and merchants in the country is how to effectively control weevils and beetles in their stored products.
This has led to the indiscriminate use of excessive chemicals by many grains farmers and merchants to preserve these produce for future sale; as a result, most of the crops have high pesticide residues harmful to human health.
Recently, the European Union (EU) banned Nigerian beans because of the high level of dichlorvos pesticide residue at 0.3, which was beyond the 0.1 acceptable limits in the beans.
Other chemicals like Chlorpyrifos, Cyhalothrin, Dimathoate, Trichlorphon, Omethoate and so on were also discovered in high, unacceptable levels in dried beans for export.
These pesticides were either applied in the farm during cultivation or at storage to preserve the beans from weevils
FG's Appeal
On his part, the Minister of Agriculture and Rural Development, Chief Audu Ogbeh, expressed displeasure at the use of chemicals for food preservation and fruit ripening, and urged traders not to use sniper to preserve beans.
Ogbeh said the act was detrimental to human health and the environment.
"Sniper is very dangerous; people also use carbide to ripen bananas and some other fruits; people do all kinds of things.
"Suddenly, people are developing different diseases, something is wrong,'' he said, in reaction to the reported use of 2,2-dichlorovinyl dimethyl phosphate, otherwise marketed and known as sniper, to preserve beans by retailers.
He appealed to foodstuff and fruit sellers and others Nigerians to adopt natural means of preservation.
The minister said that the ministry would collaborate with the National Orientation Agency (NOA) to create more awareness on the need for citizens not to use chemicals for food preservation and fruit ripening.
"We appeal that they use natural means such as pepper to prevent weevils in beans instead of sniper. We hear this and we send people to warn them but the ministry can't catch everybody.
"We are going to use the National Orientation Agency and state ministries of agriculture to create awareness on the need for people to desist from these acts.
"We just have to keep educating people," he said.
The National Agency for Food Drug Administration and Control (NAFDAC) also warned citizens against eating and buying foodstuffs and fruits preserved or ripened with chemicals.
NAFDAC also advised that sale of grains or beans suspected to be preserved with chemicals be reported to the agency.
New Initiative
To tackle this problem, the Purdue Improved Crop Storage (PICS) system was developed by Larry L. Murdock, professor of Entomology at Purdue University, USA and scientists in Cameroon in a research funded by a USAID and the university's International Programs in Agriculture.
According to the website of Purdue Agriculture, PICS had led the way in smallholder farmer grain storage over the past 10 years with the Purdue Improved Crop Storage (PICS) project funded by the Bill & Melinda Gates Foundation and other donors.
The PICS technology is a triple layer sealed plastic bag that cuts off the oxygen supply to create hermetic conditions, thereby eliminating insect damage in storage of dry grain.
This low-cost technology was developed and initially disseminated for cowpea grain, but it has more recently been found effective for all types of grain and even other products.
"PICS bags allow farmers to store their grain without the use of insecticides, and provides them the flexibility to sell when prices are high, while having chemical-free high quality food for their families throughout the year.
"The PICS program originally involved 10 countries in West and Central Africa, but has been expanded to Eastern and Southern Africa and to South Asia.
"The success of the technology has been shown by it transfer to farmers in 40,000 villages in sub-Saharan Africa, the training of 2 million farmers on use of the bags, and by the private industry developing to manufacture and sell PICS bags in 23 countries in Africa and Asia.
"The PICS consists of two high-density polyethylene plastic bags, and an outer sack of nylon that protects them. It can store grains safely for eight to 12 months without the produce being damaged by insects."
To make the technology available to farmers in Nigeria, a company based in Kano State has been given the license to produce the bags for farmers and merchants for grains and beans storage.
The system reduces the amount of damage the weevils inflict upon stored beans and other grains.
Murduck, on the Purdue University website, stated that the PICS bags are uninhabitable environments for beetles and weevils," adding that "the keys to the success of PICS are that insect reproduction is essentially stopped quickly and most eventually die of dehydration."
An Agricultural Economist with the International Institute for Tropical Agriculture (IITA), Ibadan, Tahirou Abdoulaye, stated that the "PICS bags simply eliminate the need to use any chemicals for storage."
In the same vein, the block extension supervisor for Tudun Iya Funtua Zonal Office, Katsina State Agricultural and Rural Development Authority (KTARDA), Malam Ahmad Idris, noted that they don't use or recommend chemicals for maize storage, adding that the only thing a farmer needs to do is to make sure the maize is properly dried before storing it.
QUOTE:
We appeal that they use natural means such as pepper to prevent weevils in beans instead of sniper. We hear this and we send people to warn them but the ministry can't catch everybody. We are going to use the National Orientation Agency and state ministries of agriculture to create awareness on the need for people to desist from these acts.