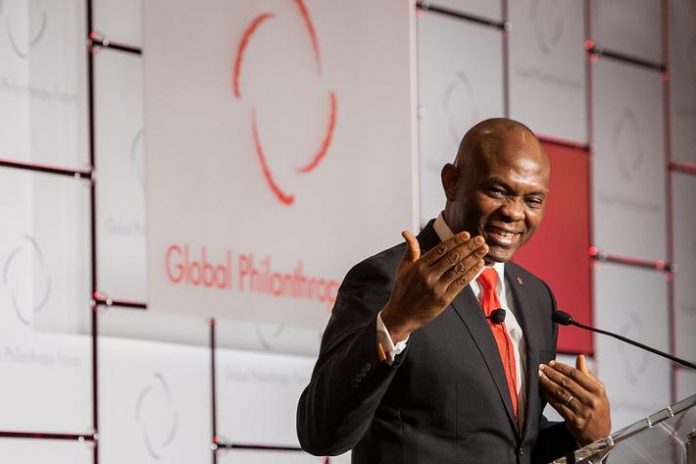 Ugo Aliogo
The Chairman, Heirs Holding, Tony Elumelu, will deliver a lecture at the 40th Anniversary of Lagos State Polytechnic (LASPOTECH) on June 20, at the School of Agriculture Auditorium, Ikorodu Campus, Lagos, with the topic: 'Repositioning Education for Technological Development and Food Security'.
Disclosing this to journalists at a media briefing in Lagos yesterday, the Rector, LASPOTECH, Samuel Sogunro, stated that the anniversary is aimed at celebrating the unity, peace and development which the institution has achieved in the last 40 years.
"If there is unity, there is development. It is not something that is hidden. In an administration you will find ups and down. When you have issues, you resolve it and at the same time you work together to develop the institution. If there is no peace and unity in any setting definitely, there can't be progress. As far as we are concerned this is 40 years and it is not easy to mark 40 years," he noted.
He also noted that as part of activities marking the anniversary celebration, there would be walk for life by staff/Students' marathon on November 21, at
Sogunro, added that there would be students' talent show/activities on the same day at the 500-seater, School of Agriculture Auditorium, Ikorodu Campus.
He further noted that: "The Grand finale of the 40th anniversary will be a day to celebrate long serving staff of the polytechnic which is slated for November, 22 at the convocation ground.
"If you look round and see what we have been able to do within the space of 40 years, you will know we have really tried. We started with five departments and now we have 36 departments.
"We were running five programmes at the beginning, now we are running 67 programmes. Recently we just faced re-accreditation of our programmes, 66 of them. If there is no unity we can't achieve that much so definitely we are going to intensify our efforts to bring everyone together because we can always do it together to achieve the expected growth and development."