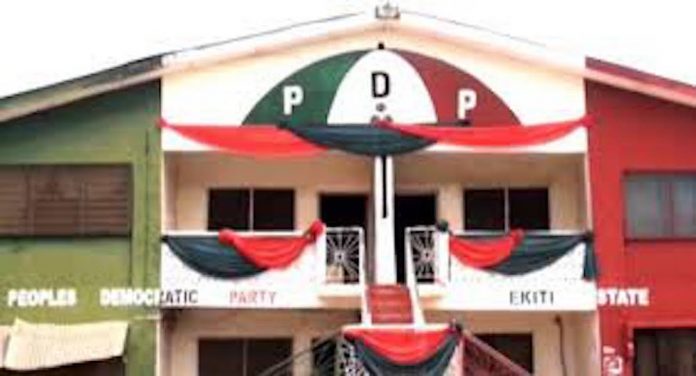 By Nseobong Okon-Ekong
A coalition of the Peoples Democratic Party (PDP) support group in Borno State has declared at a press conference held yesterday in Lagos that the public should disregard anyone parading himself as the party's governorship candidate and Borno Central senatorial district's candidate.
Chairman of the group, known as, Yerwa-Oodua PDP support group, Bakura Goni Makinta and its secretary, Mustapha Mustapha, insisted that the Independent National Electoral Commission (INEC) must adopt the former Minister of State for Power, Mohammed Wakil as the PDP governorship candidate, as well as, a former speaker of the state assembly, Bukar Kachallah as the PDP candidate for Borno Central senatorial election.
They made the call at the end of its 26th quarterly stakeholders meeting which began on Friday and ended at the weekend in Lagos.
The group, with headquarters in Ijora-Lagps, is "the coming together of hundreds of PDP members from Borno State who live in South-western states of Lagos, Ekiti, Ogun, Ondo, Osun and Oyo"
They added that whereas some PDP members were making reference to 2011 in which an incumbent governor lost the Borno Central senatorial election to PDP, they ignored the fact that back in 2011, the PDP had the advantage of Mohammed Goni as its governorship candidate.
The group concluded that, "the PDP in Borno State must therefore admit that at the situation stands, APC candidates are contesting unopposed unless we do everything possible to accelerate our case and get the court to order to INEC to uphold candidates from primary elections conducted by the lawful state executives of the PDP under our legitimate state chairman, Alhaji Usman Baderi".
"Ahead of the 2019 general election, the PDP in Borno State currently has no valid candidates particularly for the governorship and Borno Central senatorial election until ongoing court appeal cases between the two factions of the party are determined in weeks to come. Notwithstanding publication of the names of Alhaji Mohammed Imam for the governorship and Senator Mohammed Abba Aji for the Borno Central senatorial election by the INEC, the two persons are not valid candidates because their primaries were conducted by an unlawful state executive committee under the so called chairmanship of Alhaji Zannah Gaddama whereas a federal high court in Maiduguri had two months ago delivered a judgment clearly recognising that the valid state executives of the PDP in Borno State are those under Alhaji Usman Baderi as state chairman."
The group said the federal high court judgment still subsists because there is no other order by any court of competent jurisdiction setting aside that federal high court judgment citing that the PDP state secretariat near Sir Kashim Shettima way in Maiduguri is under the use of Alhaji Usman Baderi while the illegal chairman, Zanna Gaddama operates from a private residence.