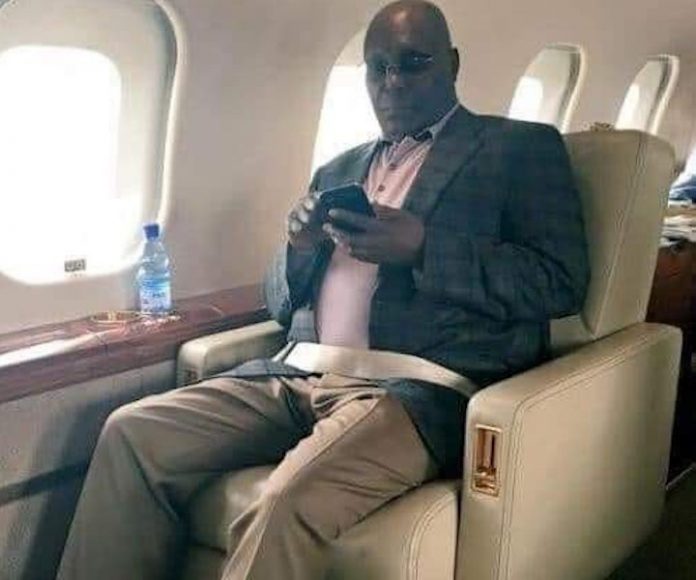 Says check aimed at intimidating him
FG: It was routine exercise
PDP, Adebanjo, Nwodo, Fani-Kayode, others react
By Deji Elumoye, Onyebuchi Ezigbo, Shola Oyeyipo, Adedayo Akinwale in Abuja and Segun James in Lagos
A cross section of Nigerians and groups yesterday reacted angrily to the search conducted by security agents on the private jet of former vice president and presidential candidate of the Peoples Democratic Party (PDP), Alhaji Atiku Abubakar, at the Nnamdi Azikiwe International Airport in Abuja.
Atiku, who landed around 1:30a.m, said he arrived into the waiting hands of special security squad comprising army, police, customs and immigration officers, which carry out a thorough search on his aircraft.
Those who reacted to the incident included the PDP, leader of the Pan-Yoruba socio-cultural group, Afenifere, Chief Ayo Adebanjo; President of Ohanaeze Ndigbo, Chief John Nnia Nwodo; PDP chieftain, Chief Olabode George; former All Progressives Congress (APC) Deputy National Publicity Secretary, Mr. Timi Frank; Senator Ben Murray Bruce; and former Minister of Aviation, Chief Femi Fani-Kayode.
But the federal government, in a statement by the Minister of State for Aviation, Senator Hadi Sirika, said the search was a routine exercise that Atiku had misrepresented to the public to grab headlines.
The former vice president had relocated to Dubai immediately after he won his party's presidential ticket, saying the aim was to "strategise" for the 2019 presidential election.
It was learnt that video recording gadgets and other devices were used to record the search but nothing implicating was found on the PDP presidential candidate.
Atiku had broken news of the search on his Twitter handle, "I arrived to Abuja this morning to a search by agents of the state, aimed at intimidating me and my staff.
"I am committed to building a Nigeria where no citizen is intimidated by agents of state who are paid to protect them. Together, #LetsGetNigeriaWorking Again."
The ruling APC had last week called on security agencies to probe the former vice-president over his trip.
In a statement signed by its Deputy National Publicity Secretary, Mr. Yekini Nabena, the party said security agencies should probe the real motive behind the trip.
He said, "There is more to the meeting than meets the eye. Nigeria has enough meeting/conference rooms, many of which meet international standards. It is, therefore, clear that the Dubai meeting was for other sinister political purposes ahead of the 2019 general elections.
"Our intelligence, anti-graft and security agencies must be awake to their responsibility of investigating the Dubai meeting. Cash-and-carry politicians must be prevented from moving illicit cash around to induce voters and sponsor election violence and rigging."
Reacting to the incident, the PDP condemned it in strongest terms. The party in a statement yesterday by its National Publicity Secretary, Mr. Kola Ologbondiyan, rejected the search on Atiku and said it was evidence that the Buhari administration was jittery over Atiku's soaring popularity since his emergence as its candidate.
According to him, "It was shocking when the deadly squad, in a Gestapo style attack, and acting on 'orders from above' rushed our candidate immediately he landed and attempted to physically manhandle him before invading his aircraft with dangerous weapons to conduct a violent search."
The main opposition party said while nothing incriminating was found on Atiku, the squad, violently tampered with certain personal documents and gadgets belonging to him, including some of his campaign documents.
The party noted that Nigeria was not a conquered territory and anybody that wanted to foist a totalitarian regime on the country would be firmly resisted.
It said, "PDP is for peace, but we will not accept this recourse to violence, which we believe is orchestrated to directly harm our presidential candidate, foist a siege mentality on the system and set the stage for series of coordinated violence, ostensibly to truncate a peaceful conduct of the 2019 general election.
"We invite President Buhari to recall that as a Presidential candidate, he had occasions to travel out of the country and the government in power never besieged or harassed him in any way. His administration should therefore not introduce such violence in our democratic space.
"The Buhari Presidency and the APC should bear in mind that this is an attack on our democracy and the collective sensibility of the overwhelming majority of Nigerians, across board, who have accepted the choice of Atiku as Nigeria's next president and they will vigorously deploy every means available in a democracy to defend him and our democratic process."
On his part, Adebanjo said the humiliation of Atiku is a testament to the fact that Buhari is not a democrat.
Adebanjo said he was not surprised at what happened, saying that Buhari was like a leopard, who cannot change his spots.
"He was born a feudalist and was not exposed, so he can do anything however unreasonable; there is nothing that Buhari will do that will surprise me."  
For Nwodo, he said  the action was a scary move, which has become a trail that does not portend good for the nation.
He said, "This is scary moves. From Ike Ekweremadu to Atiku Abubakar, while Adams Oshiomhole and Orji Kalu under investigation and trial respectively move as they like. Thousands of Middle Belters murdered; no one is arrested.
"One Army General is killed, 17 guys, including a traditional ruler rounded up. This is what happens when qualification for positions in our security agencies is a function of where you come from rather than your competence!"
Also speaking, PDP chieftain and former governor of old Ondo State, Chief Olabode George, described as "absolutely sacrilegious and reprehensible" what happened to Atiku.
He said, "If they can treat him (Atiku) that way, it is a prelude to what will happen in 2019; what is all these? We have to rise up and beyond this. He is not just anybody. For God's sake, he is a candidate of a major political party for God's sake."
George insisted that absolute respect must be given to him.
"How do we tell the international community and investor that their investment is safe in the country? He has never been convicted for God's sake. This is pettiness; the days of doing these are over," he said.
Former Deputy National Publicity Secretary of the APC, Mr. Timi Frank, said the plot to embarrass Atiku was a failure.
"Nothing, was however found on him or in his aircraft," Frank said.
Also, the senator representing Bayelsa East constituency at the National Assembly, Mr. Ben Murray-Bruce, condemned what he called "reckless harassment" of Atiku.
Taking to his Twitter handle @benmurraybruce, the senator tweeted, "I totally condemn this reckless harassment of @atiku the candidate of the @OfficialPDPNig as he landed in Abuja.
"Nigeria is not a fascist state. We will not return to a jackboot dictatorship. This government should face Atiku at the polls, not with force."
In his reaction, a former Minister of Aviation, Chief Femi Fani-Kayode, described the attempt to intimidate Atiku by the presidency as shameful.
Tweeting from his verified tweeter handle @realFFK, he said, "The attempt to intimidate @atiku with security agents at the airport after his arrival in Abuja this morning is utterly shameful and I totally condemn it.
"It is the desperate act of a vicious, cowardly, weak, paranoid, dying and failed government who know that their time is over."
Also reacting, Afenifere National Publicity Secretary, Mr. Yinka Odumakin, condemned the incident.
"While Atiku was in Dubai, the APC made a statement asking security people to go after him, now coming into the country and being subjected to these kinds of searches, it shows just only one thing, extreme desperation and when a sitting government begins to show this kind of desperation, it is about losing it, if it has not lost it, because it is clear signal that the government has descended into a desperate mode and that is why they are doing all these," he said.
FG: It was Routine Exercise
However, the federal government last night in Abuja, dismissed allegations by the former vice president that he was ill-treated by security operatives, saying rather he was accorded his deserved respect but only seeking to make mischievous headlines.
The Minister of State for Aviation, Senator Hadi Sirika, in a statement, said Atiku, by the alarm raised, was only executing one of the resolutions at his just concluded retreat in Dubai "to embark on scaremongering."
The minister who also said what happened to Atiku at the airport was not unusual, noted that all passengers on international flights into the country are usually subjected to screening by customs and immigration officers.
According to Sirika, who admitted that Atiku's bag was searched, any passenger, who arrived the country via a private aircraft like the PDP presidential candidate did, was usually met by security agents as was his case.
He said it was only the president and vice-president, whom he said usually arrived through the presidential wing of the airport, that were exempted from such rule, pointing out, however, that yet, their passports must be stamped by immigration officers.
Insisting that the search conducted on Atiku was not only mandatory, conventional, and internationally recognised; Sirika said Atiku could not have been exempted from such procedure.
He also absolved Buhari of any knowledge of Atiku's experience.
Admonishing those he described as law-abiding citizens to subject themselves to the laws of the land, Sirika warned that the case of any very important personality could never be an exception.
The statement read, "This is a mischievous attempt to grab the headlines. Nigerians need to know that one of the resolutions of the Atiku team at their recently-concluded, opulently-held Dubai retreat was to embark on scaremongering. This is one of such.
"For the records, all incoming passengers on international flights go through customs, Immigration, health and security screening.
"Where the aircraft is using the private, charter wing, as the PDP candidate did, such arrivals are met by a team of the Immigration, customs and other security agencies.
"They go to the arriving aircraft as a team. The airport authorities confirm that this is a routine process, applying to all international arrivals, including the minister unless the passenger is the President of Nigeria.
"The president, the vice president and passengers aboard planes on the presidential air fleet use the presidential wing of the airport.
"It is also important to state that even in the presidential wing of the airport the President of Nigeria uses, there is the presence of Immigration and other security officials who must stamp his or her passport on arrival.
"By standard procedure, all aircraft on international arrivals must first of all park at the international wing of the aircraft. They can move to the domestic terminal only upon the completion of the arrival processes.
"While it is true that the Task Force on Currency at the airport did the routine action of checking the former Vice President's travel bag, he was accorded full respect as a senior citizen.
"These checks are mandatory, conventional, internationally applied and routine. No one is excused from them under our laws. These checks are carried out on all international arrivals and President Buhari does not get involved in them.
"Law-abiding citizens are encouraged to respect the laws of the country and our VIPs should not seek to be treated over and above the citizens they wish to serve.