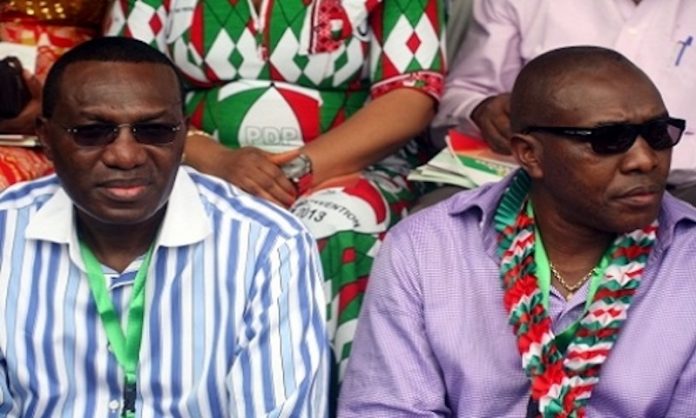 Politics and power always have a way of tearing friends and brothers apart.
If you are in doubt, ask Andy and Chris Uba.
These two brothers and political gladiators from Anambra State have always been at each other's jugular over political power and battle for supremacy.
Society Watch gathered that the 'war' again has taken a new and dangerous dimension, as the two brothers would be contesting the Senate in Anambra South Senatorial District on different political platforms.
Andy, the elder brother, is currently with the All Progressives Congress, APC, while his brother, Chris is with the Peoples Democratic Party, PDP.
Chris, it was gathered, has vowed to dethrone Andy.
A source divulged that Chris tells whoever cares to listen to him that he is tired of being addressed as political 'godfather ' without any other benefit and he would do everything within his capacity to achieve his aim.
Those in the know hinted that this is not the first time the brothers would square up against each other.
It was revealed that when Andy was in a joyous mood and thanking God for his victory at the polls under the PDP in 2015, some of his family members called for a showdown with him.
In 2015, Chris pitched his tent with his opponent at the polls, Ernest Ndukwe of APGA,
The APGA candidate, who rejected the result declared by the INEC, vowed to challenge Uba's victory at the tribunal.
What was, however, confounding was that Chris was the financial muscle behind Ndukwe.
It was learnt that before the party primary that threw up Uba as the PDP candidate, Chris had shown interest in contesting for the same Anambra South Senatorial seat.
However, in the build-up to the 2015 general election, the Uba family unanimously agreed that Uba should vacate the Senate seat for his younger brother, Chris while Andy give the governorship seat another trial.
Andy reportedly agreed but after losing out at the Anambra governorship primaries, he made a U-turn and insisted he would go for the Senate.
Even after several pleas by some elders in family, he refused to yield to the earlier agreement.
The source confirmed further that the crisis, which is tearing the family apart, has become a subject of discussion in the whole community.
It is common knowledge that Chris is the godfather of Anambra PDP. First, he installed his eldest brother, Senator Ugochukwu, as senator for Anambra South between 2003 and 2007.
He later made his brother, Andy, governor of the state in 2007 until he was removed by the court, thereby paving way for Peter Obi of APGA to take over the seat as governor.
Consequently, Andy, in 2011, went to the Senate.