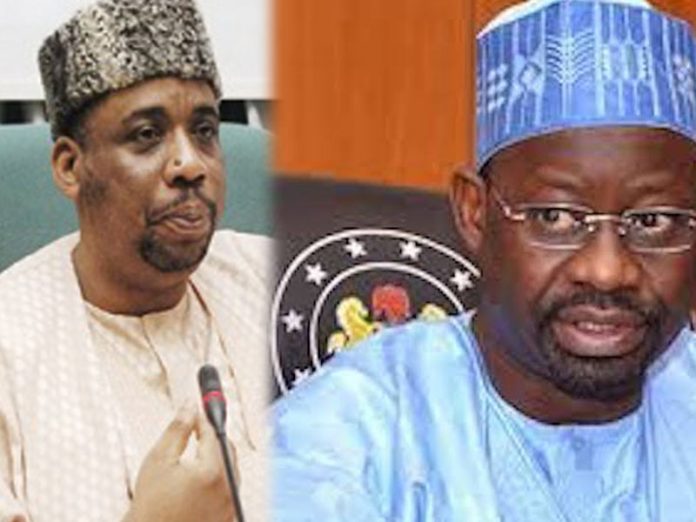 By Aminu Haruna-Aliyu
No one can be a judge over obedience when such person's obedience is not complete or put in another way, he that comes to equity must come with clean hands. The principle of clean hands in governance must not be downplayed knowing that governance is a task that is premised on trust and utmost integrity. In a world where integrity, trust, and proven track record with personal platform have become sacrosanct elements of electing political office holders, it will be suicidal to canvass or indulge a person that is bankrupt of these elements.
If the latest AMCON list of delinquent debtors' publication means nothing to those who insist on making Senator Nafada the next governor of Gombe State, it is a wake-up call to the people to wrestle the state from those whose interests tilt towards their personal upbeat. AMCON says 350 Nigerians out of the nearly 200 million are responsible for 80 per cent of AMCON's N5.4 trillion debt. It is disturbing that Gov. Ibrahim Hassan Dankwambo's favourite governorship candidate. Under the circumstance, an indebted man should not be given a position that requires clean hands to manage the scare resources of the state.
I may be attacked on the pages of newspapers as being unfair by those who have extended their roles of being the mouthpiece of Gov. Dankwambo to being the defenders of Nafada but sincerely I careless and I am unfazed by whatever names I am called as long as the good people of Gombe are fed with the reality on ground, so as not to become the victims of wrong decision.
In an era when governance is treading towards a time when greater emphasis is assigned to trust, equity, managerial skill, administrative efficiency, shrewd decision making, and ingenuity in turning the tides against negative indices when they crop up, Dankwambo is bent on imposing Senator Nafada whose administrative inefficiency is unrivalled. As far as the administration of Gov. Dankwambo is concerned, good-governance is a word that has lost its significance in Gombe. To worsen this, Nafada was rigged into becoming the PDP gubernatorial candidate instead of Dr. Jamilu Isyaku Gwamna (JIG), so as to continue with the atrocious style of leadership to cover his administrative ills within the last seven years. The governor's wish to impose him on the people of the state is a democratic high tension cable that can incure a historic accident that posterity would never forgive the PDP leadership in Gombe State for. I put up this piece so as to sensitise the good people of Gombe State and the voters who are the ultimate determinant of who steers the ship of governance from 2019, on the need to uphold the important moral principle of good governance.
An American author, Kent Nerburn says that "the greatest enemy of financial well-being is not poverty but debt, '' so those working to see that Nafada becomes the governor of the state are doing that for two undeniable reasons: because they do not mean well for the state and for personal interests. Gombe state seeks to be financially prosperous in all sectors. A man can only offer what he has. If a man who has been a member of the House of Representatives and now a senator with such alarming and breath-taking sum being paid as salaries and bonuses still has a few questions to answer concerning his finances, how will he manage the resources of Gombe to bring the state out of the current mismatch between resources and management?
In one of his articles, Junaidu Abubakar praised Dankwambo for singlehandedly bringing Senator Nafada and said it was the best thing his boss has done for the good people of the state as against the will of the people: JIG. The Sardaunan Gombe is a man with the proven track record in finance management and a guru in fiscal policy that has manned several businesses and yet he floats on the sea of integrity for all to see as an example of a financially sufficient leader who needs no government money to do what is right. JIG is a big miss for the PDP, I am sure, but political pride will not make them admit it openly as they are doing secretly. So for those canvassing and praising the act of the governor in imposing Nafada on PDP in Gombe state, I perceived their regrets but it is never too late to do the right thing by allowing your consciences to speak reasoning to your hearts. This was one of the things that JIG saw that made him join the All Progressives Congress (APC). He refused to be amongst men of injustice. Only God knows what is coming next?
Comrade Aminu is the immediate past Bayero University Kano Student Union Governmemt Secretary General and can be reached via aminugjb@yahoo.com