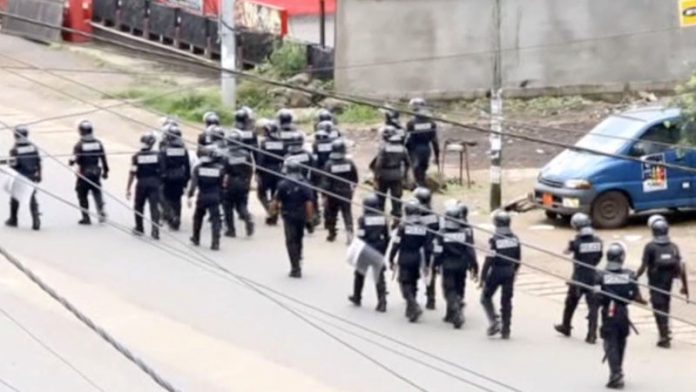 An army search operation is under way in Cameroon to rescue dozens of people kidnapped from a boarding school.
At least 79 students and three others were seized on Monday in Bamenda, the capital of the North-West region, a government official has told the BBC.
The government and English-speaking separatists have accused each other of orchestrating the kidnapping.
Cameroon's North-West and South-West regions have been hit by a secessionist rebellion in recent years.
Regional governor, Adolphe Lele L'Afrique Deben Tchoffo, blamed separatist militias for the kidnapping.
But English-speaking separatists are accusing the government of staging the kidnapping, as an attempt to discredit their cause.
The authorities have declared a ban on vehicles driving between most districts of the North-West region.
Militias, who have been demanding the independence of the two English-speaking regions, have called for a school boycott.
But no rebel group has said it carried out the kidnapping of the students and the principal at Bamenda's Presbyterian Secondary School, which has pupils aged between 10 and 14.
A video of some of the children, believed to have been filmed by one of the kidnappers, is being shared on social media.
The students, all boys and crammed into a tiny room, all look nervous as the person holding the camera orders them to say their names and where they are from.
They also repeat the phrase: "I was taken from school last night by the Amba boys, I don't know where I am."
Amba is short for Ambazonia, the name of the new country that the separatists want to create.
At one point in the video, a voice in the background, believed to that of one of the kidnappers, says what sounds like "tu perds ton temps" (French for "you're wasting your time"), BBC Monitoring says.
The majority French-speaking government has blamed separatist militias for the abductions. Anglophone separatist leaders have denied responsibility.
One rebel group, the so-called Ambazonia Governing Council, issued a statement on social media hitting out at government "infiltrators and saboteurs" who it says are "planted… within the Ambazonia independence cause".