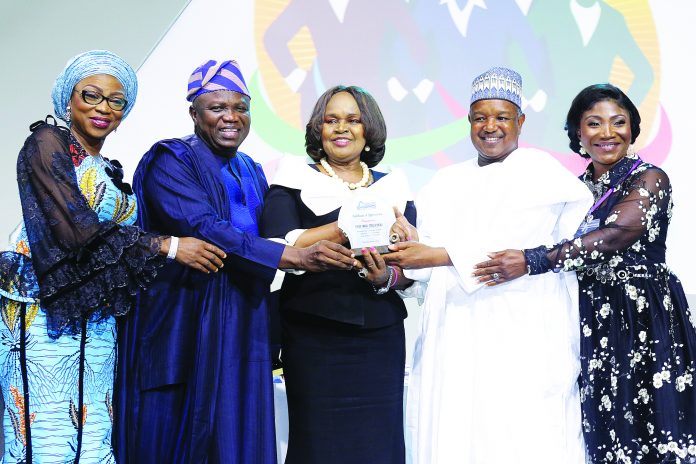 The quest to continually improve the welfare of women and sustain vintage position of Lagos State in the federation was the centre of discourse at the three-day 18th National Women's Conference of Committee of Wives of Lagos State Officials with theme "Strengthening Our Collective Impact" held in Lagos last week. Funke Olaode was there
Women inclusion in all facets of life has been a catalyst of change and research has also proved that all over the world women are pillars of growth and development of their countries. In many ways, women have continued to play roles that demonstrate how important they are to the progress of their countries economically, politically, socially and importantly in their various homes.
And in the last 18 years, the COWLSO has shown that women at all levels have grown beyond being an ordinary flower around the table as they have become decision makers, professionals, home makers and pillar of support to their husbands.
From October 23 through 25, all roads led to the Convention Centre of Eko Hotel and Suites, Victoria Island Lagos where women from all walks of life converged on for the 18th of National Conference of Committees of Wives of Lagos Officials under its chairman and wife of the governor of Lagos State, Mrs. Bolanle Ambode. This year's main topic was "Strengthening Our Collective Impact" while topics such as living a life of purpose, successful marriages need passion and perseverance, planning for retirement, vulnerable but not defenceless, digital family connections, children having children – the hazards of teenage pregnancy and preventing significant health challenges of the midlife and beyond were also extensively discussed by various experts at the conference.
Among the dignitaries present were, Governor Akinwunmi Ambode, Governor of Edo State, Dr. Godwin Obaseki, and his wife, Governor of Kebbi State, Abubakar Bagudu and wife, Mrs. Funso Amosun of Ogun State, Mrs. Florence Ajimobi of Oyo State, Lagos State deputy governor, Mrs. Oluranti Adebule, Mrs. Kemi, Nelson, Hon. Jumoke Okoya-Thomas, Dr. Stella Okoli, TY Bello, management of Eko Hotel and Suites, top government officials, party chieftains, civil servants, corporate bodies amongst others.
In his remarks, Governor Ambode congratulated the executives and members of COWLSO for another very successful conference , saying it was on record that Mrs. Ambode, along with other hard-working committee members, had succeeded in taking the association and the annual conference to the a higher level.
Ambode said, "The opportunity to be part of a conference such as this is a privilege which also comes with a corresponding responsibility. In the spirit of the theme of this conference: 'Strengthening Our Collective Impact', you all have a responsibility to share this experience with other women and men. This is the only way that the impact of the knowledge gained at the conference can be widened and deepened."
Speaking on the journey so far, Mrs. Ambode said in what has become an annual norm, the committee came together and collaborate with either government establishment, privately owned businesses, non-governmental organisations with the aim to achieve significant and lasting social change that would be of beneficial to all. "We have the unique ability of looking at problems and coming up with solutions that would transform lives and make the world a better place. And that is why at this year's conference, we carefully selected tested facilitators and speakers to do justice to various topics and issues affecting women."
Enumerating some of the achievements of the committee under her watch in the last three years, the first lady said the committee has executed many health related projects which has recorded impressive impact on the health of babies, children, youths, women and the aged ones.
"Two years ago, we upgraded the Ear, Nose and Throat Department of the Lagos Island General Hospital, Odan while also sponsoring goitre operation for some women. Last year, we continued our intervention by donating Portable Otoread OAEs equipment to four general hospitals: Badagry, Ifako-Ijaiye, Ikorodu and Gbagada. The committee has also spread its kind gesture to Shomolu and Alimosho General Hospitals.
"In the area of infant and maternity care, the committee donated two transport incubator ambulances to both Gbagada General Hospital and Lagos Island Hospital. These facilities aptly described as 'womb on wheel' are to be deployed to convey premature babies to government facilities equipped with neo-natal- ICU to save their lives. It can also be used to convey infants with severe post birth complications, and other serious emergency situations. The women of COWLSO reckon that with this intervention, many more newborns, infants and children in Lagos State, will be saved from avoidable deaths with attendant happiness of their parents," she explained.
Also speaking during the event, Funmi Oyetunji said for an individual to live a purposeful life, he must take time off and imagine his life as he navigates through life.
"What I observe is that some people don't know that they have responsibility for their own life. They always come up with an excuse that they have failed to fulfil life of purpose because they were not born rich, that their career is not making them to be the best, that they didn't marry a man who treat them well. Or their children are not doing well. So they have resorted to fate that everything that pertaining to life is out of their control. And this is problematic. What matters is how you handle such situation. She enjoined participants by creating their own identity in form of a brand that distinguished who they are," Oyetunji stated.
In another discussion, successful marriage need passion and perseverance by Mrs. Bridget Itsueli, the participants were told to define their preference in life and ensure that the partner they choose share much of their personal perspective and worldview, adding that perseverance, interaction and communication, play vital roles in the success of marriages.
In another paper, strengthening our collective impact, parenting digital kids by Dr. Mrs. Veronika Iwayemi, the speaker addressed how the participants could protect their children from the harmful side-effects of technology and how they can insulate them from digital explosion, so that they can make responsible choices in life. She was quick to point out the fact that while the goal of parenting remains the same, methods, approaches of training their children must change. Thus, entirely disconnecting children from the digital world may be counter-productive, and giving them unfettered access to every digital content might also be counter-productive. There is the need to ensure that their children acquire relevant skills, so as to make balanced adjustments.
In a communiqué released at the end of the conference which was read by the wife of the secretary to the State government, Prof. (Mrs.) Ibiyemi Olatunji-Bello, COWLSO said government must put structures and policies to address the issues of teenage pregnancy. Speaking further, it advised participants to get professional advice from professionals on financial matters, never spend all their incomes, at least they should invest 10 per cent, they should seek help in an abused relationship, know their rights under the law, care-givers must listen and pay attention their wards, children should be taught core values. Women were also advised to take their health seriously, especially from age 40, by ensuring reduction in dietary salt and increasing fruits intakes. They were advised to maintain an ideal body weight and engage in regular physical exercise. The participants were urged to reflect the knowledge acquired in all personal endeavours, and should also try to pass on the knowledge to achieve desired impact on society.
At the end of the three days event, 2018 inspirational Woman award was presented to the renowned photographer, TY Bello while certificates of Appreciation of friends of COWLSO were presented to the Chairman of Emzor, Dr. Stella Okoli, and Eko Hotel and Suites. At the Gala night raffle draws, seven cars were given out to winners while many also went home with various gift items ranging from deep freezers, LG TV and more. It was indeed a three-day conference to remember.