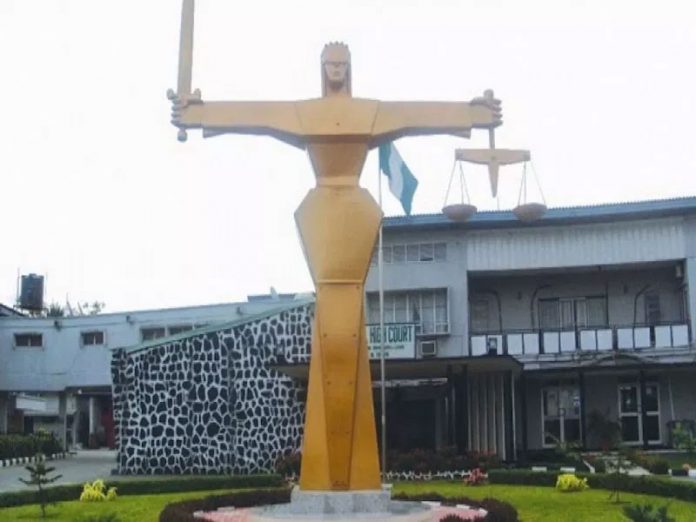 Victor Ogunje in Ado Ekiti
A traditional ruler in Ekiti State and the Owa-Ilogbo of Ilogbo Ekiti in Ido/Osi local government, Oba Edward Oke Ajayi, has petitioned Governor Kayode Fayemi, complaining over indiscriminate arrest of his subjects by the police over what he called trumped-up allegation of being secret cult members.
In a petition dated October 28, the monarch urged the governor to intervene in the crisis that broke out among some youths culminating in the death of a man identified as Bolu Adeleye .
The monarch added that Fayemi should also warn the police from Ido Ekiti division of the Ekiti Command, to stop clamping down his subjects into detention over 'unfounded' allegation of being members of secret cult, saying over 15 youths are currently being detained at the police headquarters in spite of no verifiable evidence linking them to cultism.
Some youths had on October 21 besieged the palace at Ilogbo and vandalized the building and destroyed some vehicles owing to allegation that some youths who fought in the community and suspected to be secret cultists were being kept in the palace.
Oba Ajayi described as a blatant lie, position canvassed by the
complainants and a faction in the crisis; Messrs Kayode Omojola, Gbenga Omojola, Femi Olabamija and one Apiaka, that he was using his palace to shield a group of youths belonging to a dreaded secret cult .
Narrating his ordeal to the governor, Oba Ajayi clarified that he had since that day abandoned the community when the aforementioned personalities , had threatened to deal with him after vandalizing his palace and burnt down a Toyota Previa parked therein on the day the crisis broke out .
He also fingered the personalities as being allegedly aiding the
police to arrest more people under trumped-up charge of cultism, which the police themselves found to be untrue.
The letter reads: "I wish to inform you sir, that the news going
round the media and town about the crisis was purely cooked up lies. I hereby write to brief you on what really happened, the role I have played and the situation of things now. It happened on October 21
"On October 22, as a king, I called for peace meeting inviting the chiefs to settle the matter between these youths. Those that arrived earlier and were seated with me at the palace were Chief Ajirowa, Chief Obalua, Chief Olosun and Chief Alawo
Ifa.
"A version of those fighting was also seated and they are: Bayo
Omotoso, Ajayi Adeyemi, Femi Oluwadare, Jimoh Hameed, Ajirotutu Ojo, Olajide Morakinyo and Oluwateru Kayode, while waiting for the other aggrieved group for the meeting to commence.
"The other aggrieved group which consists of Kayode Omojola, Gbenga Omojola, Femi Olabamijo and Apiaka, arrived at the palace, instead of sitting down for the discussion, one of them used the walking stick in his hand to hit the boys seated in my presence and other invited chiefs.
"They also started attacking my palace, vandalizing and burning palace properties including all vehicles packed within the palace vicinity. It was in the midst of that confusion that Apiaka shouted that someone has been killed around the town hall which is about 150meters away from the palace and I later got to know it was Bolu Adeleye by name. The deceased was never seen at the palace and was not part of those invited.
"Sir, I will like to clarify that there is no iota of truth in all of these allegations of cult related issues in this crisis. My son , Ajayi Adeleye who was alleged to be arrowhead of the crisis was not in town as at the time of the crisis, he has never been reported on any cult related cases and as at five years ago he commenced his degree programme.
"All my children were born and raised in the town and they have no other home hence cannot be a terror to their own people. I call for your help because as we speak only those boys that were seated with us in the palace were arrested, the other group were exonerated and as we speak they are still moving about freely. Your prompt intervention would go a long way at restoring peace to my town."
But the Police Public Relations Officer, Ekiti Command, Mr. Caleb Ikechukwu, said the police didn't know the identities of those in detention, saying his men acted to prevent anarchy from befalling the town.
"We did not know the identities of anyone. We only acted based on information that some youths were causing crisis in Orin Ekiti and they were picked up for the safety of lives and property.
"We are investigating their connections and roles in the crisis and appropriate steps shall be taken when the investigation is concluded."