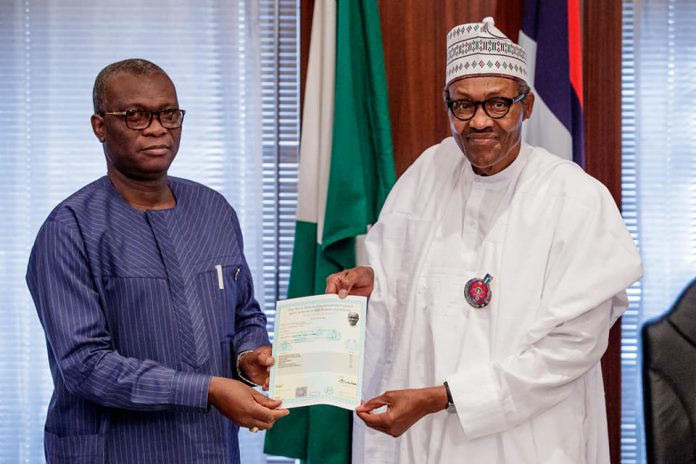 President Muhamamdu Buhari was Friday presented with a certificate of attestation and confirmation by the West African Examination Council, a development expected to put paid to his secondary school certificate scandal, writes Olawale Olaleye
Perhaps, not many people saw it coming. President Muhammadu Buhari has had to put up with the mortification of not possessing a secondary school certificate, being the minimum constitutional requirement for the office of the president.
Interestingly, it is not the first time Buhari would be dealing with this challenge. It was a major debate during the 2015 elections and because it was not addressed conclusively at the time, it reared its ugly head again and was almost going to cost him his re-election, before Friday's intervention by the West African Examination Council (WAEC).
This second time, the certificate debate had become very heated after Buhari told the Independent National Electoral Commission (INEC) that his school certificate was still with military authority, which in turn had cleverly denied any such thing.
Identified as "attestation and affirmation certificate", one of President Buhari's media aides, Mr. Femi Adesina, confirmed the news of the issuance of the certificate to the president last Friday.
In a tweet from his verified handle, Adesina, who delights in deriding and taunting the electorate said, "WAEC presents attestation certificate and confirmation of school cert result to President Buhari. What will the naysayers say next?"
More than anyone ever thought, the issue of Buhari's missing secondary school certificate did not appear like one debate that was going to fizzle out just like that. Much as those on the receiving end would have desired such a miracle, recent developments had shown it could not be more than wishful thinking had WAEC not stepped in.
Not unexpectedly, supporters of the president had put up curious arguments, which had done nothing extra-ordinary or out of the box to the debate by merely insisting Buhari wrote his exams and that his certificate, which had initially developed wings overnight and disapeared from the record, was then with the military.
Unfortunately, whilst the president's men insisted he had the certificate, in addition to other professional military courses that had helped to shore up his resume, the letter believed to have been written by his principal at the Provincial Secondary School, Katsina, and sent to the military, didn't corroborate this in any sense.
"I recommend Mohamed Buhari for consideration as a potential officer. I consider that Mohamed Buhari will pass West African School Certificate with credits in English, Maths and three other subjects," the letter stated.The above statement did not indicate either in form or content that the president actually sat for any exam let alone obtained a certificate. Instead, the import of the tone of the letter was that the president was given a waiver from writing the exam, perhaps, to meet up with the admission deadline by the military.
Truth is, as a retired officer in the rank of a general, Buhari is more than qualified by his steady rise to rule the country and in any case, his experiences and other military academic qualifications are more than enough for what is being demanded to run for the office of the president by the constitution. It is therefore not tenable to have claimed he had the certificate and yet could not produce it
Nothing, in the defence so far put up, showed he actually had that certificate, because his responses were rather dismissive and resentful. But WAEC's last minute intervention, even though it was considered suspect in certain quarters, is expected to put closure to the debate for good.
However, that would not be without some snide remarks from the opposition Peoples Democratic Party, which had quickly described the process culminating in the certificate issuance as a tragicomedy. National Publicity Secretary of the party, Mr. Kola Ologbodiyan, told journalists in Abuja that, the PDP did not expect the president to "come this low."
"It is a tragicomedy. We never expected Mr. President to dramatically come this low, because you cannot have a certificate and be calling it an attestation. What are they attesting to? We stand by our position that Mr. President has no school certificate.
"It is simply a political certificate. We have said that the Buhari presidency and his handlers are always fretting at the mention of a certificate. So, they want to mislead Nigerians to say that Mr. President has a school certificate.
"If Mr. President has a certificate, why did he not use it in 2015 election? Why is the certificate suddenly emerging few months to the election? And have you checked the photograph that was attached to the certificate? In 1961, was it the requirement of WAEC to have a passport attached to school certificate?
"Even in our own generation, was there a condition in WAEC that you must submit your passport to be attached to your certificate? They should come off it. It's too low.
"You remember they procured Martin Luther Award presented to our president, which later was discovered to be fake? This is a similar award, a procured. We are waiting for the story of its declaration as another procured document," he said.
Secondary school certificate is the minimum constitutional requirement for elective offices. But the court can always interpret that to include other experiences or certificates that are equivalent, more so at the level Buhari had served the country. It is discretionary. That way, this debate would have been long over even without WAEC coming into the picture. But because they started the discussion with muddled up facts, it all seemed like a lie.
There is a lot in certificate especially, when the debate is about public office and primary demands of the constitutional. Attempts to want to gloss over this as if it was not a big deal would have created more problems. The arrogance with which Buhari and his people treated the certificate issue was disappointing. They practically told off everyone as if it was too much to ask a legitimate question. Even where they struggled to give answers, it was always vague and irreverent.
If Buhari had stayed third, fourth and fifth terms in office, the debate was not going to go away except properly addressed. What more, even after office, it still would have stuck with him like a leach. Thus, resorting to bullying everyone who sought answers was a sheer waste of time and undignifying on the part of his handlers, to say the least. It was the reason the news that Buhari actually sat for the school examination and obtained his certificate was a good one for him and his re-election campaigners. Hopefully, he and others had learnt some lessons in the handling of sensitive issues a next time.