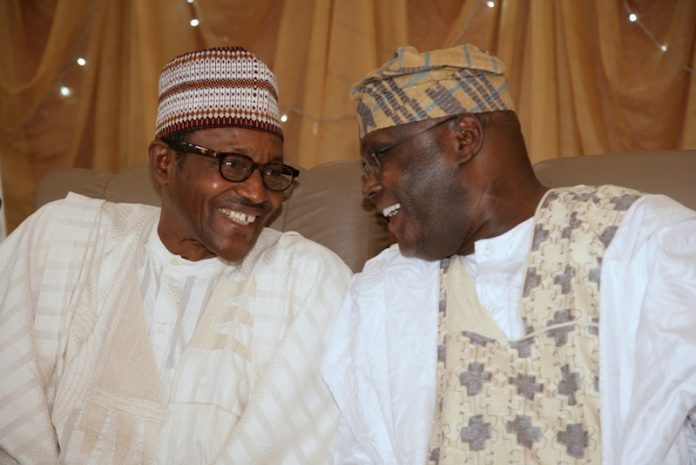 SATURDAY COUNTERPOINT 
With Femi Akintunde Johnson; e-mail: fajalive1@gmail.com
mobile phone: (08182223348 – SMS Only)
It is worrisome when I read people I admire their work and antecedents join the chorus of "Ok, he's corrupt…we agree he's a thief…but we prefer to vote for a competent corrupt thief who is ready to work and prepared to act…instead of a lifeless one who pretends to be Mr. Integrity, and we're suffering, while his own people are smiling…" And thoughts similar to that…in 2018!
 This is a rehash of the repugnant mantra four years ago when men and women supposedly sound and progressive joined the mundane mantra of "…even if all he has is NEPA bill…if he has only toilet paper as a certificate…in fact, if he has no certificate, we will still vote for him…".
Ironically, we are always surprised and disappointed when the results of lowering the eligibility bar of merit, experience or competence hit us hard like a poorly thrown uppercut. If you didn't care if an "illiterate" ruled you, why should you complain when your hopes are dashed. If in your mind, you are already making room for a "thief" to lead you…why, in all that is good and gracious, do you expect to still have a treasury after four years? Or do you expect that he would have grown so tired of stealing that on sighting your awuf littering all over the dark spots where they hide such loose money, a restraining spirit will fall upon him, and baptise him with the Saul-to-Paul oil of deliverance? Sorry, Damascus is very far from Asokoro!
 Yes, we have our preferences; we may have genuine and concrete reasons to distrust Muhammadu Buhari or Atiku Abubakar… going forward, we must not fail in our duty as opinion leaders, intellectuals, analysts and journalists (I dare to speak to this elite group)…we must not abdicate from our invaluable roles of provoking the capacity for intelligent appreciation of choices facing our youth and the generality of our people who are not yet partisanly entrenched.
 It will not augur well for our country when we mislead those reading and watching people who should know and guide into falling into such level of the same watermark where it matters not whether a leader "is a confirmed international thief" or "has only NEPA-bill as certificate"…he will still receive our votes! As if only these two types of individuals populate our leadership cadre.
 Of course, we may have strong reservations about the quality of leaders presented to us…yes, let let us challenge their competence, vision and "fruits"… but we must never indulge their excesses or malfeasance… Never! Whatever the justification!
 Now this: I know Buhari made efforts to explain his certificate matter in 2014… Premium Times, an online publication, in January, 2015 unearthed a transcript of the 1961 results from the University of Cambridge West African School Certificate Examinations body in which he "obtained five credits in English Language, Geography, Hausa Language, History and Health Science". Earlier in same January, the authorities of his alma mater, Provincial Secondary School, Katsina (now Government College) also released a testimonial affirming that Buhari sat for same examinations. While the cynicism still persisted, his supporters went to town about the plausible reason he could not present a hard copy: the original copy had supposedly gone missing during the putch of his regime by the Ibrahim Babangida-led interrupters… when a Major Dasuki(?) led troops to sack and thrash his office and home. That same Dasuki has now been in detention (unjustifiably?) for over three years, accused of heinous crimes while serving as NSO to Dr. Goodluck Jonathan, who is free as a bird.
 Those who did not believe the missing certificate story have approached the courts… That is as it should be. And the defendant has expectedly spruced up a high-powered defence team. The matter should be pursued to its conclusion.
 On the other hand, Atiku has had his image thrashed by allegations and charges that he was involved in corrupt practices alongside his fourth wife and others in the USA…apart from anciliary and equally disturbing allegations…. These accusations have been floating without unimpeachable explanations for years. Can the man in the eye of the storm make a categorical defence…face the challenges inherent in dismissing the allegations/charges… or sue for damages from some of those who seek to defame or assassinate his character?
 In the interim, let anyone who does not believe Atiku's off-hand protestations of innocence approach the bench… We must know the truth, one way or another. Let us put a stop to "managing" our leaders…their remiss is to manage our affairs well. Only the best of us should lead the rest of us!
Are these two the best of us?
– SNIPPETS –
"President Muhammadu Buhari-+ (recently) received meeting proceedings and resolution of the National Minimum Wage Negotiation Tripartite Committee. Report says the document contained proceedings of all the meetings the Committee had, including the resolution to have N30,000 as the new minimum wage. It's expected that president will make his final pronouncement after going through the document."
– Sir, make your mind up as quickly as possible… November 6 threat of the labour leaders may not be real, but the anxieties amongs the people are! That which you want to do… Act now…not on Nov. 5!
XXXXXXXXXXX
"The Speaker of the Lagos State House of Assembly, Mudashiru Obasa, has said that there was no plan to impeach the Lagos State Governor, Akinwumi Ambode. The lawmaker, while dismissing the current rumours on plans by the House to impeach Ambode pointed out that impeachment was constitutional and has its process, but added that the lawmakers were not embarking on that yet."
– When the masquerade is chasing his lead guide, it is obvious that there is discord in the Grove. The sword over Ambode's head in the wintering six months remaining for him is called "YET"! What a dog's life!!
XXXXXXXXXXX
"A coalition of the All Progressives Congress, APC, presidential candidates have insisted that the National Chairman of the party, Comrade Adams Oshiomhole must be removed now. The coalition, in a statement, described the former Edo State Governor as cancerous, accusing him of causing much of the crisis brewing in the party."
– Emm… Emm… Coalition of wetin? So, there were other Presidential candidates in APC? Were they sleeping when their party was carrying on several weeks before the primary as if Buhari was the only aspirant available? Well, that cancer has spread wide and deep for us to be hearing of disgruntled aspirants, long after the party has ended. Please, shift!