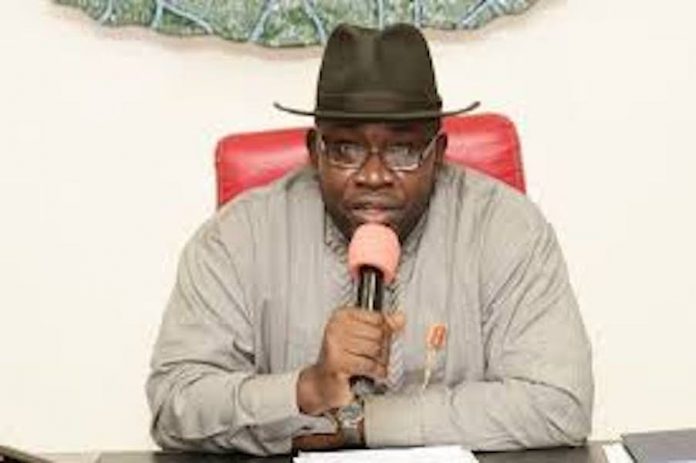 The Governor of Bayelsa State, the Honourable Henry Seriake Dickson, has reinstated the positions of all political appointees, who resigned their positions to contest the primaries of the Peoples Democratic Party and lost.
The governor also reinstated all civil servants, who resigned to contest in the primaries to their former positions in the civil service.
The Special Adviser to the Governor on Media Relations, Mr. Fidelis Soriwei, said the governor announced this at a meeting with all aspirants of the PDP in Yenagoa on Saturday.
Governor Dickson also directed the payment of the salaries and other allowances of the aspirants during the period to them.
However, the governor said that the civil servants, who were graciously reinstated would commence receiving salaries from the date of resumption, in line with the civil service reforms introduced by his administration.
He commended the decision of all the aspirants, who lost in the PDP primaries, to remain in the party without filing any suit against the outcome of the primaries.
He described the aspirants as loyal and dedicated party members even after failing to pick the party's ticket for their respective positions.
He said, "You did not go to other parties not because you couldn't. I know that the candidates from the other parties cannot match you but have stayed back. In fact you are the most loyal members of this party that I know. Loyalty must be tested and proven.
"I appreciate sincerely, your sacrifices and loyalty. No human event can be perfect, if you are steadfast and you stay in a party, what comes around goes around.
"There is nobody here that has not held party ticket or government appointment before. So your attitude is commendable.
"All of you who were holding appointive positions in the government who did not make it are returned to their positions.
"I hereby direct the Chief of Staff to direct the treasury to pay them the months they lost. They should be fully restored to the pre-election period.
"Also, a few of you resign from the civil service. Because it has not taken long, I will approve your return back to the service.
"In line with the reforms, your salaries would start from the date of your return. You are paid only for the date you worked."
The governor also directed the state Chairman of the party, Mr. Moses Cleopas, to involve all the aspirants who lost in the electoral campaigns.
Speaking earlier, the State Chairman of the PDP, Hon. Moses Cleopas, commended party members and aspirants for the unity after the primaries.
Cleopas, who said there was no subsisting litigation after the primaries, commended the aspirants for the decision to remain and work for the party.