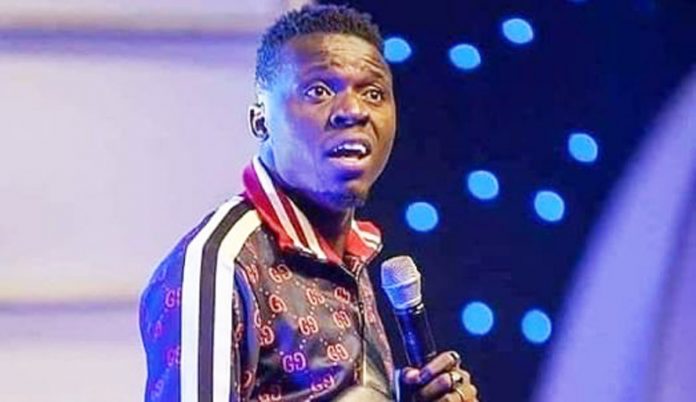 SUPERSATURDAY 
Comedian, Akpororo has just Gifted a brand new car to his mother in addition to hitting the street with praiz jam to further celebrate her 50th birthday, writes Ferdinand Ekechuwu
It is widespread belief that mothers are indeed precious gifts, not just to the children they birth, but to the entire world. The reward of maternal labour is the joy of motherhood. For the mother of popular standup comedian, Akpororo, her joy knew no bounds as she jumped around and headed straight to where a car was parked outside the church premises where she worships in Warri, Delta State. It was the car gift to her by her famous son on the occasion of her 50th birthday anniversary recently.
The white Toyota Venza spec, came to her as a surprise as she received the car gift to celebrate her. The 50-year-old mother had thought her son bought her a phone when the gift was presented to her inside church premises. The comedian had gently presented her mum with a phone case. She opened the casing expecting to see some other thing inside only to discover that the case contains a car key.
On posting the video on his Instagram page to show how surprised his mum was when she received the car gift, Akpororo wrote, "Little surprise/gift at church in Warri to my super mum, thanks for believing in me, for your advice and prayers. I pray for more strength, favour, grace, peace, health, wealth to fall on you happy 50th birthday to my number one fan. I love you so much bcos you are the best…"
For Akpororo, his mother deserved much more and he was ready to pay out himself just to please her. Beyond the car gift, he went on to engage the street in praise jamz organised to further celebrate his mother's golden jubilee a memorable one. Born Jephthah Bowoto, the native of Ondo State is among the many Nigerian celebrities who hold grass to grace kind of story.
His career started off as a local gospel musician until in 2008 when he went into the National Comedy Challenge by Opa Williams and went on to win the Calabar zone of the competition. In 2009, Akpororo moved to Lagos  and contested twice in the AY's Open Mic Challenge, coming second in his first try and winning the competition in his second try. His hunger for success spurred him on.
From begging to perform for free at shows; some he got. Some he didn't.
After some time, he got bookings for events. One of such bookings was when he was requested to perform at an event for a professional fee of N1,000. At the end of the show, he was paid N600 with a promise to get the balance. But that would not deter Akpororo, "the man of too much swagger and anointing", as he normally calls himself.
He hustled so hard, dreamt so big, and desired so much…until his date with destiny at Basketmouth's 'Laff and Jam' in Ikoyi. He went on to perform in several comedy shows including the much raved 'AY Live'. He once did a joke about the testimony of a mad man in church. And at the end of his performance, he gave testimonies about how from that day on, he began getting serious, high paying, globe-trotting bookings.
With his unique artistry, the crazily funny comedian has been performing in several open concerts with fresh, exceptional and energetic style of comedy, thereby receiving a lot of ovation from fans and lovers of comedy within a short time of his arrival in the industry. His style of comedy is basically the fusion of circular and church-related jokes.
In an interview, the comedian who is just as funny as his attitude effortlessly depicts on stage, had revealed that he performs and cracks jokes about lunatics because he was once an attendant to mentally-ill people who came to the church he was attending for spiritual healing.
Akpororo loves what he does for living. "As a comedian, I am in this art because I love what I do. Though some might have come into the industry as a result of unemployment, there is a lot in the industry like me who genuinely chose this path," he said. Akpororo's sudden rise to stardom in the comedy industry is no mere coincidence as he has obviously earned it.
On 12 August 2014, he staged his first major comedy show "Akpororo vs Akpororo" at the Shell Hall, MUSON Centre. The maiden event saw the attendance of notable musical acts and comedians. In 2014, Akpororo delved into acting, starring in the films Headgone and The Antique; with the former earning him three nominations at the 2015 Golden Icons Academy Movie Awards.