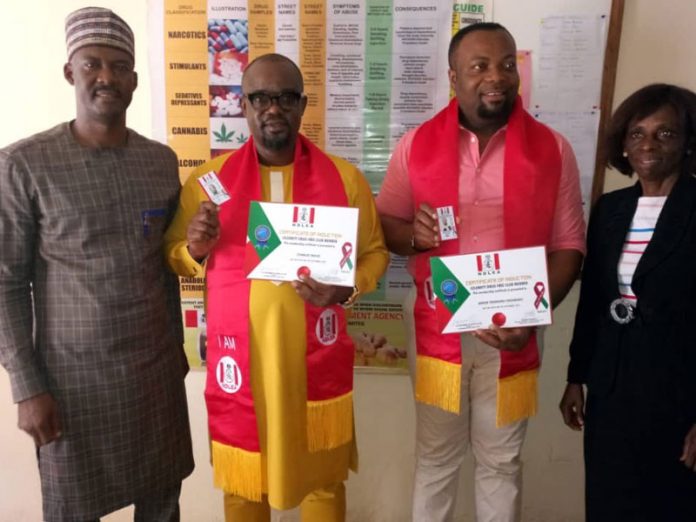 The NDLEA Celebrity Drug Free Club, recently inducted actor and film maker, Mr. Charles Inojie and his colleague, Mr. Arinze Okonkwo into its fold.
The induction, which was overseen by Director, T&R, Mrs. Felicia Ikechukwu, representing the NDLEA Chairman, saw the celebrities inducted into the club to help spreadthe message against drug abuse.
According to the National Coordinator, NDLEA Celebrity Drug Free Club, Mr. Wilson Ighodalo, some of the primary objectives of NDLEA Celebrity Drug Free Club, is to serve as a role model to colleagues and youths in the society.
Ighodalo, also doubles as the president, The Drug Salvation Foundation and Focal Person, South West Zone, Community Intervention Network on Drugs (CIND) Nigeria, a network of CSOs working on drugs in Nigeria.
He further listed other objectives of the club as causing an increase in understanding of the dangers posed by drugs and substance abuse with their platform, encouraging young people to resist any form of drug use and anyone with substance abuse issues to break the silence and seek for help.
He added, "The club supports and promotes youth oriented activities that promote healthy lifestyle in the society, they also lead advocacy campaigns and Public Orientation stigmatisation against drug users.
"The club also promotes positive youth oriented programs that provide alternative activities to drug involvement."
Ighodalo further posited that the aims of NDLEA Celebrity Drug Free Club is not just focused about the delivery of information to increase youths knowledge and understanding, but to also contribute towards the development of skills and attitudes that can help young people to make safer choices in their life.