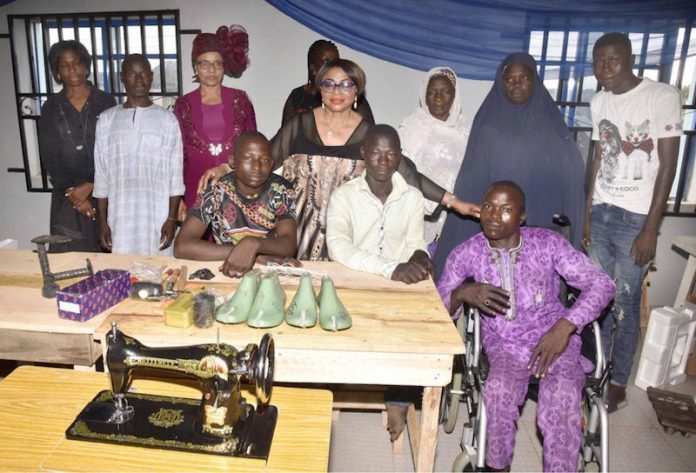 Sunday Ehigiator writes that the founder of Rose of Shalom Foundation, Mrs. Folorunsho Alakija, has been a beacon of hope to the less privileged in the society as was evidenced by her recent philanthropic act in turning some physically-challenged beggars to entrepreneurs
For Sodiq Abubakar, that certain Tuesday was like any other day in his life. How wrong could he be? That day was certainly one that turned his fortunes around from a beggar to an entrepreneur. Daily, alongside his other disabled friends, they would usually hang around Tinubu area on the Island in Lagos State, to beg for alms.
Like every normal day, his abled elder brother, Adamu Issa, a shoemaker, had carried Abubakar; who crawls on his chest, on his back to his regular begging spot somewhere around Victoria Island that fateful morning, before going about his shoemaking business.
And there Abubakar was on his chest, begging for alms from the ever busy Lagosians, who were rushing to work when he was sighted by Mrs. Folorunsho Alakija, Nigeria'a oil tycoon and founder of Rose of Shalom Foundation. Moved with compassion and Abubakar's inability to neither walk, nor see the faces of those he was even begging alms from, as he was crawling with his elbows and on his chest, Alakija in her usual habit, dipped her hands into her purse and from her car, gave him any amount she could lay her hands on immediately, before driving off.
Initial Assistance
Still not satisfied with the much she did, she made a decision when she got to her office, to ensure that Abubakar gets a better life. Hence, she sent some of her staff down to look for him and ask him what he wanted, so as to know how she can be of help. They found Abubakar and his response was that he needed a wheelchair, for easy mobility to facilitate his alms profession.
Although she was surprised at his request, she still bought the best grade of wheelchairs with light attached. Still not satisfied, since she had promised herself to ensure that Abubakar must leave the street, since she couldn't be sure that just by buying him a wheelchair, he would, she personally followed her staff down to the spot where they found Abubakar to deliver the wheel chair to him.
Sodiq, not even abreast of who Alakija was, must have been left wondering why there was so much crowd gathering around him. It was with love that Alakija presented the wheelchair to Abubakar, whose joy was unfathomable. As Sodiq mounted on the wheelchair, Alakija, asked that he should be cleaned up, and the black rubber, cut out off a tyre's tube, which Sodiq had used to bound foam to protect his hands through his elbow's from sharp objects, be removed.
The Deal
As soon as they were removed, Alakija realised his hands were alright and figured out that if he learns a skill, he can work and then eventually stay off the street. But not to be all assuming, she asked him some basic questions through the help of a voluntary interpreter among the crowd, since Abubakar only understands Hausa Language.
She asked him whether he would return to the streets if he gets trained in shoe making skills and become self-employed, to which Abubakar replied in the negative. So a deal was struck. Alakija took further steps to buy him decent clothings and sent her staff to his residence, who described the place as a place fit only as a 'dog's cage'.
Training
Abubakar lived up to his promise of not going back to the street even while still waiting on Alakija to begin his training. When the slight delay, which was connected to the logistics involved in the search for a quality tutor through the help of Rose of Sharon Foundation, was over, he was placed under one of the best shoe designers in Lagos.
A commercial tricyclist was also contracted to ferry him to and fro daily from Tinubu to Isolo, where the training workshop was located. Also, a sophisticated android phone with internet enablement was bought for him, all by Alakija; this was to enable her monitor him all through his training duration, on a daily basis, though, Whatsapp video calls and direct voice calls.
Snag
However, there was a snag. Abubakar's father, who was wrongly informed by some of Abubakar's neighbours, had to travel down from Katsina with the aim of taking him back to the village, for the fear of his son not to be used for money ritual, as was the picture painted by his neighbours. So for some long weeks, Abubakar could not be reached by Alakija and her team. They took further steps to go to his abode and that was when the picture became clearer. She however did not allow that stop her. According to her "by God's grace, there is no project I start, that I don't see to its end, no matter the obstacle; and I said to myself, his case would not be different".
Breakthrough
It took the help of another physically challenged, Ibrahim, who like Abubakar begged to feed, to locate him and his brother in an area in Agege, Lagos, where their father had relocated them to. Steps were taken to speak to his father and other family member present. Alakija said: "If not for the presence of security personnel and some of our staff who could speak and understand Hausa language, we may not have being able to avert the crises that could have happened on that day, but we give God the glory that we had a breakthrough".
After the breakthrough, Abubakar got back to training, but this time with Ibrahim; his friend and Adamu; his brother, who both appealed to Alakija to also include them in the project, which she obliged and hence they became three.
Graduation
This was the story as shared by Alakija at the graduation ceremony of the three beneficiaries of her charitable act, Sodiq Abubakar, Adamu Issa, and Ibrahim Mohammad.
The occasion which was held at Isolo Community hall, was graced by several community members, members of the Association of Leather Workers, Lagos Chapter, and various community leaders, including the Osolo of Isolo HRM Oba Kabiru Alani Agbabiaka, who was represented by Alhaji Monsuru.
In his welcome address, the Osolo of Isolo said, "It was of so much delight to me when I heard about this event. This is an act that could turn Nigeria into a better place if the entire well-to-do individuals we have in this country emulate Folorunso Alakija. This is an act that is very commendable and welcoming by this community. We are so glad and on behalf of the whole Isolo community and the graduands, I say a very big thank you to her for this charitable heart of hers. It is my prayers that, you reap all you have invested to better the lives another man's children whom you never knew from Adams, in surplus folds".
The father of two of the graduands, Mr. Abubakar, who was also present at the event alongside other members of his family, could not contain his joy when he was specially recognised by Alakija, who asked him to join her on the high table.
Speaking at the occasion, Alakija said, "I bless God for the privilege He has given unto me to contribute in this little way I can to these lives. The idea is that, the three of them are now in a mutual partnership. As you have seen, they are not just graduating and not practicing, these are all the equipment they will be needing in their business, and we have rented a completely furnished apartment for the three of them to live together in Agege, with an advanced payment of two years.
"We are already looking for a profitable workshop to rent for them so they can start working in earnest. Another peculiar thing about them is that, Adamu, being the only abled body and only one who can communicate in English, would be the one operating the machines, and negotiating for price on behalf of the others, while Sodiq and Ibrahim, would focus on shoemaking less involving of machines."
Before taking her seat, Alakija; just as she did to Abubakar, presented a brand new wheelchair to Ibrahim, and introduced to the audience present some works of the trio done within the course of their training, displayed for sales at the occasion, as all of the finished works were sold out at a minimum price of N2,500 only.
The highpoint of the occasion was the official presentation of certificate of practice/membership to the graduands by members of the Association of Leather Works, and the traditional induction of the graduands into the shoe making profession.
Speaking to journalists after the event, Abubakar who was helped with interpretation by one of Alakija's staff, one Mrs. Akin Adesola said: "My heart is whole. I am so happy. If they had told me that day I first met Mrs. Alakija that my life would turn out to be like this, I wouldn't have believed. Truly, I was scared at some point, but I thank Almighty Allah for crossing my paths with that of Madam. May she never know lack, and may the Almighty Allah continue to lift her up as she has done to me and my brothers."