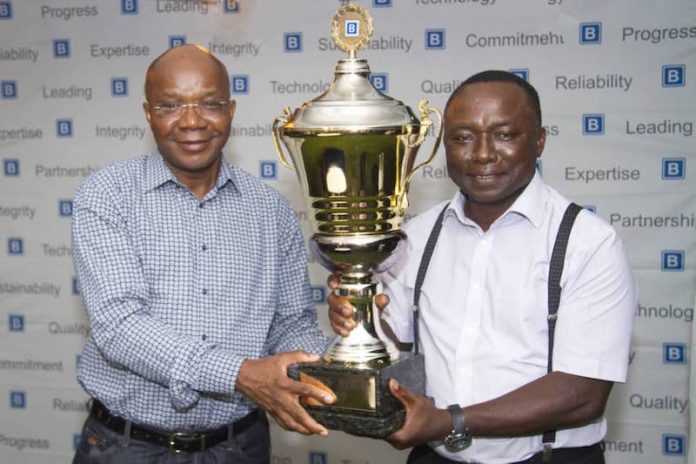 Olawale Ajimotokan in Abuja
A United Kingdom-based pilot and golfer, Tony Yusuf-Adam, has relished his triumph as the overall winner of the 15thJulius Berger Invitational Golf Tournament, held last Saturday at the IBB International Golf and Country Club, Abuja.
Yusuf- Adam, who carded 77 gross and 42 stableford points, lauded the organisation of the tournament, describing it as the best he had ever experienced in all his years playing the game.
While giving kudos to Julius Berger Nigeria Plc, the leading engineering construction company in the country, for organising such an enjoyable and memorable tournament, he admitted he just set out to enjoy a good game with fellow happy golfers.
For all his hard work over the IBB golf layout, he was presented with the beautiful overall winner's trophy at the tournament's dinner by the Chairman of Julius Berger, Mr Mutiu Sunmonu, CON.
Other prizes won at the tournament included the Longest Drive, Men; on hole 10; won by Okechukwu Ogali, who drove the distance of 256 metres, while Amina Wilfred, measured 188 metres from the tee to claim the women's version.
The Nearest to the Pin prize for men was won by V.O Adedipe, while Judith Wagner, won the women category.
F. Anyanwu emerged the winner of the Ladies Category 2 (Handicaps 19-36) with 38 points. Joy Ayu made 35 points to emerge the winner in the Ladies (Handicaps 0-18) category.
14- handicap player, B. Afolabi won the Veteran (men category), with 36 points, while Spain Bruce, who plays off handicap 20, shot 42 points to claim the Men Division 3 (Handicaps19-28) category, beating the South Korean Ambassador to Nigeria, Lee Intae, also a 20- handicapper, on count-back.
Chris Shaiyen, built on his impressive outing at Total Charity Tournament held two weeks ago, to emerge the Men Division 2 (Handicaps 11-18) category winner. Shaiyen plays off handicap-12, played 41 points.
L. Welle, who plays off handicap- 7, secured the Men Division 1 (Handicaps 0-10) category honours with 37 points, beating P. Uzezi and A. Chigbo to second and third place respectively by one shot.