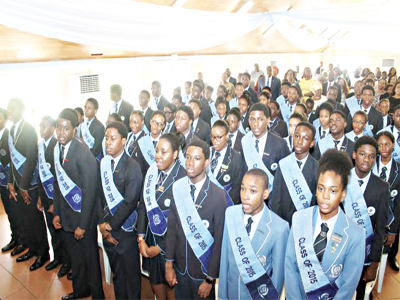 By Bennett Oghifo 
Grange School Lagos, Nigeria's leading British International School is kicking off a year – long celebration of 60 years of providing exemplary education to young learners.
A statement by institution said the Diamond Jubilee anniversary will commence from 30 October with the unveiling of the 60th Anniversary Logo. Also slated for the year-long celebration are a; Book Launch, Career Lecture, Musical Concerts, Diamond Jubilee Inter-House Sports and an array of interesting and educative events which will bring together all concerned stakeholders as well as past students and staffs.
One of the few notable Institutions to have existed before Nigeria's Independence, the School first opened its doors in September 1958 as a primary school to provide standard education akin to what is obtainable in the United Kingdom. Sixty Years and thousands of leading alumni later, the School has become one of Africa's foremost learning centres for children and young adults between the ages of 4 and 16 years.
Speaking about the Anniversary, Guy Cassarchis; Headmaster/CEO of the School stated; "The School community is buzzing with anticipation about the upcoming Anniversary celebrations. We are proud of the legacy our school has established over the 60 years; and as much as the school is keen about the culture of continuous improvement, we are even more excited about embarking on the journey of providing 21st century quality education which inculcates global learning standards while also taking into considering the local community in which it is taught."
He further spoke about the recent outstanding IGCSE and International Certificate in Education (ICE) results of the School which places Grange at the top amongst international schools in Nigeria.
"I am really excited to let you know that Grange School students produced the best IGCSE results in Nigeria this year. Also, twenty – four Year 11 Grange students registered for the ICE Award; eighteen students achieved distinction, six students achieved merit which again places Grange School, Lagos on the top of the ladder amongst other International Schools in Nigeria. We at Grange School will stop at nothing to ensure we keep the flag flying by ensuring we continually and innovatively support our children to become the best in all areas".
As a member of the prestigious Council of British International Schools (COBIS), Grange School was recently named and profiled as one of the pioneering and most innovative schools worldwide by the prestigious Cambridge University in its 'Innovation 800' series, which showcases global leaders and institutions at the forefront of change in the field of education.
Grange School, which serves a community of students whose divergent backgrounds and experiences contribute to the rich cultural heritage of the School, is situated in G.R.A Ikeja, Lagos, and governs one large campus from Reception to Primary School and also Junior to Senior Secondary School. The School also houses an off-site boarding facility only a few minutes away from the main campus.
"Over the last 60 Years, thousands of Grange School learners have had the opportunity to experience an excellent education that has enabled them to develop a life-long love for learning, while also preparing them to be independent, courteous, and appreciative of individual differences," the statement said.
Grange School is a co-educational private day and boarding school offering the British Curriculum to a multicultural community of nursery through to secondary school, which was founded in 1958 by a group of interested parents who desired to provide standard education equivalent to that which was obtainable in the United Kingdom. The school is located at Harold Shodipo Crescent, GRA Ikeja Lagos Nigeria.