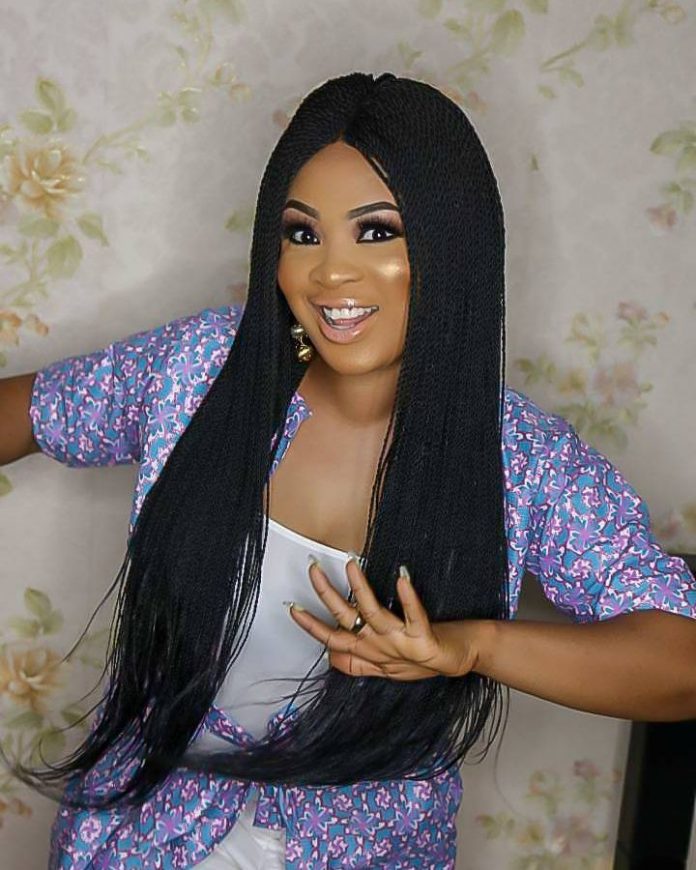 Twenty-one or not, thrilling Nollywood actress, Bidemi Kosoko, excitedly marks her '21' birthday, writes Ferdinand Ekechukwu
You could refer to her as petite, dimple faced with no pimples and that would aptly fit her description. That was some years back. Fast forward to the present, the actress is all chubby, polished and presentable. That is exactly how Bidemi Kosoko, daughter of veteran Nigerian actor, Prince Jide Kosoko, looks of recent. Bidemi "intentionally added more weight because I was too small and I didn't like it." For her polished and presentable, time has changed and with that comes more movie roles with additional money (featuring in the Globacom-sponsored TV drama series, Professor Johnbull, as the "Prevaricator") for the actress to preen up.
Aside, Bidemi has stepped out of her father's shadow as his name opened doors for her. "My acting career started with my dad because when I started, people usually used me in their movies because they knew there is one of Jide Kosoko's daughters who act. At that time, I won't say it was because of my talent but because of the name, so the more they came to use me in their movies, the more I learnt, and got better.
"So, I will say the name has actually opened doors for me, even till now. Although people now call me for their movies because of my talent, some still call me because of the name. But the truth is it has opened doors for me." The fashionable Nollywood actress Bidemi recently celebrated her birthday on 21st of October, 2018. The beautiful Nollywood actress who is known for her amazing roles and popular in Yoruba Nollywood genre had in anticipation of her birthday posted pictures of herself with different joyous captions, smileys and emoticons.
On the day of her birthday, Bidemi took to her Instagram page and wrote, "Thank you father, thank you Jesus, Oluwa modupe, another great year. Baba modupe. Thank you Lord. Yes it's my birthday, 21 years is not a joke. Please don't argue with my age because you are not Jide Kosoko."
Was the Theatre Arts graduate joking about her being 21 or was just simply having fun, goofing around with her birth age? The actress was born on October 21, 1988. And by that, her real age should be 30. 
The actress comes from a family that is talented in the acting world. Her stepmother, Henrietta Kosoko was also an actress. Bidemi has an elder sister, Sola Kosoko who is also an actress. She also has a brother, Tunji Kosoko. 
"I remember while growing up that I was a very stubborn and troublesome girl. Many still avoid me because they feel my dad will arrest them if they touch me, and with that I will still act like I have some kind of power somewhere, but all that is gone now," she reclalled.
Bidemi is one that has been able to, within a short time, make her mark in the Yoruba movie industry, having acted in several movies. Some of the movies include Marriage Runs, Asiri, My Mum and I, Wicked Wife and Shikemi. Naturally pretty Bidemi has a good sense of fashion which often attracts comments about her style. According to her, her fashion sense comes to her naturally. She does not really have anyone she looks up to when it comes to fashion. She believes anything natural is beautiful and so cannot go for cosmetic surgery. "I don't think there is anything that I want to change in order to fit in, nothing reigns forever, so I like myself the way I am and and I cherish my nature", the 'Aina Baseje' star said during an interview.
"I am an African lady and I hope to settle down some day with the man of my dream. I cannot afford to let some roles I had played in the past haunt me later in life. And moreover, I come from a good home and we are well brought up. 
Although, as a professional, you should not have any boundary, but as an African lady, who was brought up and nurtured in a cultured environment that detests shameful acts, I do set boundaries for myself." Bidemi's career has thrived almost without scandal and controversy except for the alleged adultery mess that reared its ugly head sometime in her life but made the adorable actress more famous.