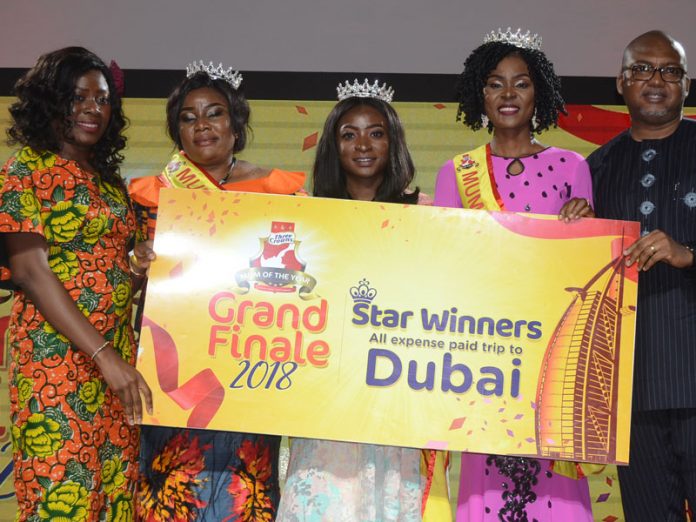 Mary Nnah
The Three Crown Mum of the Year Competition had three mothers emerge winners at this year's grand finale held recently in Lagos.
Unlike previous years where only one winner emerged annually, this year's edition of the completion had three lucky mothers carting away mouth-watering prizes.
Three lucky mothers out of 10, who participated got an all-expenses-paid trip to Dubai, United Arab Emirates and a year's supply of Three Crowns milk.
This year, the company, which is staging the competition for the fourth time, chose to reward three mothers for the first time to celebrate the company's 30 years of existence in Nigeria.
Mrs. Jennifer Otu, Mrs. Pauline Pambolo Daniel and Adaobi Okonkwo,having scored overall highest marks combined across the three stages of the competition – Fitness, Smartness, Fun Tests as well as popular votes, were announced winners by a panel of judges, made up of Nollywood stars, Fathia Balogun, Belinda Effah, and popular Fitness Coach, Bunmi George of Shreddergang.
Other contestants also smiled home with consolation prizes; the fourth and fifth place winners were each rewarded with N1m worth of kitchen makeover; the sixth and seventh place winners got N500, 000 worth of kitchen makeover each, while each of the eighth, ninth and 10th winners received N300, 000 worth of kitchen makeover to be redeemed at any store of their choice.
Senior Brand Manager of Three Crowns Milk, Omolara Banjoko, said the completion aims to award and celebrate mothers for the effort and sacrifices they make while taking care of their families and loved ones every day.
She said: "We understand the important role our mothers play in shaping the society at large. Their choice to eat right and keep fit is very important in reducing the risk of Non-Communicable Diseases (NCDs) including cardiovascular diseases for the family and society.
"We also recognise the importance and unique role food plays especially breakfast to provide essential nourishment to the body. This has helped shape various initiatives across our brand portfolio to make milk accessible to Nigerian homes.
"Three Crowns supports families by providing high quality nutrition for mothers and by extension, their families. One of the key things that we have identified is that the foundation of any family is the mother and with them being the foundation, they need to stay fit and healthy which is what Three Crowns truly believes in.
"We strongly believe that if the pillar of the house being the mother is taken care of, the whole family is strong. So when the mother of the home is happy and healthy, the family, community and the nation will also be happy and healthy."
She stressed further that the Mum of the Year initiative is hinged on the brand's repositioning ideology with the tagline Healthy Mums, Happy Family' and also the belief that mothers are the pillars of the house therefore there is a need for the brand to continuously engage and enlighten them of the need to maintain a healthy family always.
"Today, I am pleased to announce that as Three Crowns marks her 30th anniversary of delivering complete nourishment to Nigerians, we also commit in a grand style our promise to take care of mothers so as to jointly promote, encourage and empower them to live a healthy life", she said.
Congratulating the top 10 nominees, Banjoko said, "You are all winners irrespective of the outcome of today's event. I'm confident that, the love Three Crowns has shown to you, you will exhibit the same as mums love to your families". She urged everyone to always keep fit, stay healthy have a nice time and continue to enjoy Three Crowns milk.
Three Crowns Milk, which is one of Nigeria's iconic brands, has since 2015 celebrated the unique role a mother plays in the family especially by ensuring a healthy nutrition for the family. This is very much in line with the pay-off line, "Healthy Mums, Happy Families" which it has adopted since its re-launch in 2015 and which defines its role to enable mums take extra care of themselves by eating right and keeping fit.