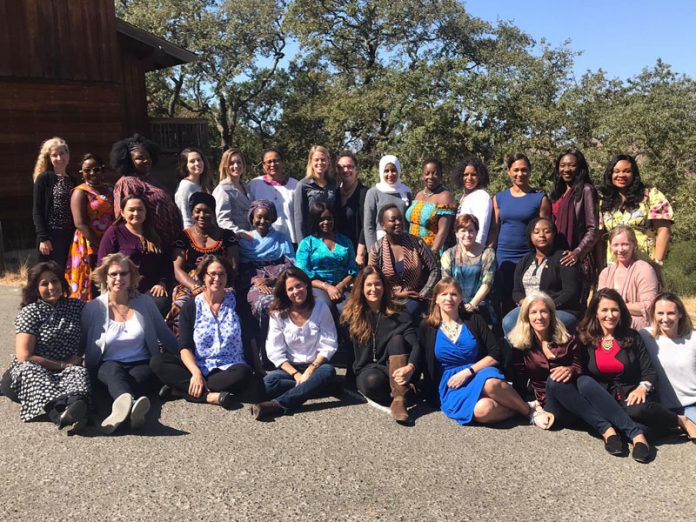 Rebecca Ejifoma writes that four Nigerian women were the four top 20, who were selected globally for the highly rated leadership fellowship in the United States of America 
With four slots, Nigeria got the highest at the 2018 Women Leaders of the World (WLW) Programme in the United States of America (USA), after a highly competitive selection process. It is a 12–month programme organised by How Women Lead and the Global Women's Leadership Network, which has trained and supported several women leaders from around the world. 
Maximising Leadership Opportunities
The WLW targets 20 women leaders from around the world to provide them with specialised skills through workshops, executive coaching and professional advising to support participants to maximise their leadership opportunities and grow their impact significantly. 
The programme is divided into different parts with the first being the residential training held in San Francisco, USA , within the last week of September 2018, followed by six months peer coaching and 12 months attachment with Global Advisors. 
Nigerian Representatives
Among the top picks are the four Nigerians:  Ms. Hauwa Abbas, an Abuja based Public Health Advocate, a Certified Coach and Humanitarian who holds numerous professional qualifications and  awards; Ms. Carolyn Seaman,  the Founder and Creative Director of Girls Voices Initiatives; Ms. Amara Agbim, CEO of The Nanny Academy; and Ms. Charity Chenge, the Founding Director of the Centre for Health Systems Support and Initiatives for Development (CHESIDS).
These are women whose works from diverse backgrounds have one thing in common – the quest for humanitarian services, sustainable development and touching lives positively in a minutest way possible.
A cursory look at their background shows that the WLW programme recipients from Nigeria, started local but with a global focus on the issues that affects all humanity. Having arrived and been recognised at the global stage, they gave us a snippet of their experiences, selection processes and advise for other Nigerians, especially women and girls who want to thread on their part to success.
The Humanitarian's Initiative 

For Abbas, she looked at development through a holistic lens, using her strategic vision to build and implement plans with a proven track record of supporting organisational needs. She is also the Founder of Silver Lining for the Needy Initiative, a non-profit established in 2009 focusing on maternal, new-born, child and adolescent health in Nigeria. Abbas and her team have designed and delivered programs which have demonstrated unprecedented success in community mobilisation, service delivery and advocacy at the local and national levels. Her programs have reached 14 Nigerian states as she is recognised as a Northern Nigerian woman who is raising the bar. 
The emerging global woman leader efforts have also influenced national policy; in 2013, she was a member of the team that drafted Nigeria's United Nations Commission Plan on 13 Life-Saving Commodities. Abbas said she plans to continue improving the quality of life for the rural poor and disadvantaged populations in a holistic manner (physically, socially and economically). She said  her goal is to increase the culture of volunteerism in Nigeria and to ensure sustainability of her work by promoting community ownership. As a Rotarian, she has been a club president, assistant governor  and currently District Chair for Community Service covering 23 states in Nigeria.
Speaking on the tough selection process and why she was chosen out of many, Abbas said: "The selection process was competitive, it was judged through our applications and possibly nominations. My application demonstrated a track record of leadership activities, I explained my strengths and also identified my weaknesses. I believe I was selected because I had a clear view of my current challenges and also my future goals". 
Abbas also spoke on the benefits and opportunities presented, noting that while she founded her organisation in 2009, prior to the WLW Fellowship she was burnt out and "needed to renew my plans and was at the point of losing energy and drive. I can say with confidence that this program changed all that. WLW has been an unexpected outlet for advice, support and peer relationship building. An entirely new network of colleagues and partners has been opened up to me". 
The humanitarian also confessed that the programme has shifted the way she reflect and see the non-profit world. She said that they were given great tools to explore their vision, adding that doors were opened to possibilities that will profoundly affect her leadership qualities in the future. "I am definitely thinking about my work, my role within my organisation and role in the world in a different way– ways I am excited to explore," she said.  
For Nigerian women who might be interested in the award, Abbas advised them to take out time to reflect before writing and submitting any application, understand where they are currently are and would want to be. She ended by admonishing them not to let challenges limit their to opportunities but to have faith in their journey and celebrate themselves regardless. 
 Girls Voices Initiative
Seaman,  another recipient, has her organisation, Girls Voices Initiative, providing safe and engaging platforms for adolescent girls to tell their stories and inspire others to amplify their voices. The Girls Voices' "domino effect" model expands their reach by requiring each girl trainee to mentor a girl from outside the Girls' Voices' network. She said her inspiration for Girls Voices Initiative came out of a strong desire to close the gap of women's leadership in Nigeria. Her strategy is to target adolescent girls and empower them early with the skills to be tomorrow's leaders. She noted that the Initiative is big on innovation and hopes to increase her leadership skills and grow her organisation's impact with the skills she will develop at WLW.
According to Seaman, a number of benefits and opportunities come with participating in the WLW Programme. She emphasised that as Alumni of the WLW, they have access to a rich network of over 8,000 professional women with varying wealth of experience and networks by virtue of their backgrounds in technology, business, real estate, digital marketing, oil and gas, non-profit and many other varying disciplines. 
"We have access to this network to explore support in the area of advising, funding or connect to funding, training and mentoring/coaching or whatever support we need to grow our leadership impact. We also benefit from an intense executive coaching and advising support to help us become phenomenal learners doing extraordinary work and manifesting significant impact in our countries and around the world. We already recently completed a residency program where we were facilitated to develop inspiring goals to guide us to fulfil our vision as leaders, thrive as women leaders, and excel in public speaking," she said.
She noted that the WLW programme is a very valuable opportunity for any Nigerian woman who is looking to grow their leadership skills to significantly improve their leadership impact in Nigeria and around the world. "I encourage Nigerian women to put in their applications to participate in the programme. Nigeria had the highest slots in the 2018 cohort and this shows the commitment of the organisers, How Women Lead, to consider our population when choosing participants for the program," she said.
Empowering Women
Also expressing her satisfaction with the WLW, Agbim said her organisation (The Nanny Academy) was established to empower domestic workers to advocate for proper employment conditions. Her organisation provides women with credentials, trains them in financial literacy, and empowers them to be their own advocates. She said the academy  is working to push the adoption of a national bill of rights for domestic workers to afford them with basic protections and increase their access to justice. Agbim also wishes to scale her organisation and its impact with more opportunities to improve her own leadership skills through the WLW program to achieve that.
According to her, the selection process was evidence based. "What difference are you making? I was selected particularly because of the passion I showed in my application as well as corresponding evidence of my work in the past which was available as news in mainstream media," she noted.
Agbim said there are numerous benefits and opportunities bordering on leadership capacity building, networking, sustainability and ability to thrive, and urged more Nigerian women to "apply for the opportunity as it is transformational and worth it.
"How Women Lead 2018 program has blown my mind with the provocative conversations raised in class amongst the electrifying leading women cohort of 2018 from 10 countries. My enthusiasm and commitment to my vision of empowering women has been fuelled", she confessed.
Linking Socio-economic Well-being and Health
On her part, Chenge, a public-health expert with 20 years of experience working at the international, national, sub-national and community levels has deepened her appreciation of the interactive links between socio-economic well-being and health. 
Recognising that in many sub-Saharan African countries, access to health is influenced by social determinants that disproportionately place women, young girls and children at a higher risk of preventable sickness/death, Chenge's work at the CHESIDS, benefits these populations. She seeks to amplify the scope of her work through the supportive, motivational and enabling networks which the WLW offers. She is looking to connect with a global community of women who are aligned with her tenet to support other women to live healthy and productive lives, to be empowered, to aspire, disrupt, achieve and lead. 
On how she was selected, Chenge said she found the information about the WLW fellowship online and simply followed the instructions to apply. "The instructions are very clear. My understanding is that the WLW is about retooling women leaders towards amplifying their leadership roles and strengthening their social impact within the communities they serve," she stressed.  
Chenge also noted that most of the work she lead at CHESIDS, prioritises Nigerian women and children, and improves their access to health commodities and services. 
"I also lead an initiative that equips young people to engage more proactively in improving access to health for communities they serve. I want to believe that these attributes enabled my selection for the fellowship," she quipped. 
She was also positive that through the fellowship, the recipients will have access to a global network of resources with the potential to increase the number of people benefiting from their work, "expand our footprints geographically in Nigeria and ultimately amplify the social impact of our work especially for vulnerable and hard to reach populations". 
In a nutshell, these women have shown that efforts focused on human development and overall wellbeing is the future for humanity. While they have pledged to continue prioritising on women and children, Chenge's parting advice is a food for thought: "My advice would be to focus on elevating what you are currently doing to serve others, use your experience to serve you in your application".