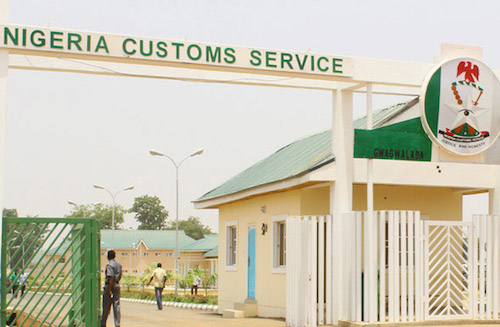 By Eromosele Abiodun
The Nigeria Customs Service (NCS) has announced that it intercepted a container loaded  with imported soup (Stew) and some other edible items worth N27,960,000 from China.
The container, which was sighted from one of the ports in Lagos, was arrested by the Comptroller General of Customs' strike force team as a result of information provided by the Customs Intelligent Unit (CIU) of the Service.
Addressing newsmen in Lagos while showcasing some of the items the NCS seized between September 19 and October 18, 2018, the Deputy Comptroller and National Coordinator, Comptroller General Strike Force, Mr. Abdullahi Kirawa said the system has degenerated to the level that Nigerians are now importing stew into the country.
He bemoaned the pots of stew and other items imported, which could not be identified as a result of Chinese Language written on their packs, could pose serious dangers into human health.
According to him, "Nigerians are hardworking people knowing for our marvellous delicacies. How can someone be importing stew into the country? The stew carefully conceived inside the container. I will advise that Nigerians should ignore concentricism and  embrace ethnocentrism. 
"Our quest for foreign goods and items must be discouraged and we must work hard to embrace and patronise home made goods including our delicious stew that are prepared from our homes and not engage in this type of business.
"This type of soup poses dangers to public health, to economy and of course the employment to our teeming youths. If stew would be imported, then what else are we going to do? So this is something we need to reflect on."
However, he said some other packed items that look like mushroom was already deteriorating in the container, saying this shows the dangers it would pose into human health when ingested or consumed."
On how to checkmate the menace of unhealthy importation of goods into the country, he said; "this call for all hands and all Nigerians that this type of importation of goods must be discouraged. One of the things to use to solve this problem is public sensitization on the dangers of smuggling. Therefore, you and I must work hard to ensure that we spread this news to all nooks and crannies of this country for people to be aware that these are some of the things that pose dangers to their health and must be stopped. Then it must be totally be condemned."