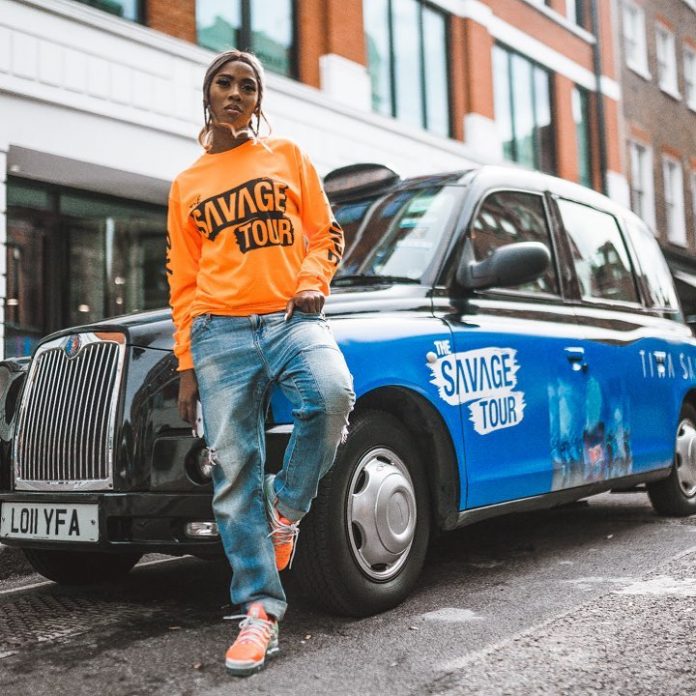 Tiwa Savage is undeniably one of the most celebrated artistes in Africa, exporting Afrobeats across boundaries. She had her first concert recently at the O2 Indigo in London, making her the first African female artiste to clinch such a feat. Tiwa speaks to Azuka Ogijiuba about challenges facing female artistes in Africa, her forthcoming single with British rapper Stefflon Don, sharing the same stage with her idol, Brandy as well as the expectations from her forthcoming Lagos concert in December, among others
After your sold-out concert in London, you spoke about having it tough being a female artiste in Nigeria. What prompted that?
As an artiste, we're still human and as much as we grow a thick skin to certain things, it still gets to us. Initially, when I said I wanted to use that venue, I was discouraged by few people because it's a big venue and no female artiste had ever filled it. So, I felt like I was fighting the battle alone, trying to prove to people that I could fill maybe 70-80% of the venue. I wasn't even looking at filling it. Eventually, as time went on, we put in so much work – the stage, the dancing, costume, hours, sleepless nights. I flew everyone; choreographers, musicians to London so you can imagine the logistical nightmare. 
The day before, we got the news that we actually did sell out. It was fantastic news. The show went well and I got great reviews. So, you wake up the next day and you have people doubting if I really sold out. I wondered, it's the UK and I cannot lie about something like that because you can just go online and try to buy a ticket, if it really isn't sold out, it'll allow you buy tickets. Moreso, this isn't an off-the-streets promoter. He's a well known promoter and it is the Indigo 02 where everything is proper. So, we weren't trying to cut corners or lie to our fans. 
It was really heartbreaking that even though we made history, people still don't want to believe it and I don't think that would've happened if it were a male artiste. I had to take a step back and just remember the faces in the audience; some were crying and they actually had fun, so I had to re-evaluate myself and not let a couple of people who were trying to downplay how important that moment was, not just for me but for Nigerians, Africans and for female artistes. I had to get out of my feelings and just get back on track.
You've been in the Nigerian music industry for years with an array of smash hits, why did it take so long to headline a concert abroad? 
I could've done it a few years back because I get approached all the time by many people in the US, UK, Europe etc but for me, I think I'm a bit ambitious. I want to do it right. I wanted to go hard, push myself and I also wanted to build a catalogue of hits, not do a one hour show and I'm trying to fill it in with songs of other people. The London show had all popular songs and there is no one song I did there that wasn't mine, I wanted to get to that stage.
Tiwa Savage hasn't featured a female musician. Save for your collaboration with Stefflon Don, why haven't you featured a Nigerian female artiste? 
There's no actual reason. It's just that every time I do a song and I want to feature someone, it just happens to be a male artiste until the Stefflon Don record which is not out yet but it's coming out. I don't try to force anything or purposely do something like 'because I've never done a feature with a female then I have to do it' because it's not gonna be natural. I feel it'll come eventually and I'd love to. I've featured in other female artiste's songs and I'm really excited about the Stefflon Don record. Now, I would be more mindful when I'm recording or creating songs which I can feature a female artiste.
When will the collaboration with Stefflon Don be released?
I'd love it to be out this year because I feel like it's going to be such a big record and we want to put so much more into it. We actually want to push it internationally and those type of things take time, getting clearance from her label et al. but I'm hoping that's my next single.
Apart from being an artiste, what other things do you plan to venture into?
Yeah definitely, we've started working on a couple of projects. I usually don't like to say what it is, not to jinx things. We all know as musicians, music is obviously a short lifespan and I'm starting to look at other things that can sustain me. So, I'm not just making money when I'm singing but also when I'm sleeping and that's what myself and my team have really been working on.
Are you considering going into clothing full time or it's solely for the tour era?
No, 'Merch' is not necessarily a clothing line. I would love to but I don't know if I have the time to go into clothing fully but the Merch is a stepping stone and because it got so many great reviews, I'm going to look into it full time.
 If you could undo one thing at the start of your career, what would that be?
If there's one thing…I think I'd have taken more risks when I was younger. I think I was a bit too safe and 'careful', I think I definitely would've been a bit more radical.
Should we be expecting another collection of the Savage Merch? 
Yes, because I'll have my first headline show in December at Eko hotel, Lagos by God's grace and I'm going to have a pop-up store for that concert. I'm actually doing a special 'Merch' for that concert.
In sourcing ideas for the Merch, how did you determine the actual designs and was there a rationale for each of the designs? 
For the clothing, I wanted easy wear. Anyone who knows me, know that I'm really a tomboy at heart. I hate heels, I love leggings, T-shirts, hoodies and that's exactly what I wanted to do. I wanted my fans to buy into what I love. I also wanted something affordable and quick to make as it's my first ever Merch, that's why we decided to make T-shirt, hoodies. We also did accessories like lumie-light, stickers etc.
What's your current fashion obsession? 
Right now, I love Off-White because they have this street wears that is feminine as well, so I love the balance between them.
Fashion-wise, your personal style has evolved drastically. Was it a conscious effort or it just happened? 
(Laughs) A lot of people say that and now I'm starting to realise. I go through my page, trying to see where the switch was but I tell you that it wasn't a conscious effort. The honest truth is that I think I can just afford a lot more now. (Laughs) I think it's just that my bank account was starting to change a bit and that's basically what it is. I can afford some luxury items but still love street wears. I still love my Adidas, Zara etc like, I'm wearing Zara right now.
In October 2016, you hinted on having a collaboration with fashion designer Deola Sagoe. Can you tell us what it was all about and why we're yet to hear about it?
Deola is obviously a legend in the fashion industry and she designed a couple of my stage outfits at the time. So, in my head, I felt like it'll be so great for us to have a full collaboration like Rihanna would go on tour and collaborate with Balmain. Our scheduling has been so crazy, we haven't been able to really actualise that dream but it's something I would want to revisit, maybe for next year.
Being one of the most celebrated artistes in Africa, how would you describe the Tiwa Savage brand? 
Tiwa Savage brand is basically one who overcomes with a smile on her face. Tiwa Savage brand should be inspiring to not just young women but women in their 40s, 50s who maybe haven't started their dreams yet and think it's too late. So, they see a Tiwa Savage brand and think that if she can do it at this age and with a baby then, 'I can do it too'. It's a brand that should inspire women from all walks of life and it's also a carefree brand. A very friendly girl-next-door, no-stress kind of brand; basically, just living my best life.
You'd be headlining a concert with Brandy in South Africa and it's no news that she's been your idol and influence.  How did you feel on hearing the news?
If you asked me this about four to five years ago, I probably would be panicking but because of how strong Afrobeats is now and how strong my fan base is, I'm just so humbled that I'm on the same stage and headlining with her. The genre is now so big and who would have thought that a female Afrobeats artiste would be headlining with someone that I looked up to all my life. Just like Wizkid or Davido having a song with Drake, Migos etc. It's just inspiring for me.
I'm not so nervous about it; I'm excited that I'm helping with the movement of Afrobeats with an American artiste that has been celebrated for so many years. I'm just happy that I'll be representing Naija.
Words have it that you would be headlining your own concert this December in Lagos. Tell us about it and what we should expect from it? 
I don't want people to just come, watch and go. I want it to be a vibe, literally Tiwa's Vibe from you walking into the hall, the atmosphere etc. I think my fans are different from a lot of other fans. They seem to interact with each other. I want them to come have fun, dance, be free; they don't even have to watch me on stage; they could be dancing with each other just like partying. For that moment, one to two hours, I want them to forget anything that's stressing them and just have fun.