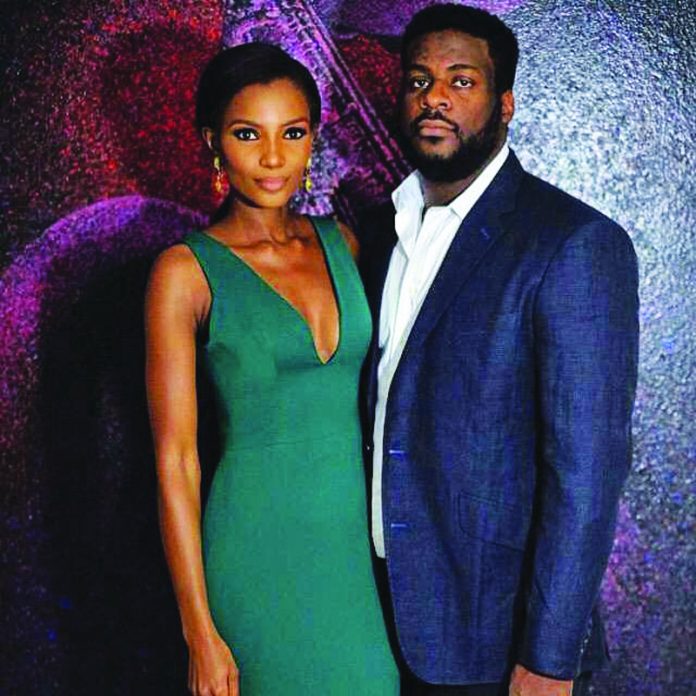 SUPERSATURDAY 
It's been nothing short of amazing for ex-Miss World Agbani Darego as she celebrates motherhood, writes Ferdinand Ekechukwu
When she married her long time love Ishaya Danjuma, son of billionaire General and former Nigeria's defense minister, Theophilus Danjuma at a private wedding in Marakesh, Morocco in April 2017, Agbani Darego, as it is natural, could have only wished for kids. As newly wedded bride then, the former beauty queen had a loving husband, a cute niece who calls her "Aunty Miss World", plus her modeling career which was hitherto her mainstay.
Following that memorable moment was the wedding picture showing her in a wedding dress with her partner turning their backs to the camera. As symbolic as that image appeared, it only hinted on what was to follow as the couple maintained low key and kept their marriage off the prying eyes of the public immediately after the solumnisation witnessed by just thirty-five guests. A world class figure, a lady with beauty, so refreshing like a serenade, Agbani is believed to be unlike many celebrities; calm, reserved and discerning.
The good looking ex most beautiful woman in the world, recently took to her Instagram page to share feelings and experience about her new status. The couple had concealed the news of the pregnancy for all of nine months. The happy mother, who gave birth not quite long ago, wrote: "It's only been a month with my baby boy, and it has been nothing short of amazing…my heart has never been so full! Mommy, Daddy and Baby Danjuma are doing great, and are thankful for all the love we have received."
It's been one month since the former Miss World gave birth to a baby boy. Agbani and her husband welcomed their first baby boy in September, 2018, in the United Kingdom. Agbani is the first native African woman to win the coveted Miss World title in 2001 at 18. In some of her appearances during her reign, she made notable remarks that in one way or the other, influenced the way the Western world viewed African continent. One of such was during an interview with Evening Standard, a London newspaper, where she stated that Africa is not entirely as poor as the rest of the world sees it.
According to her, "There are parts that are like that, but in Nigeria a lot of people are well-to-do." One year after she became the Miss World, Agbani relocated to London where she further developed her career as a model.
On a trip in December 15, 2016, a friend of this reporter (Juliet Ike) had encountered the ebony complexioned beauty and had this interesting story shared about this charitably humane and humble human. Describing her as an angel, Juliet wrote: "I was travelling with my 10 months old daughter from Lagos to Dubai, a pretty tall lady and a gentleman sat next to me on the flight.
"I was still contemplating how I was going to deal with my daughter because she can be a handful and I needed to use the restroom so I had to plead with the lady to help me take care of her while am gone and she willingly agreed. The gentleman with her showed so much care to my baby that if you didn't know one would think he was the father of my child. . . Up to the extent that my baby was finding it difficult to sleep in the plane and this gentleman would stand, carry her and try to rock her to sleep.
"This pretty tall lady and the gentleman with her showed my baby so much love all through the journey that I didn't feel it was a seven hours journey without having the slightest knowledge of who was sitting beside me on the plane.
"As if all the help they rendered me wasn't enough, on getting to Dubai they assisted me in carrying my luggage to where it was convenient enough for me because I had a connecting flight to New York. While we were walking towards our connecting flights a lady approached this pretty tall lady who has been so caring to my daughter and lo and behold I realised I have been seated close to Agbani Darego without having the slightest idea.
"I was shocked and asked her why she didn't tell me all this while she just kept on smiling and said 'she just blew my cover'. I never knew all this while that the lady seated with me for seven hours from Lagos to Dubai was former Miss World Agbani Darego. Never knew someone with that status could be that simple and humble. Humility is the true key to success. God bless you and bless the gentleman with you. . . With caring people like this, this world would be a better place."