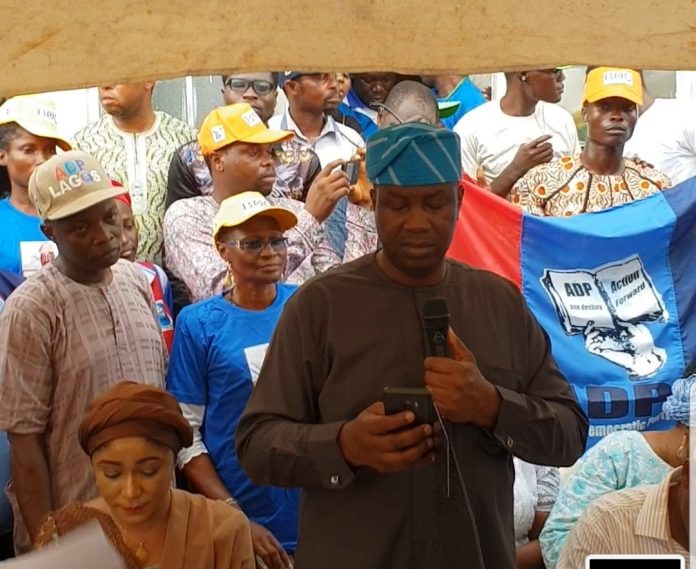 It was a night of praise and encomiums recently at the 2018 Harvest Festival of the Celestial Church of Christ, Ire Akari Estate Parish, Isolo.
The praise night afforded the gospel artistes in attendance to opportunity to advice the governorship candidate of the Action Democratic Party (ADP), Hon. Babatunde Olalere Gbadamosi, popularly known as BOG, who was the chairman of the event.
Top Gospel artistes including Femi Opalemo and Tope Olajengbesi, were at their best at the event, as they entertained Lagosians.
In his response to the advice and encomiumpoured on him by artists and men of God present at the event, Gbadamosi said he was humbled by the reception he received.
He called on Lagosians to see 2019 as a year of truth when residents of the state will open a new a chapter for their future and that of their children.
Gbadamosi, who chaired the event, with the theme; 'Harvest of Progress' described the event as a well organised one and charged the leadership of the church to continue praying for the progress of Lagos State.
He said: "When I was informed that I would chair this event, I didn't think twice before accepting because this is the most honourable gathering of men of God. I didn't see my coming here as something out of ordinary because our God is for all.
"Like others present, I have come to praise God and appreciate Him for what He has done in my life. I am also using this opportunity to call on our people to see 2019 as the time to speak the truth.
"2019 should be a year when Lagosians will think deeply about their future and that of their children.
"With commitment and prayer, Lagos shall be free again and I am also committed to be a partner in giving our people a better lease of life."
Speaking on the artistes who performed at the event, especially, the upcoming ones like Ayansike and her Gloria band and Small Mummy Comedy, BOG said their outstanding performances have further pointed out that there are many talents, waiting to be explored in Lagos.
Opalemo upon taking the podium had tasked the politician to believe in God as the only giver of title and position. He also commended BOG for his philanthropic lifestyle.
He said: "To the leader of the BOG Political Group, Mr. Babatunde Olalere Gbadamosi, I congratulate you for your humility and penchant to helping the needy. I have taken time to follow your political life and I see consistency and commitment to change Lagos for better. "I want you to put your hope in God, knowing well that only God enthrone kings. Continue with your good work and at the appointed time, you will achieve your aim to liberate Lagosians."
This was reiterated by the co-chairman of the Harvest Committee, Envangeslist Omowumi Oki, who described Gbadamosi as a rare gem and humble personality, who despite his position in the society always finds time for God.