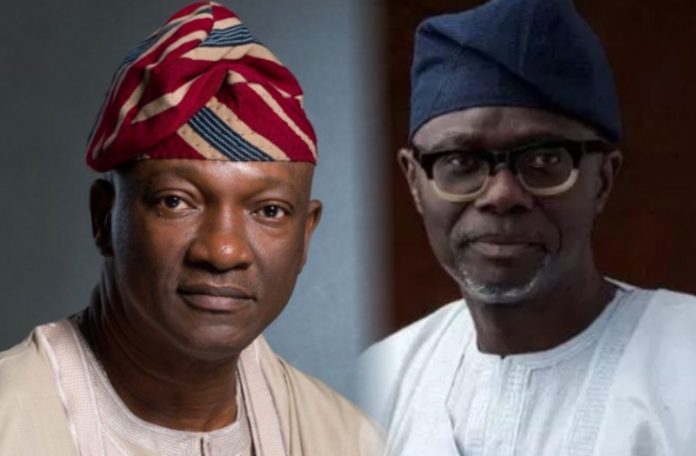 By Tayo Balogun
Four years ago I wrote about the anticipated gubernatorial fight between Jimmy Agbaje and Akinwunmi Ambode. Both of them were going to slug it out for the then soon to be vacant Lagos State crown. I predicted that based on what I saw when both candidates addressed us separately at the Nightshift Coliseum, it was going to be a very close fight which would eventually be won by Ambode. I predicted that his corner, which had Ahmed Bola Tinubu and Muhammadu Buhari, would win the fight for him. From what I saw at the Coliseum both of them were different in style. Ambode appeared like a plodder who is focused on his target. He is the type that would spend most of his time transmitting between the classroom and the library sometimes forgetting he has not eaten.
He looked like a boxer who stalks his opponent till he is able to land the killer blow. He is detailed and deliberate. He is more like George Foreman.
Agbaje on the other hand, appears like the perpetual hounder and shuffler (a la Muhammad Ali). He is one who knows a little of everything. He teases and taunts to provocation. The only problem he had was that the man in his corner was perhaps more a liability than an asset. Though he was the incumbent President, everyone or almost everyone was of the view that he has not done well.
He brought some money no doubt but in Lagos it is not always only about money. Eventually Ambode won mainly because he had a good corner -Tinubu and Fashola provided all the funds while our Buhari provided the necessary goodwill. The rest like they say is history. Now, we have gone a full circle. It's time again for another epic battle.
The fight for the crown is manly between Jimmy Agbaje again, who, for the second consecutive time, would be seeking the Lagos title.
His opponent is Jide Sanwo-Olu who is largely unknown and some disrespectful persons said the only qualification he has for the contest was his being a 'Yes Boy, to Tinubu.
And of course the die-hard fans of APC would also be total in their support. In other words what he lacked in experience is more than counter-balanced by the support of an adulating base and a sagacious corner.Agbaje on the other hand is an exciting and quite experienced campaigner.
He pulls quite a crowd in his own right. Agbaje is respected and admired by a more urbane group in the Lagos polity.
So far not much is known about those who will be in his corner. He is definitely not in big money. And so far has no known backer.
This is why observers are in a quandary as to why the APC would want to change their prized fighter for a relatively inexperienced one.
So what will happen in February? Would Sanwo-Olu be able to trounce Agbaje like his predecessor did? Or would the stupidity involved in unceremoniously dropping Ambode haunt the APC and make them lose the fight for Lagos?
Would Agbaje's personal charisma be enough to make him knock off an obviously ill-prepared challenger? Or would the irrepressible base of the APC together with the riches and sagacity of its manager be the deciding factor?
If the contest were to take place today I would bet on Sanwo-Olu. In three months; I expect the odds to change with Agbaje's base increasing in strength and his finances improved.
Ironically, he lost the last time out when he contested on the bill of an incompetent and much vilified GEJ . Now, he would be contesting on the platform of Atiku's party who most people expect to defeat a weakened Buhari. Would that help?
Providing an answer would be possible only when the political salvos start getting fired. A well run campaign would be akin to doing adequate preparation for a boxing match.
My take is that on their own personal merit Sanwo-Olu is no match for Agbaje.
The fear in most circles is that he is the most vulnerable opponent APC can provide while Agbaje who came within whiskers of trouncing Ambode is the best the PDP can present.
If you want a fight analogy I present the February 15, 1978 fight between champion Muhammad Ali and challenger Leon Spinks as one.
With Agbaje being Spinks and Sanwo-Olu being Ali. The fight was tough but it was Spinks who got the decision over Ali.
Would that happen in February 2019? Let's ask Time.