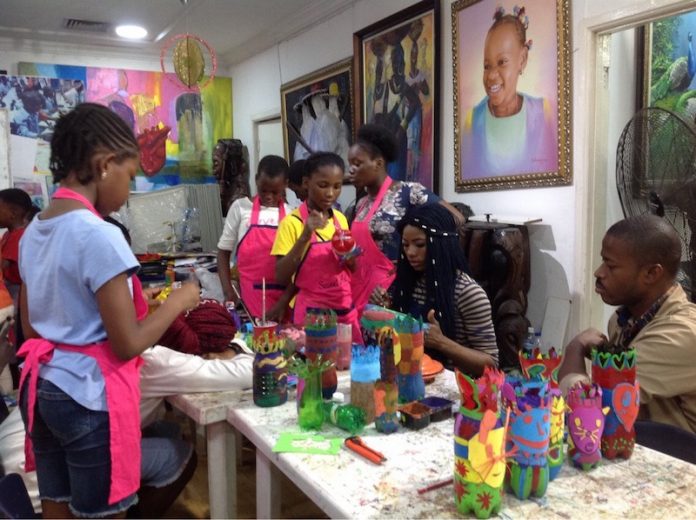 Mary Nnah writes that the Young at Art Children Creative Workshop was designed to hone the inherent artistic talents and creative juices of children with a niche for creativity.
Recently at the City Mall, Onikan, Lagos, the Young at Art Children Creative Workshop, was held as they were wont to do every summer holiday for children between the ages of three and 19. As aptly tagged, the creative workshop was designed to boost the creative potentials in children and not necessarily to make them artistes or designers.
So every year, Biodun Omolayo Art Gallery, brings together kids and young adult who have cravings for creativity for them to be coached and nurtured on the rudiments of art, so as to hone their minds for better productivity in whatever field they find themselves in the future.
During this year's creative workshop session which lasted for eight weeks, each child picked the section he/she has interest in – sketching, drawing, painting, sculpturing, moulding ceramic works and even music, among others.
Creative Potentials
Chief Creative Officer, Omolayo Art Gallery and Founder, Young at Art Children Creative Workshop, Mr. Biodun Omolayo, said the programme which has been running for 14 years now, is getting bigger and better.
He said: "The flagship of our programme at the Omolayo Art Gallery is the Young at Art Children Creative Workshop that has been running consistently for 14 years now. It is getting bigger, the content is better and we have better facilitators now and also have added news subjects to our programmes. A lot has been happening and we give God the glory. There has been a lot of improvement here and there. The gallery is getting bigger in terms of the quality of our collections and the qualities of our programmes.
"Young at Art Children Creative Workshop is not necessarily out to make children become artistes. They can be if they want but the idea is that whatever field of endeavour they would like to go into in future, once this creative potential is developed in them, they would do better than those who have not gone through such programme.
"If you become a lawyer, you are a creative lawyer and our own definition of creativity is problem solving and when you use your God-given talent to solve problems, that is creativity. So it is not just about drawing, painting or sculpting nor singing and dancing, If you are good at all these, better but when you use any one of these to solve problem and add value to lives, then, you are creative. That is our own definition of creativity. And then when you are creative you would make money because money goes after value and once you are able to exchange value, you would make money and that is the purpose of that programme."
And aside the traditional art classes, the Young at Art Children Creative Workshop has also added other subjects like creative writing and dictions. He added, "we realise that even when you draw or sketch, you still need to talk about your works to the public. And to speak to the public you need to know how to speak very well too."
Omolayo who himself has since inception, coached the children on creative thinking techniques, has been teaching the children on how to use their minds to bring about solution to problems around them.
He said: "Everybody goes through this class. It is more like a general class for everybody. After you have painted, sculptured, sketched and written, then how do you use your mind because that is where the whole thing starts from – the ability to use your mind very effectively, think out of the box and creatively, think solution and think value in a way, are all what we have been imbibing in the children over the years."
Training for Special Kids
Apart from the yearly training for kids, the gallery has also extended its tentacles to making provision for special children who have one form of special needs or the other.
"We know a lot of these special children are very gifted in the art and so we have created a space for them", he noted, while explaining that this new unit of training for the mentally and physically challenged children was born out of his recent training on Children Programming and Museum Studies at the University College London.
"Recently, I travelled out for further studies at the University College London, where I studied Children Programming and Museum Studies and when I came back, that brought about a lot of what we are doing here today. Coming back, I had to introduce a whole lot of things to the children's programme to make it better", Omolayo noted.
He said the gallery is still trying to expand the more, especially the special children unit of Young at Art Children Workshop by training more facilitators, specifically for the unit, who are specially trained in that area to handle those children who are gifted and very special.
The gallery he said, also runs special free programme on every May 27, which is Children's Day celebration, where children from orphanages and public schools are admitted to the workshop for a whole day to sharpen their creative minds, while they are also being feted with food, drinks and music from live performances by popular music artistes. At the end of the day, the children do not just sharpen their creative minds but also go home with lots of gift items.
Pro Bono Training for Indigenious Kids
The annual Young at Art Children Creative Workshop presently charges a token for each child to take part, but at the start it wasn't so.
He said: "When we started initially, we were not collecting a dime, but as things got more expensive and we never got sponsors, we decided to charge a token and what we even charge is not commensurate to what the children get here."
He revealed further that even the token they get from the creative workshop is expended on other charity activities carried out by the gallery at different times. So the money for the charity events, are proceeds from the Young at Art Children Creative Workshop, which he said serves as his gallery's Corporate Social Responsibility (CSR), adding, "this year, we sponsored 13 indigenous children through eight weeks of coaching and training. We used the opportunity to mentor them also, telling them that there is more to life than roaming the street".
Creative Village
The future plan for Young at Art Children Creative Workshop, Omolayo said, is to have a Children's Creative Village, where parents can drop their children even for a week, month or even two months with all the boarding facilities intact.
"It would be a creative village for children in Nigeria that will accommodate children from outside Nigeria, Africa and other parts of the world, where they would come and camp as long as they want. That is the ultimate for Young at Art and we are working towards that", Omolayo said with so much enthusiasm.
Memory Lane
Going down memory lane, Omolayo recalled how it all started and the journey that has culminated in the great success so far.
"We took off in 2004 formally in Ikeja even though we started in the year 2000, later we moved to the National Museum, Onkan, and we later we got an office space at the City Mall, Onikan, where we currently operate from. We have been here for about seven years now. You can see that the place is far better than where we were before. All facilities are available here – a central AC, a toilet facility, spacious and conducive to dwell ambiance are all added advantage to us and the children. So once the children come in here for coaching, they don't have any reason to go out until their parents come to pick them."
This year's edition of the children's creative workshop ended a couple of weeks ago after eight week of intense training, coaching and mentoring culminating in an exhibition, where all the children's works, which were fully framed and neatly displayed at the Biodun Omolayo Art Gallery for parents to see and also for art lovers to buy.